The Definitive Guide to Selecting a Mobile Event App
Simple Questions for Success
June 20, 2017
The Need for a Mobile Event App 
It's hard to believe because we're so reliant on them now, but mobile apps have only recently become a must-have for event professionals all over the world. And as the event industry continues to evolve at a rapid pace, a simple fact has become clear: Event attendees don't just want a mobile event app—they expect it. Innovative mobile event apps are making events more efficient, engaging, and trackable than ever before. 
Going mobile at events creates a more engaging, unique experience for attendees. Personalized scheduling, simple attendee-to-attendee messaging, and lasting social connections allow event-goers to build their own event experiences. 
A mobile event app is more than a fun bonus for attendees; it's a smart, economical choice for planners in all industries, helping them achieve dramatic cost savings (as much as 85%) by eliminating the need for printed programs and brochures. A number of top companies expect to eliminate their printing needs by using apps within the next few years. 
As attendees rely on them less and less, printed programs are quickly becoming industry relics. With new features and capabilities powering the next generation of mobile event apps and adoption rapidly increasing, you can't afford to remain analog.

The Cost of Choosing the Wrong Mobile Event App 
If you're searching for a mobile event app, you won't have to look far. With a multitude of options offering seemingly identical interfaces and similar features, how could you possibly choose? By "looking under the hood" and figuring out what features are really going to propel your event forward, you'll see that not all mobile event apps are created equal. 
Ranging from "freemium"/low-cost solutions to full-capability, multi-event apps, determining what you need for your conferences, trade shows, incentive events, meetings, and more is no easy task. And launching a subpar or underperforming app can reflect poorly on your event and frustrate already-stressed attendees. 
Determining the best option depends not only on meeting your organization's needs and objectives but also on finding the right app for your event-goers. This guide will help determine what your organization and attendees need out of a mobile event app, and assist in making an informed decision that will facilitate an enriching experience and set you up for success.

Determine the Right Solution
The sheer volume of mobile event app providers can make selecting one an overwhelming experience, but knowing the right questions to ask and what to look for can help you narrow down the field. 
Ultimately, the right solution depends on your needs and the needs of your attendees. The right mobile event app should help you facilitate valuable engagement, boost your bottom line, and reach your long-term goals. Most of all, it should be a valuable partner in making your events successful now and in the future. 
To find out what questions to ask when evaluating a mobile app provider, continue reading.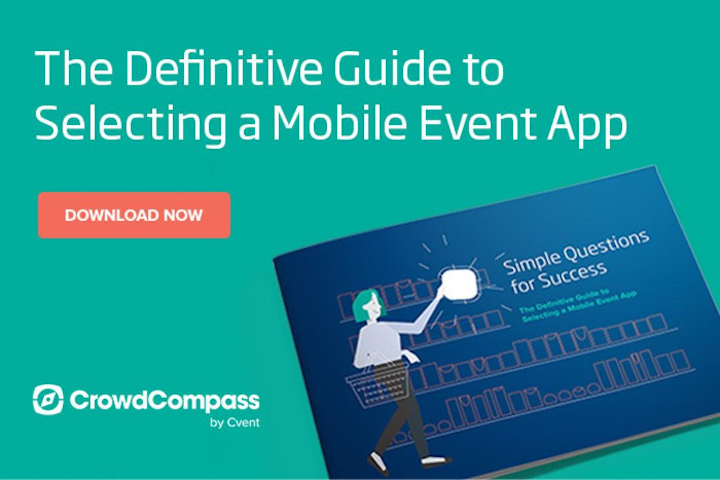 Photo courtesy of Crowd Compass