For 500th 'Simpsons' Episode, Fox and Fans Try for TV-Watching Record
February 10, 2012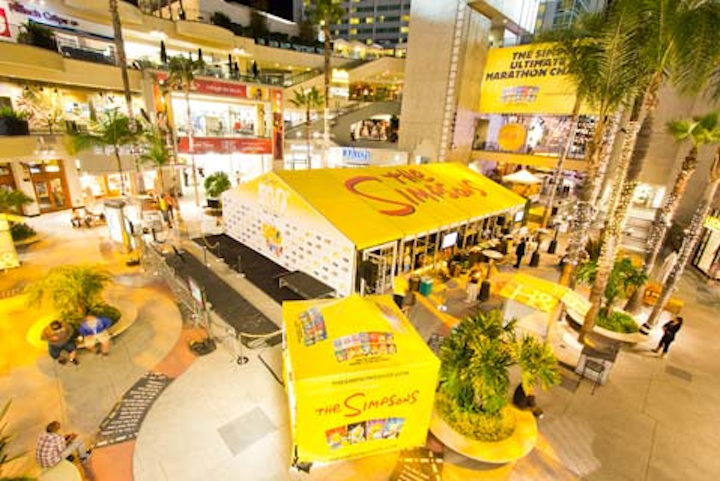 Photo: Courtesy of Night Vision Entertainment
To celebrate The Simpsons' 500th episode—and in the process underscore America's great love of sofa sitting—Fox invited fans of the iconic series to participate in "The Simpsons Ultimate Fan Marathon Challenge" at the Hollywood & Highland Center. Beginning Wednesday, 100 fans got together with the goal of watching 500 continuous episodes of the show in an attempt to break the Guinness world record of 86 hours, six minutes, and 41 seconds for the longest continuous television viewing.
The contest winner will take home a $10,500 prize and an array of Simpsons merchandise, including products exclusively designed to commemorate the 500th episode. If the existing record falls, the new time will be officially confirmed around 7 a.m. on Sunday morning. Meanwhile, guests are free to stop by all weekend to get a peek at the spectacle.

Together with the Fox creative services team, executive producer Night Vision Entertainment has washed Hollywood & Highland in yellow. The event includes a giant 40- by 60-foot glass structure with a custom-branded yellow top, which serves as the theater for the viewing marathon. A massive screen shows each episode, beginning with season one, episode one.
The kickoff included appearances by Nancy Cartwright, Yeardley Smith, and producer Al Jean, plus costumed Bart, Lisa, Homer, Marge, and Maggie characters. Attending fans and contestants fueled up with Simpsons donuts.
Featured Venues/Suppliers: