Christie's Positions Contemporary Art Auction Fete Around 23-Foot-Tall Bear Sculpture
May 10, 2011
Sitting prominently in Midtown's Seagram Plaza, Urs Fischer's 23-foot-tall sculpture of a teddy bear is an impressive sight, and on Saturday it served as the centerpiece and design springboard for an event Christie's hosted to celebrate its contemporary art auction. The Swiss artist's enormous, 35,000-pound, canary-yellow piece, known as "Untitled (Lamp/Bear)," is being offered by real estate developer Aby Rosen in the auction house's sale on Wednesday. So to mark the occasion, the early evening cocktail reception was held in transparent tents placed around the installation.
Some 350 guests—including the artist and hosts Christie's deputy chairmen Brett Gorvy and Amy Cappellazzo—turned out for the party, mingling in a clean space decorated with subtle, but playful references to childhood memories. Producer Ryan Jordan of Harrison & Shriftman's recently launched design division, Studio HS, worked closely with Christie's special event manager Susan Bohlen to develop the look, drawing ideas from Fischer's own inspiration to incorporate old-fashioned toys, weathered objects, and heirloom imagery into the event's scenery.
Nibbling on bite-size hors d'oeuvres from Mary Giuliani Catering & Events, which included miniature quail eggs, French fries dotted with foie gras sauce, and lobster clubs with citrus aioli and pancetta, guests sat on the mismatched chairs, sofas, love seats, and plush stools scattered through the space. Old trunks topped with antique-style votives and flower vases served as tables; and the vintage-wallpaper-covered DJ booth, patterned bartender shirts, and a custom bar front provided additional references to the nostalgic motif.
To complement the scale of the sculpture and house the evening's performances, Jordan built an oversize jack-in-the-box painted with old-fashioned fairy-tale illustrations. From this structure acrobats dressed as a teddy bear, china doll, and jester emerged, bouncing and dancing to a calliope-like tune.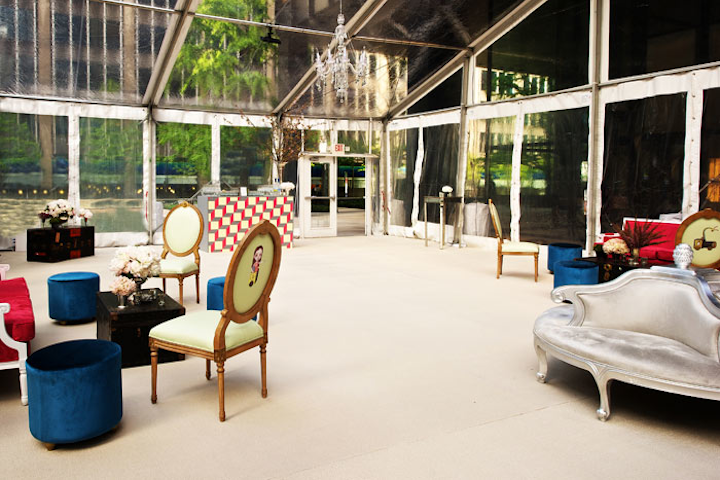 Photo: Courtesy of Studio HS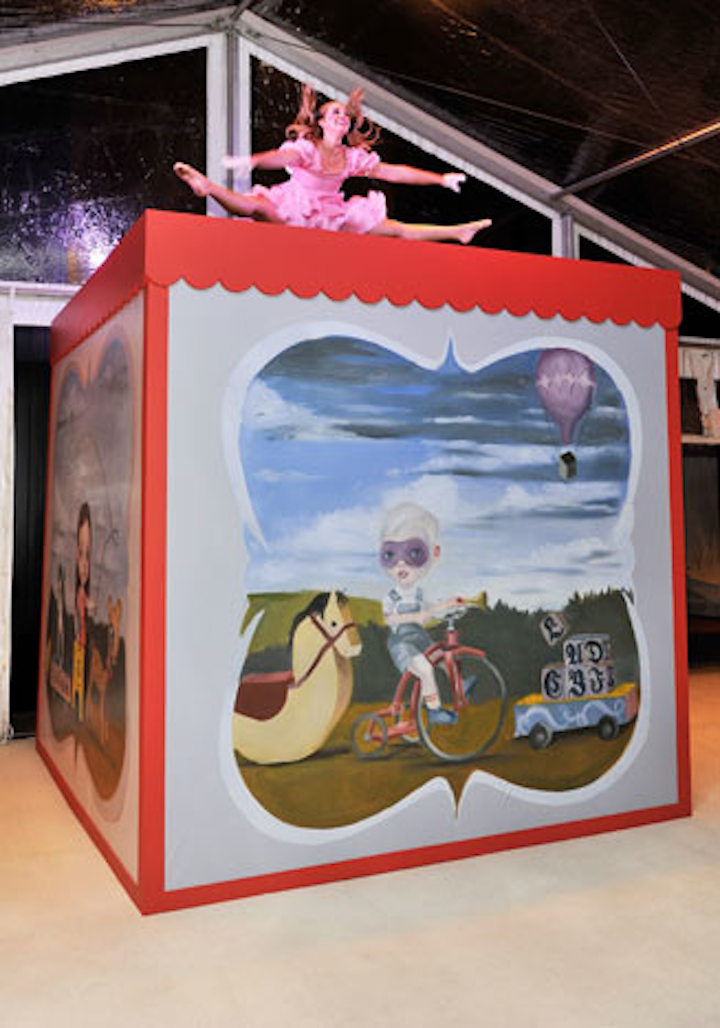 Photo: Courtesy of Studio HS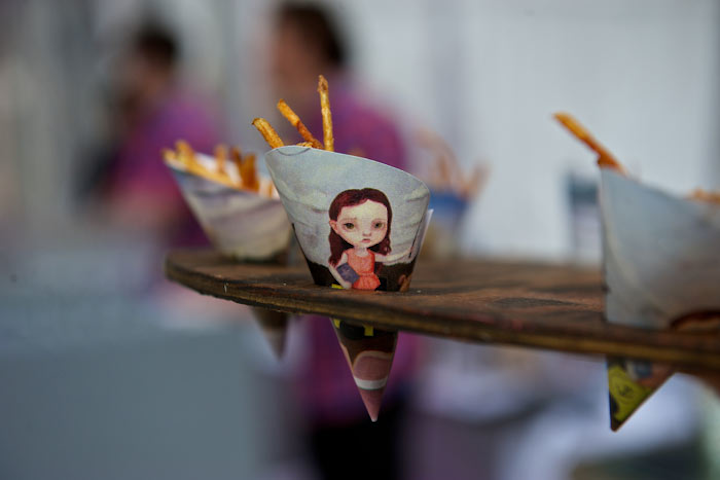 Photo: Courtesy of Studio HS
Featured Venues/Suppliers: