The Best and Worst Event News Stories of 2015
SeaWorld, Donald Trump, and Neil Patrick Harris were among the year's news stories that got event and meeting professionals talking.
December 17, 2015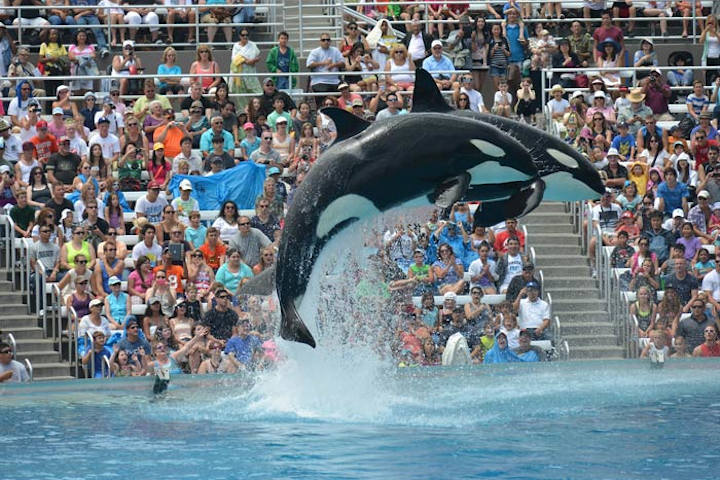 Photo: Mike Aguilera/SeaWorld® San Diego
The event industry had its fair share of ups and downs in 2015. From SeaWorld changing its killer whale show format and companies parting ways with Donald Trump to a new initiative providing birthday parties for homeless children and calls for more diversity at tech events, here are some of the biggest hits and misses this year.
Best: Booth Babes to Cover Up
RSA Conference, a San Francisco tech trade show that took place in May, took a stand against scantily-clad and overly sexualized "booth babes" by implementing a dress code. In response to the tech event staple—which many critics say is demeaning to women—the conference banned revealing and suggestive outfits for both women and men.
Best: Shows Phase Out Animals
It was a positive year for animal rights activists fighting against the practice of using animals for entertainment at circus and theme-park performances. In March, Ringling Brothers and Barnum & Bailey announced it would remove elephants in its touring circuses by 2018. SeaWorld also announced in November that it would phase out its controversial Shamu killer whale show by 2017, and focus less on tricks and more on education. The park also halted plans for a $100 million expansion of its killer whale tanks.
Worst: Donald Trump Shakes Up Events
Republican presidential candidate Donald Trump frequently made headlines in 2015 for remarks that many found distasteful and offensive, including his comments about Latinos. After he compared Mexican immigrants to "rapists" and "criminals" when he launched his campaign in June, many businesses ended their partnerships with the billionaire real estate mogul. Nascar pulled its season-ending award ceremony from the Trump National Doral Miami in June and Univision canceled its Spanish-language coverage of the Miss U.S.A. Pageant. NBC Universal eventually cut ties with Trump, and the upcoming Miss Universe and Miss U.S.A. Pageants will now air on Fox after being acquired by WME-IMG.
Worst: Religious Freedom Law Causes Concern
Many major college and professional sporting events may leave Indianapolis because of the Religious Freedom Restoration Act, a new Indiana law promoting "religious freedom" that became effective in July. Since the law could allow for discrimination against gay people, organizations like the N.C.A.A., which is headquartered in the city, expressed concern about the law and how it might impact student-athletes and employees.
Best: Remembering Katrina
New Orleans residents marked the 10th anniversary of Hurricane Katrina with a week of numerous events including visits by three presidents, art exhibits, dinners, and city-sanctioned talks about the city's recovery. Resilience was the official buzzword of the commemoration, which also had its own logo and color scheme.
Best: Building Better Panels
Advocates of gender diversity at tech events scored some wins this year. A new initiative called the "50-50 pledge" that debuted in July asks planners to commit to having equal male and female speakers at tech conferences and events and created a database of potential female speakers to planners. Tech companies also appear to be getting the message: Apple's Worldwide Developers Conference made news for on-stage appearances by two of the company's high-ranking female executives.
Worst: A Disappointing Oscars Host
Despite a somewhat memorable, well-choreographed opening number from Neil Patrick Harris at this year's Oscars ceremony, many critics felt that his overall hosting performance didn't live up to the hype. Writers for The Guardian and The New York Times said that he "choked" and didn't have the hosting chops to overcome some of the weak material he had to work with.
Worst: Republican Debate Changes
The Republican National Party pared down the presidential primary debate schedule to address criticisms that too many debates during the last election hurt candidates. But few think the process has been better this time around: Candidates have complained about the quality of their green rooms, the length of debates (and successfully shortened the CNN debate by an hour), and the performance of the moderators. At the same time, though, networks have pulled in record-breaking ratings, and the crowded field led to the innovation of the "kids table" debate, in which lower-polling candidates had a separate debate before the main event.
Worst: Drug Test
Music festivals continue to struggle with how to curtail drug use. Police arrested nearly 500 people who attended two Southern California music festivals in November—Hard Day of the Dead festival produced by Live Nation and Insomniac's Escape: Psycho Circus—despite safety and security measures that producers added following two likely drug-related deaths at the Hard Summer music festival this summer.
Best: Homeless Hero
Making a difference in the lives of homeless children, Dallas-based event planner Paige Chenault founded the Birthday Party Project, an organization that throws them themed birthday parties. Her effort has now spread to eight cities across the United States thanks to volunteers and donations.
Worst: White House Florist Mystery
There was East Wing intrigue this year as White House florist Laura Dowling was escorted from the property in February with little fanfare. It took about a month before the press noticed Dowling, who had held the job since 2009, was out and had quietly resumed her private floral design business. California-based florist Hedieh "Roshan" Ghaffarian took over the gig in October.
Worst: Bad Manners
No-show guests are an annoying but unavoidable fact of life for event planners. But some hosts couldn't accept that reality this year. This fall, newlyweds sent a bill to a Minnesota woman whose babysitter cancelled at the last minute, preventing her from attending their wedding. The couple sought to recoup the cost of her meal, as well a service fee. And in England, a mother sent a bill with a "no-show" charge to another child for missing her son's birthday party.