For A-List Awards, Elle Transforms Four Seasons Ballroom Into Sleek, Sponsor-Appropriate Space
October 19, 2010
If there's a guest list in town that can rightly be called Hollywood royalty, its the intimate crowd at Elle's Women in Hollywood award dinner. And such a crowd dictates a venue with an air of importance, cachet, and security, like a fancy Beverly Hills hotel. But organizers and sponsors also want a sleek, understated look more commonly achieved in a grittier raw space. The solution is the Four Seasons Los Angeles at Beverly Hills, where the producers completely transform the ballroom from opulent hotel space to clean look apropos of sponsor Calvin Klein.
Elle's New York-based special events and partnerships director, Caitlin Weiskopf, once again oversaw this year's installment of the annual event on Monday night, tapping Caravents to assist with the production and design for the second consecutive year.

"In terms of sponsorship strategy and the overall aesthetic, really what we want to do is organically integrate everybody in a way that shows off all of our brands," said Weiskopf of sponsors Calvin Klein Collection, Calvin Klein Beauty, and L'Oréal, along with David Yurman. To that end, working with a palette of slate grays, silvers, and navy blues inspired by Calvin Klein, the Caravents team completely covered the existing ballroom decor, covering the carpeting and walls.
Fabric-wrapped pony walls blanketed the space, hiding any fixtures that would compromise the pared-down look. Lighting fixtures and speakers were white. Platinum linens topped tables dotted with all-white flower arrangements, and navy dupioni-wrapped bars had silver tops. At the entry, sponsor L'Oréal was represented in a gallery of beauty portraits that hung like art.
"This event gives us an opportunity to transform a space that people know so well, so they walk in and go, 'Wow, this doesn't look like the wedding, bar mitzvah, whatever I went to here a couple weeks ago,'" said Caravents' Cara Kleinhaut. "It's a really impressive room. We needed the event to be as fashionable and chic as the people in it, specially since it's a fashion brand. Every detail is so thought over—whether it's the flatware choice, china, type of plates for each entrée, [Elle is] meticulous."

Hosting the event this year was Adam Shankman. (The story goes that the director-producer-choreographer, who was in attendance at last year's Women in Hollywood awards, was so impressed with host Alec Baldwin that he picked him to host the Oscars shortly thereafter.) During the course of the evening, Shankman yielded the stage to the evening's nine presenters, including Jake Gyllenhaal, Harrison Ford, and Kathryn Bigelow, and nine honorees: Gwyneth Paltrow, Hilary Swank, Diane Keaton, Jodie Foster, Diane Kruger, Kate Hudson, Kerry Washington, Jessica Chastain, and Sofia Coppola.

"It was important for us to come up with a host who would garner the respect [of the Hollywood crowd]. He's not the most obvious choice, but he's an organic, natural fit," said Weiskopf. "All the women who are featured in the editorial come to the event. It's very much done in tandem and speaks a lot to the partnership between editorial and events. It's one of the best projects that we have, and it gets bigger and better every year—and every year we manage to top it. We have so many honorees, and the caliber of talent is beyond comprehension."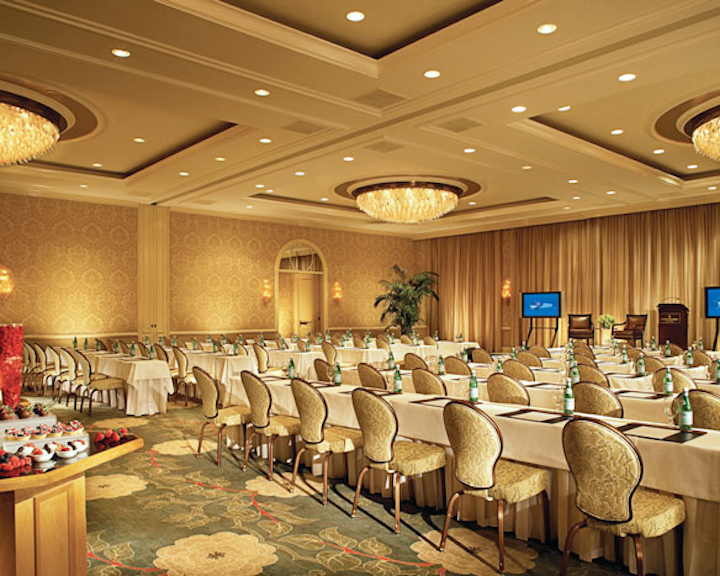 Photo: Courtesy of the Four Seasons
Featured Venues/Suppliers: