When an industry professional conceives of an out-of-the-box event idea that could solve a problem, he or she will set out to execute that concept—no matter how difficult the task.
Such was the case for Eric Gladstone, a Las Vegas-based marketing and public relations consultant, when he dreamed of a way to promote area restaurants that aren't on the Las Vegas Strip. Those eateries, at least two of which are Gladstone's clients, don't receive the kind of buzz—or business—that goes to the hyped spots in Sin City's massive hotels or to celebrity chef-helmed places. The lesser-known spots also don't have the marketing budgets of Sin City's top restaurants.
So Gladstone devised a showcase of area restaurants: a food festival that he would call "UnStripped."
But his obstacles were many. Using only ticket-sale revenue as his budget, Gladstone couldn't afford to pay chefs to participate, nor could he spend much on promotion or supplies such as dishes, cooking vessels, tables, beverages, or a venue for an after-party.
Additionally, he added an extra challenge to his plate and that of his co-producer, Erica Bell, owner of IMYLG (I Make You Look Good): The pair had a seven-week planning period because Gladstone wanted the event to coincide with the much larger, higher-profile Vegas Uncork'd festival from Bon Appétit, which was held May 10 to 13 at venues around the city.
"I thought the only way I was going to get attention was to be a bit bratty and have our event at the same time [as Uncork'd]," Gladstone quipped.
That timing also posed a problem when it came to recruiting chefs, as the larger event could bring in extra business, plus UnStripped would be held on a very busy restaurant night—May 12, the Saturday before Mother's Day. But Gladstone and Bell approached chefs they had prior relationships with, and all were on board with the concept.
Organizers were helped by their decision to turn the event into a fund-raiser. "That wasn't the genesis but we realized it made sense for the message, which was that there's a surplus of very strong off-Strip restaurants now," Gladstone said. Proceeds went to Green Our Planet, a local nonprofit that supports schools in food deserts, areas without access to healthy foods such as fresh fruits and vegetables.
[PULLQUOTE]
With Bell's help, Gladstone was able to jump hurdles by deploying strategic planning tactics, networking, and an old adage: It doesn't hurt to ask. "Step one was to beg, borrow, and steal," he admitted. "Because we were doing the event for charity, we were able to ask suppliers, friends, and neighbors what they could give. That also ties into being socially conscious—you don't need to rent or buy everything."
He continued, "Even when you are renting or buying stuff, it doesn't hurt to say 'This is a charity event, please do what you can.' We saved a little on that, as well as price comparison. But it started with Erica's company, which provided tables, tents, cable, lighting, and more from other events. She must have saved me about $3,000."
"We went to ingredient suppliers of chefs and asked what they could give," he added. "Beverage suppliers tend to be liberal with sharing; it's part of their business, so we went to them and said, 'We'll give you a shout-out for donating.' It worked; we had to turn some people away."
The securing of food donations challenged chefs to get creative, he noted. "I encouraged them to create dishes that said something about their culinary identity. I did not want them to compromise for the setting, and I kept the crowd size relatively small in part for that reason. Most of the dishes were not from the restaurants' regular menus. I wanted guests to feel as if they had a truly unique experience. I'm sure that many of these dishes would not have been possible on a larger scale."
He also arranged to have quick access to ticket revenue. "We worked with a company called Brown Paper Tickets because it gives you the ticket revenue right away when it comes in."
The "artificially low" $65 ticket price (or $55 for the first week) drove registrations. "A normal food event with four or five chefs would cost $100, but we wanted people of all economic levels to participate," Gladstone said. "And we wanted to make a point, saying that some of the events can be quite expensive and that can limit participation."
Added Bell, "The ticket price helped pull people in from neighboring areas and said to them, 'You may know one area restaurant, but check out food from these chefs who are just as good.'"
Charging a lower admission price also ultimately helped Green Our Planet, as it gave Gladstone room to tack on a premium to those who could afford to pay one. "When the event was sold out, some people thought I had secret tickets or special bracelets that could get them in—but I didn't, and the ticket portal already was closed. So I asked them to make a donation to the charity—for $85, in most cases—and put them on a list. I raised about $2,000 from that."
Event marketing was done through Gladstone and Bell's existing social-media channels, and they also reached out to media outlets where they already had contacts.
In the end, 12 chefs participated, and about 350 guests came—beating the 200-attendee estimate. While receipts are still being counted, it appears that about $8,000 was raised. The original projection was to raise $3,000 to $4,000. Enough success was had to repeat the event, although probably for profit.
"It was a very busy weekend for everyone and it just got me so excited for the next one," said Bell. "We don't want to make it too big; events that stay small keep people connected to that community. It's about making memories in the community you care about in a way that isn't breaking anyone's bank account."
"There isn't a future plan yet," Gladstone said. "But I think an annual celebration, for profit, makes sense. Hopefully it's a jumping-off point for others to do something of this nature."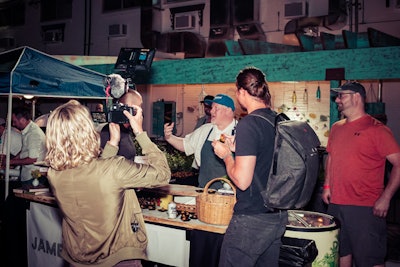 Photo: Courtesy of Vegas UnStripped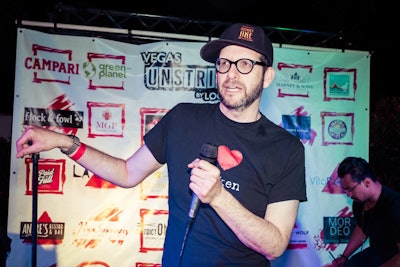 Photo: Courtesy of Vegas UnStripped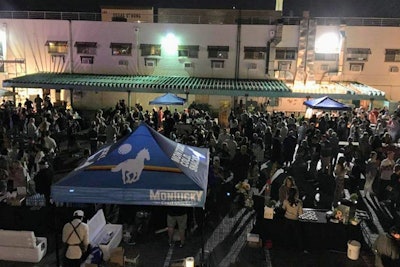 Photo: Courtesy of Vegas UnStripped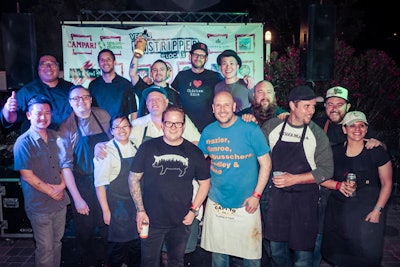 Photo: Courtesy of Vegas UnStripped