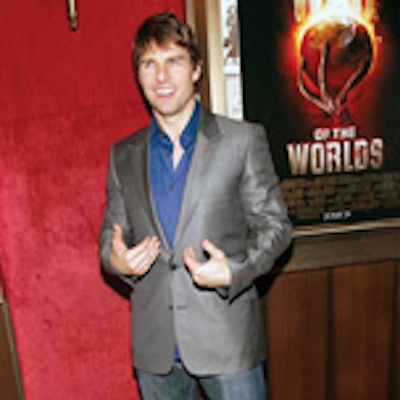 I love a disaster, don't you? When a waiter drops a glass at a restaurant, I clap and say, "Now it's a party," which none of my friends think is funny. I always read the police blotter, and if I see that some friend has been mugged or robbed, I call feigning sympathy, but really I mostly want to hear the details.
That's why I loved the
failed erection of the Snapple frozen ice pop
that aimed to break the
Guinness
world record, but instead ended up sending gallons of sticky, sugary goo onto the street and bikers and pedestrians slipping their way to the hospital. The attempted frozen tower, staged in Union Square Park, got way too little press coverage—I wanted to see so much more. It looked like it was just gushing like crazy. I will pay for footage. But the little I did glean begs for follow-up.
The group that staged the fiasco was called
Art Below Zero
, which I assume means it makes ice sculptures or something. People were asking, "Why didn't they start earlier?" or "Why not do it on a cooler day?" My question is: why do this out-of-doors at all in the summer? And once it started melting, why keep wearing your company logo T-shirts, so even the lamest reporters could assign blame?
Snapple has pledged a donation to the city to pay for the cleanup, but I think there should be a very steep fine. Since we all know that Snapple has the rights to brainwash schoolchildren into thinking their sugar water with coloring really is "the best stuff on earth," one assumes the company's cozy City Hall relationship will make this go away.
I for one intend to see that justice is done. If I can't get accountability for torturing prisoners or an underplanned Iraq occupation, well, I'm not going to just look the other way on this ice pop tempest. Anyone with info please contact me. And stay tuned for
Norma Rae
-style updates.
The next lamebrain idea to come my way was
Paramount
's requirement
that all guests attending the premiere of
War of the Worlds
check their cell phones and purses. This was after a ban on all the print press. I gather wee
Tommy Cruise
doesn't like that people are finally hep to the fact that Scientologists think we came from an alien spaceship. (Whatever you do, don't tell
Katie
!)
But the phone/purse ban was planned in advance, and printed on the invite. Apparently, Mr.
Spielberg
was paranoid that someone would record the movie's climax on the
Motorola
or with her
Balenciaga
bag and release it in Japan.
Putting aside that noggin buster for a second, how come the event organizers didn't realize that this little stunt would mean
virtually every guest
would check something, and make the necessary arrangements? I've never checked anything at a movie theater—do they even have cloakrooms? And forgive me for being mean, but the staff at my local cinema can barely work the popcorn machine. How in the hell did the planners expect them to differentiate 500 phones that all look the same?
Again, sorry shmorry. I want justice. Heads must roll.
An otherwise swell evening at the
Hamptons Decorator Showhouse
benefiting
Southampton Hospital
and sponsored and organized by
House & Garden
magazine (who doesn't enjoy cocktails on the lawn of a zillion dollar beach house tricked out in every imaginable sconce and swag?) was marred by a wait of as much as an hour for valets to run up your car. House sponsor
Andrea Stark
(whose swirling sisal in
Alessandra Branca
's witty and intentionally not-waterproofed pool house is to die for) was spitting fire.
I had noticed the parkers' T-shirts that said "your keys please" and thought that was clever. I believe it was the name of the firm that did the parking. (Someone tell these event vendors to stop advertising when they screw up, or at least turn their T-shirts inside out.)
I'm not a patient queuer, so I moseyed on back to the lot to see what the hell was going on. Well, the attendants were partly at fault; their numbering system had failed due to a big turnout, and that was compounded by searchers not having enough flashlights. Oh boy.
But the other problem was the surly and clueless guests, who stormed the lot thinking they could unpark themselves (admittedly, I was one of them, until I realized that every other car was a black SUV, just like the one my Aunt
Pam
shuttled me in). The female guests tottered on their
Jimmy Choos
(why do women wear high heels to a Hamptons party when there is always grass, sand, or a long hike to the car? Why, why, why?) and shouted, "Honey, does our
Jaguar
have a
Bob Marley
bumper sticker?"
But I must say, the attendants kept their cool, were unfailingly polite, and get good marks from me for making the best of a bad situation. I even pitched in and did a little traffic directing, and I got one of their shirts for my efforts. But it still cost me $20 to bribe my way into the line and get home. So if you are at a party and see a disaster waiting to happen, make sure it keeps happening and call me. I'll be right there.
Posted 06.28.05
Columnist Ted Kruckel is an experienced and opinionated former event and PR pro who ran events for 20 years for high-profile clients like Vanity Fair, Elle Decor, Christian Dior, and Carolina Herrera. He shuttered his firm, Ted Inc., in 2003. You can email him at

[email protected]

.
Photos: Evan Agostini/Getty Images (Cruise), Patrick McMullan (showhouse)