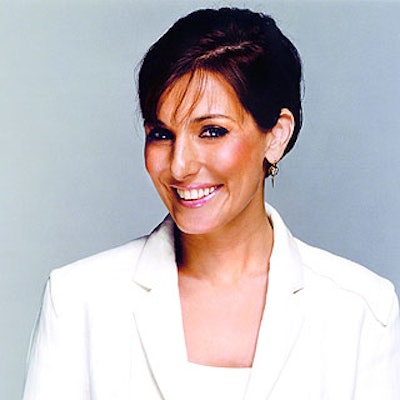 Title: Senior vice president of fashion merchandising
What she plans: All events for the 62 Saks stores in the United States—1,500 events this year—from in-store parties to Key to the Cure, a new benefit for the Women's Cancer Research Fund that replaced the Fashion Targets Breast Cancer events Saks ran with the Council of Fashion Designers of America. She also oversees all catalogs, windows and PR.
Staff: 35
Career Path: "I started as a clerical in the fashion office of Saks Fifth Avenue in Houston [more than 10 years ago]. From there, I worked my way through the fashion merchandising, publicity and special events departments."
Age: "I'm one of those women who is sensitive to this question."
Favorite hors d'oeuvres: "Something vegetarian."
Where she grew up: New York
Where she lives: Beekman Place

How has the economy affected your events this year?

We plow through economic shifts. I've been here long enough to see the economy go up and down. We are a customer-focused company, and our events are primarily designed for our customers. We just keep doing the things we normally do to excite our customer, regardless of the economy.

How do you make an event effective when budgets are going down?

We've brought in partners. Working with Mercedes, Ritz-Carlton, American Express, Continental Airlines—we find that we have similar purposes with these brands. We try to reach the same consumer, so it's more cost-effective if we work together.

What do today's guests expect at an event?

There are so many stimuli in the world today for our customers. I think that it is important to take that into consideration when we design an event—that we can stimulate customers while still making them feel relaxed. We have a sophisticated client at Saks—we try to keep one step ahead of her so we can introduce her to new things. We have a big enough staff that everybody is into different corners of the world.

Why is Saks no longer working with the Council of Fashion Designers of America on the Fashion Targets Breast Cancer events?

We had a great run together, and we both got a lot out of the four years we collaborated. But as with all things, we just had to continue reinventing ourselves and our events for our customers. Changing to Key to the Cure was kind of a natural evolution and one that we had well planned, so we didn't think we would lose any momentum. In fact, I think we gained some.

What trends are you seeing in event style?

I think this whole return to home and knowing your neighbors trend is important. Events are more intimate. Even though people want to be exposed to new people, they also want to be surrounded by people they are familiar with. That always goes into our thoughts when we plan events.

What's your biggest challenge right now?

We have too many ideas and not enough time to tackle them all.

How do you measure an event's success?

For us, it's about two things. As a business, Saks Fifth Avenue has to either drive business or drive image. There has to be a direct sales correlation with the event or it has to enhance the brand. Those are our goals. It's easy to measure a business event because you have your numbers, your ROI. In terms of a branding event, we look at our press numbers, how many lines we got, how many people were there—the buzz. The easiest measure is by publicity. We try to measure everything.

How important are events to Saks' marketing strategy?

Saks is a company that is event oriented. Each store has a local marketing budget, and we plan events on a store-by-store basis. We think they're important, our customers like them, and I think they're paramount to our marketing strategy.

How has technology affected the way you plan events?

The access to information is fantastic. The ability to get an invitation out is fantastic, the ability to communicate with customers—there's just so much benefit from technology.

What do you have forecasted for 2004?

We'll repeat Key to the Cure without a doubt. I would say our event calendar continues to grow. It's an important way for us to touch our customers, and we appreciate the ability to do it. We're cognizant of promoting all our designers. Our business varies from market to market, but we're a luxury-oriented brand. It's important to support our core businesses as well as our emerging businesses. —Jim Shi

Posted 12.03.03

This Q&A originally appeared in our newspaper, the BiZBash Event Style Reporter.