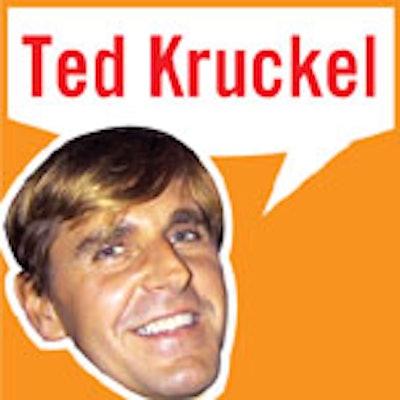 By Ted Kruckel
When that ole North wind starts a-blowin'—and lately she's been a-blowin' mighty hard—I say get thee to a site inspection somewhere down south. There were rumblings in the papers that Miami was hot again...
Lenny Kravitz
(sans
Nicole
),
Mark Wahlberg
,
Adrien Brody
,
Sting
,
Trudie Styler
and lots of others were all sighted at South Beach in the last few weeks, so, being the hard working journalist that I am, I headed on down to check out two new hotels in town, the
Ritz-Carlton
and the
Four Seasons
, as well as to check back with an old standard, the
Raleigh
, where buzz has it that action is afoot.
I go to Florida for New Year's almost every season, and usually the weather is hit-or-miss. But this season was balmy—glorious even. That, combined with New York's determination to disprove those global warming rumors, resulted in 100 percent sell-outs at both the Four Seasons and the Raleigh just this past weekend. The Ritz-Carlton was doing brisk business too.
I've also been coming to South Beach since 1990, have stayed dozens of times at every major hotel in Miami, and produced events at the
Shore Club
, the
Delano
, the
Mandarin Oriental
,
Mynt
,
Liquid
,
Smith & Wollensky
and so many more, so it is with some authority (well, not much) that I report that South Beach is having yet another renaissance. And this time there are big bucks behind it, so luxe is the name of the game.
For a while there, the place was slipping, by my estimation. The first wave, in the early 90's, was all about Ocean Drive, tiny little refurbished Art Deco hotels, fashion photo shoots, gay dance clubs and Versace, Versace, Versace. Then he got killed on his way home from the
News Caf?
, the strikingly designed Delano sadly attracted every two-bit bustier in town, and the giant but decidedly pedestrian
Loews
seemed to be the nail in the cool coffin. By the turn of the century it seemed like the ultra-hip birds had flown the coop.
I'd credit the turnaround to a couple of things. First, a few festivals (and it helps that they're not called conventions down here) put their stakes in the sand and each attracted its own set of devotees. The
Art Basel
fair lures some international collector types and jet set wannabes, the
New Music Festival
draws thousands of DJs and the hip, well-dressed, ecstasy-eating dance fanatics they entrance. And finally the
South Beach Wine and Food
festival, now in its third season, has quickly become a must-stop on the boldfaced name chef tour for foodies.
And while parts of the beach scene were so over-hyped that there was no reclaiming them (every Ocean Drive restaurant and hotel is now studiously avoided by everyone I know), new scenes developed. Lincoln Road is finally something you might want to walk down (for example, after four years of talk, New York's
Cafeteria
opened in a landmark Deco space here that was formerly a
Cadillac
showroom, and it's packed). And in the last few years, the Shore Club, the
Townhouse
and the Mandarin Oriental, all real different but real good, began raising the bar for hotels once again.
But it is the near simultaneous debuts of these three hotels that has the town hopping again, and for parties, sales meetings, executive retreats, consumer promotions and personal pleasure, I recommend highly that you consider spending money in this village once more.
A HOTEL FOR ALL SEASONS
For me, a city is not a city without a Four Seasons hotel. It kind of announces that you've made it to the big leagues, and the scale and grandeur of this magnificent property proves that point. Like the Chicago outpost, this hotel is a group of floors nesting in a gigantic high rise, in this case, 70 stories. A three-story granite waterfall greets you and then you have to go up, up, up to the lobby. It takes some time and is slightly confusing—that's the drawback of a hotel sandwiched in a skyscraper—although you get to enjoy three
Botero
bronzes along the way.
In this hotel it is all about scale: Ceilings and windows soar in every direction, hallways go for miles but end in giant sea vistas and clear skies. Like the Mandarin Oriental, this hotel boasts a resort-like feel despite being in the heart of downtown.
As the sun was setting on the Friday I was there, a few sophisticated-looking poolgoers were lounging, and the two bars were being prepared for what has become the de rigueur happy hour for upscale locals. Yet there was still room for what looked like a sizable corporate event. You can do this when you have five pools, hundreds of white deck chairs with robin's egg blue piping and super smart, dark olive-gray woven bar stools and caf? tables by
Dedon
. When I asked the hotel's super-gracious public relations lady about the capacity for the outdoor space, she looked stumped, and ventured, "Oh, I don't know, quite a few I'd guess." I guessed about 5,000. "But we'd never want it that crowded," she said. "This is a Four Seasons, after all." Natch.
There, in a nutshell, is why you would choose this facility for almost anything. It is already attracting the right crowd:
American Express Publishing
(
Travel & Leisure
,
Food & Wine
,
Departures
, et al) has booked its well-regarded
Luxury Summit
there in April.
While there are only 225 sleeping rooms, the ballroom accommodates 550 and is well-equipped. (They have ceiling-mounted hoists and anchors that mean you don't have to use cross-trusses for lighting and sound equipment, which is a big deal.) And while a wedding is going on there, you still have like nine other meeting rooms plus a separate smoking deck to accommodate whoever.
Because it was sold out I didn't see a sleeping room, but don't you just assume that they were beige/blonde/tan and exquisitely appointed like all Four Seasons? Feel free to book me at any time.
EVERYTHING IS NOT NECESSARILY BETTER ON A RITZ
The Ritz-Carlton South Beach is equally expansive in the size game. With 375 guest rooms, plus more than 140 specialty meeting rooms, suites and poolside private terraces, wandering this facility is just like being on a cruise ship. The handicapped stall in one of the lobby bathrooms was so big, so well-appointed (and so isolated) that I wondered if anyone would notice if I moved in.
The look, when it works, and it often does, is very slick and techie, reminiscent of those amazing, vividly colored photos
Helmut Newton
(R.I.P.) shot for
Conde Nast Traveler
. The press kit calls it the "completely restored Art Moderne/Miami Modern of the original
DiLido Hotel
, which opened in 1953 and was designed by legendary architect
Morris Lapidus
," and boasts the use of the "original black terrazzo." (You'd have to tear it up to not use it though, wouldn't you?)
But why am I so suspicious that, while very handsome, this isn't what it looked like in Morris' day? Maybe it is because there is not a thing in sight that feels retro or antique or even original. The press kit pictures an eating area I couldn't find in the hotel which looks exactly like the dining room of Ocean Drive's
Colony Hotel
, which was a beacon of authentically restored Deco (but from the 30's, I thought) when South Beach first caught the current eye of the beau monde.
The deck chairs and umbrellas take the Ritz-Carlton signature cobalt blue and resemble futuristic, pointy, brushed-metal escape pods. Real cool, but my immediate first impression was that in a high wind someone might get gored. To carry through the theme, their ocean chaises are arranged in a V-shaped formation, intimidating to resort crashers.
The big trend at all the fancy hotels down here are these swanky, split-level, condo-like rooms that stretch from the main building down to the beach. It's my recollection that the Delano started this. Some you can sleep in, some are just daytime cabanas, but regardless, the general idea is, I gather, conspicuous poolside consumption.
Here at the Ritz-Carlton the pool suite look is hard-edged with smoky glass. Very striking, but not so comfy looking. I'm rarely a fan of tinted glass, but filtering a sea view should be against the law. And as if inspired by this offense, the clientele seems intent on committing fashion crimes with impunity. One guy is carrying a giant
Louis Vuitton
impregnated vinyl duffel. (The mind boggles at what he could possibly be carrying, unless he has an LV lifeboat inside, which on reflection could be quite clever.)
Here's what I think. The Ritz-Carlton customer expects dark wood, Oriental rugs, brass trim, marble floors, cobalt crystal glasses, and lion's head logos plastered on napkins and matches everywhere. I'm a Ritz-Carlton customer (Aspen and Huntington, California, are the two branches that I have repeatedly enjoyed) and that's what I expect. This is not that. It's not bad—it's breathtaking in places—but it seems off-brand. But I'd be happy there as long as I wasn't paying.
As I said, it's reminiscent of a giant cruise liner, but the good news is when you feel trapped you can disembark and walk just two blocks to an authentic South Beach hotel restoration still underway at the Raleigh Hotel.
THE RALEIGH RALLIES
The Raleigh was the first of South Beach's larger revival hotels north of Lincoln Road to be modernized. I stayed there as a guinea pig back when just a few floors were tricked out and knew that they were onto something.
For starters, they have the best pool, bar none, on the beach. Baroque? Rococo? Well it's something. What I can report authoritatively is that it was a favorite of
Esther Williams
, who should know from good pools. One of the big suites is named after her.
There are other details all around that transport you back in time: An old photo of
Porfirio Rubirosa
and
Zsa Zsa Gabor
firing up a convertible, bent bamboo furniture covered in beige, palm-frond fabric, and little nicks in authentic old woodwork all breathe authenticity into this landmark.
But while the Raleigh was first in its class, it had let itself go. Just in time, dashing hotelier
Andre Balazs
swooped in, and the transformation he has begun is already very impressive (and he's
Uma
's white knight now too).
Everyone knows Andre's hospitality credentials. He's the guy who took ten years (or did it just feel like ten years?) to build SoHo's hottest spot, the
Mercer
. His Los Angeles-based
Standard Hotels
are literally the home of that city's fashion scene (
Fern Mallis
stages the L.A. shows there). Way before that he was making his mark as a nightclub impresario. It does neither of us a favor, methinks, to say how long I have known him, but I should disclose that we're friendly.
But this effort is most like his
Chateau Marmont
, which he successfully put back on the map as a Hollywood hideout.
Elle D?cor
contributor
Susanna Salk
called the look "dilapidated chic"—he keeps old furniture and other imperfections so it's like going to your kooky but swinging great aunt's house.
I rolled my eyes when I was introduced to the joint's "cultural attaché," the one-word named
Manijé
. I mean really, what the hell is a cultural attaché? And why no last name?
She shows me around and points out all the right things. For starters, the day palms that have been generously planted everywhere by jardiniere
Madison Cox
are magnificent. Then there are the beach cabanas with inviting day beds and curtained hidden changing rooms in alternating white, red and black cotton.
Le Bernardin
's
Eric Ripert
is in charge of the food. So this is where I'll be staying during the Wine and Food festival, which is sponsored by
Food & Wine
, which means its crew will be down here twice this spring, the lucky ducks.
Not everything is perfect. The black paint on the pool rim brick is peeling in places. The rooms have yet to be brought up to speed, they still have these annoying phones that are supposed to let you turn on the TV, turn off the lights, open the windows and who knows what else—mine didn't work. But they've at least given you fresh sheets of the highest quality. Manijé shows me a model of the guestrooms-to-be and I immediately take a window seat and wish I had a camera. She hands one over in seconds. Now I want a cultural attaché in my apartment.
My verdict: If you are cool and have authenticity, who needs perfection?
Posted 01.28.04
Columnist Ted Kruckel is an experienced and opinionated former event and PR pro who ran events for 20 years for high-profile clients like Vanity Fair, Elle Decor, Christian Dior and Carolina Herrera. He shuttered his firm, Ted Inc., in 2003. You can email him at

[email protected]

.