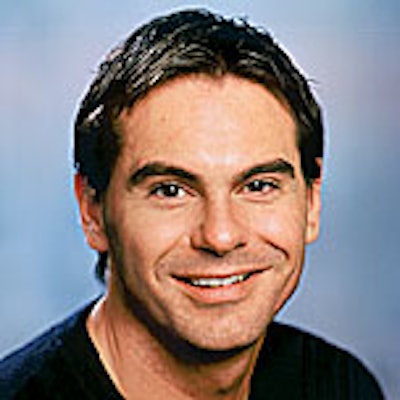 MGM's Adam Keen debuted the Oscar-nominated film
Hotel Rwanda
with a series of screenings in New York and an after-party at the Whitney. He talks about his strategies for different MGM films, and his problem with theme parties.
Title
: Senior Vice President of Special Projects for MGM and United Artists (both studios are owned by Metro-Goldwyn-Mayer Inc.)
What He Plans
: MGM and United Artists premieres—about a dozen in 2004, including
De-Lovely
and
Barbershop 2
—along with screenings and dinners in New York and Los Angeles, and at the Sundance and Toronto film festivals. His office is also in charge of MGM's Oscar and other award campaigns.
Staff
: Six, including Keen, two managers, and their three assistants
Budget
: "I've never thought of us as the smallest or the scrappiest" studio, he says. "I've always thought of us as the hardest-working."
Career Path
: Before landing at MGM in 2000, Keen worked his way up through the planning departments of Hollywood. Immediately prior to his current position, he was director of special projects for DreamWorks SKG, and before that consulted for USA Films. He also put in stints at the Sundance Film Festival, and at the marketing firm Insyght Interactive.
Age
: 31
Where He Lives
: The Wilshire Vista neighborhood of L.A.
Where He Grew Up
: Born in England to English parents, raised in Southern California
Biggest Challenge
: Battling a blizzard the night of
Hannibal's New York premiere
in February 2001. "It was bad. But it didn't stop people from coming. We made a lot of accommodations," with additional tenting and coat checks.
Best Tip
: Don't concentrate too much on decor. Focus instead on the fundamentals. "Can you get a drink? Can you sit down? Those things are more important at the end of the day."
Favorite Recent Films
:
Fahrenheit 9/11
,
Shrek 2
,
Hotel Rwanda
(it's one of his films, but he was deeply moved)
Favorite Magazines
:
Interior Design
,
Architectural Digest
,
Travel & Leisure
. "But I also like catalogs like Pottery Barn and Crate & Barrel. I look for inspiration in how they light and arrange rooms."
How do you choose between New York and Los Angeles when it's time to start planning a premiere?
That's decided in a lot of cases by the locations of the talent and the filmmakers involved. Our press junket can dictate that as well. And if the film is about New York, then [we go there]. Something like
Legally Blonde 2
[a 2003 release] took place specifically in New York because that's where the talent was available. And obviously, there's a style and sophistication to New York that allowed us to use
Christie's
for an after-party location and really brought a sophistication and style that hadn't been seen at a premiere in quite a while.
Considering the diversity of MGM/UA's films—the true story Hotel Rwanda, the Get Shorty sequel Be Cool, the Pink Panther update—how do you delegate and manage within your team?
I have a team of six, including myself. I have two people I work closely with—
Justin Cohen
and
Jade Chan
. And they split every project. Justin is taking the lead on
Hotel Rwanda
, in New York and Washington, D.C., screenings, while Jade is handling L.A. Then, on
Be Cool
, Jade will take the lead. I'm overseeing everything, but there's a fresh set of eyes on every project.
What's your strategy with regard to smaller screenings? Considering MGM's smaller budgets compared to the other studios, how do you leverage small events and their opportunities for buzz to make a bigger splash for the film?
I'll use
Hotel Rwanda
as an example. This movie is about a true event that took place 10 years ago. [The film is about a hotel manager who saved 1,200 people from the 1994 Rwandan genocide.] So one of the groups you want to go after first are either educated or impassioned about the subject. So we went
after educators in a big way. We went after history professors, African studies professors. A lot of people in the United States are not educated about what happened because the media ignored Rwanda. So we went out to the group of individuals who were educated and wanted them to embrace it, and they truly have. And then social agencies:
Amnesty International
,
Doctors Without Borders
,
Human Rights Watch
, the
United Nations
. That was our target group. Now, after positive word of mouth, we get requests—hundreds daily from people wanting to screen the movie—but you focus first on the people who are passionate about your movie so they can encourage others.
Because MGM/UA's films are so all over the map in terms of genre and tone, are you able to quickly develop a fresh theme and tone for each film's premiere and events?
The word "theme" is hard for me. I think of a theme as what you did for your prom. No offense against the word, but I think what you always want to do for people, especially when it comes to a film, is that they've just had an experience watching something in the movie, and you want them to continue that experience for the night. With a film like
Hotel Rwanda
, for example, you wouldn't want to create a theme, per se, because that [film] doesn't lend itself to that. What you want to do is have a consistency with the relevance of the film. For our after-events, they will be comfortable, and the movie definitely encourages people to have discussions following the movie. People feel very passionate when they come out of the movie—they want to talk about it. We've done some smaller screenings in L.A. and New York, screenings for 100 people at a time—educators. We allow them a little reception afterward with dessert and coffee, and a comfortable environment where they can walk out of the movie and feel comfortable. We'll probably do that for the larger events as well.
—
Greg Lindsay
Posted 02.16.05