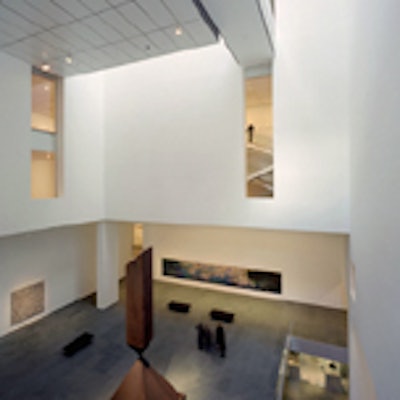 Ensconced in its impressive new digs designed by architect
Yoshio Taniguchi
, the reopened
Museum of Modern Art
offers a variety of sleek spaces to corporate members who contribute $25,000 or more. The museum's enormous lobby—with 12,400 square feet of space—can be used for cocktails and seated dinners and has views of the Abby Aldrich Rockefeller Sculpture Garden (which is also available for events). There is also a vast contemporary art gallery with skylights 100 feet overhead, and theaters suitable for meetings and presentations. And the special events department can arrange private tours of exhibits. In January 2005,
Danny Meyer
will open the
Modern
—an elegant, light-filled restaurant with a French-American menu. Two other less formal dining facilities are
Café 2
, which offers rustic Italian cuisine, and
Terrace 5
, a dessert café near the painting and sculpture galleries.
—Mark Mavrigian
Posted 11.17.04
Photo: Timothy Hursley