NACE's 'Vertik'ly' Challenged Event Fares Well
Designers teamed up with caterers at the South Florida chapter of the National Association of Catering Executives' annual fund-raiser to create memorable presentations combining food and decor.
September 6, 2006
The 12th annual
Taste of NACE
fund-raiser posed a challenge to participating caterers and designers: create striking displays and innovative ways to present cuisine to hungry guests. The catch? All vignettes had to be made with successive or multiple levels in order to match the event's theme: Vertik'l.Utilizing
Panache: An Event Rental Company
's vast Pompano-based warehouse, more than 25 South Florida companies converted a long, open span of corridor-style space into an upright wonderland where color exploded, food was plentiful, and imaginations ran wild—and all for a good cause. A portion of the proceeds went to
Daily Bread Food Bank
.
Guests took a stroll down memory lane as they moved toward the main event, passing the original
Good Humor Man
(white truck and all) and Panache's Sno-Kones cocktail station. Silver sequin and feather-clad models from
Sixth Star Entertainment & Marketing
ushered guests through the doors, and then the fun began.
Stations, one after another, lined both sides of the 170-feet-long area, each bursting with color, texture, and beauty.
DECO Productions
and
Grapevine Gourmet Cuisine & Catering
brought Miami and Cape Cod together: a modern, off-white structure anchored by two columns featured alternating layers of painted wood and seashells. Grapevine Gourmet created a replica of a palm tree made by stacking three pineapples atop one another for the base, and topping it with orchids as the leaves. Skewers of chile-lime chicken, piña colada shrimp, and chimichurri skirt steak were individually inserted into and served from the pineapple tree.
Outside the Lines Productions
went off the wall, literally, securing four silver Chiavari chairs and a table to a wall. The table, fully dressed in silver and pewter linens, also sported coordinating silver chargers and a floral centerpiece. Glass shelves were horizontally mounted to the table so that guests could reach for little plates of citrus-seasoned grilled grouper on a bed of seaweed slaw with ginger aioli drizzle and a potato nest with sautéed spinach and portobello mushrooms topped with veal from
The Chef's Table
.
So Cool Events
' newest ice bar, an acrylic-bottomed bar with built-in water fountains lit from within in blue, featured cocktails from newcomer
Metropolitan Martini Company
. Display towers of the pre-made cocktails flanked the bar, the top of which was made from a solid piece of ice.
Guests had two options from
Pioneer Productions
and
Blue Moon Fish Company
. One evoked a chilly feeling: clusters of white, barely pink, and the palest green hydrangea and orange roses lined the front of a bed of ice in which ceviche was served in old-fashioned eggcups along with Honey Amber Rose beer from
Beautiful Brews Incorporated
. Just a few feet away, guests plucked seared beef from a three-tier, revolving serving piece set atop a table dressed in bambo-patterned cloth. The space was defined by a bamboo gazebo (reminiscent of a chuppah, the canopy under which a Jewish marriage ceremony is performed), decorated with vines and suspended candle-lit glass globes and draped with ivory fabric that coordinated with the tablecloth.
Boca by Design
constructed a more rugged version of the canopy using wood planks. By nailing four of the planks to the top of four more, which served as legs, they created an open square structure, resembling the frame of a house. Once embellished with vines, fruit, and foliage, the frame became an inviting shelter for
Chocolate Fountains of South Florida
's (you guessed it) chocolate fountain. Additionally, super-sized coffee cups created clever props for
Café Ala Carte
.
Medallion Occasions
' stainless steel station offered dramatic simplicity. Four seven-foot-tall, water-filled acrylic poles lit by So Cool in green and each topped with a nautilus shell and calla lilies served as legs that went through the top of the table. The table featured a sunken area, which was filled with water and housed two albino king protea, blue-glass pebbles, and white floating orb candles. Color came from
Silver Sac
's rock shrimp and clam gazpacho with avocado cream, which lined the outer edges of the table.
Tables topped with pieces of cake, muffins, chocolate-covered cannoli trees, and other treats from
Susie's Scrumptious Sweets
complemented the whimsical haven designed by
Pieces of Dreams
and brought to life by
JV Productions
. Under a white sheer fabric canopy hung gold wire spherical cages filled with flowers and topped with fairies; a floral bear made of yellow, orange, and red mixed flowers sat atop a table filled with bouquets of roses in all colors.
Creations Productions Inc.
chose a clean, uncomplicated look using white drape, white canvas, and wicker furniture canvas palm trees as accent pieces. Chef
Neil Castellon
of
Excaliber Catering
presented hors d'oeuvres on mirrors and multi-level metal serving pieces.
And what would an event be without an Asian station?
Beyond Details
took traditional Asian elements—a gold wall fan, Chinese red silk scarves, embroidered pillows, paper lanterns, and a large Chinese umbrella complete with yellow fringe—and paired them with black shelving and accent pieces creating a tasteful, minimalist environment for
Chez Gourmet Catering
's food. Three- and four-tier display shelves held
borracho
(or drunk) gazpacho shooters with tequila shrimp; an army of little forks, each holding a prosciutto-wrapped boccacini, stood like soldiers in an ice-filled steel bucket that hung from a bamboo pole.
But the best was hidden way in the back. Tucked in the corner was the bar:
Designs by Sean
's semi-circular structure made of truss and glass, adorned with foliage and a plethora of flowers in shades of red, pink, orange, and purple and set against a backdrop of red crushed velvet drape. The base of the bar was also covered in red crushed velvet. Offering contrast, a black, wooden structure stood upright upon a table behind the bar. Each of its eight symmetrical, rectangular compartments housed a unique piece of floral art, designed with bear grass, wheat grass, and a variety of flowers. And while each design stood alone, together they became one cohesive work of art. The overall effect: refined opulence.
—
Shari Lynn RothsteinPhotos: Michael Murphy (silver table, modern seashells, floral statue, Asian, red velvet bar, steel with green poles)
Read our coverage of
Taste of NACE 2005
...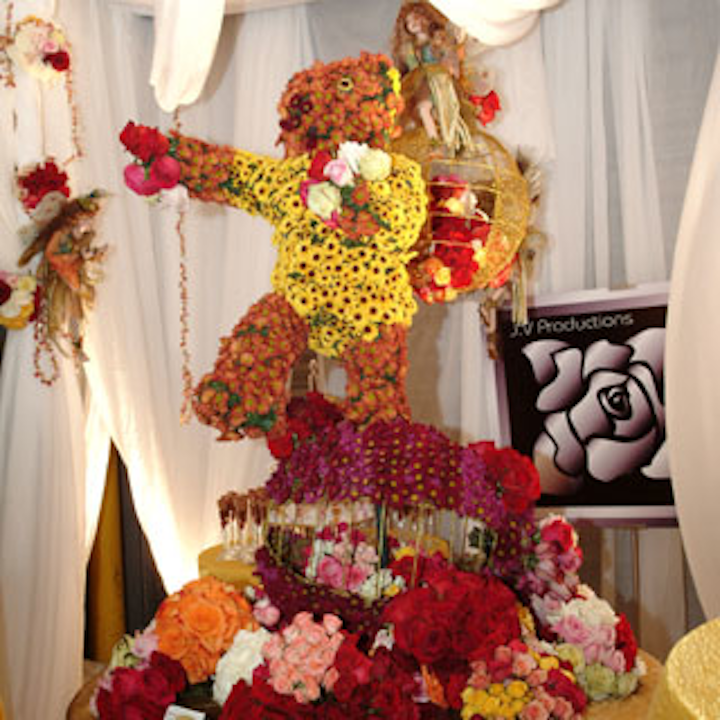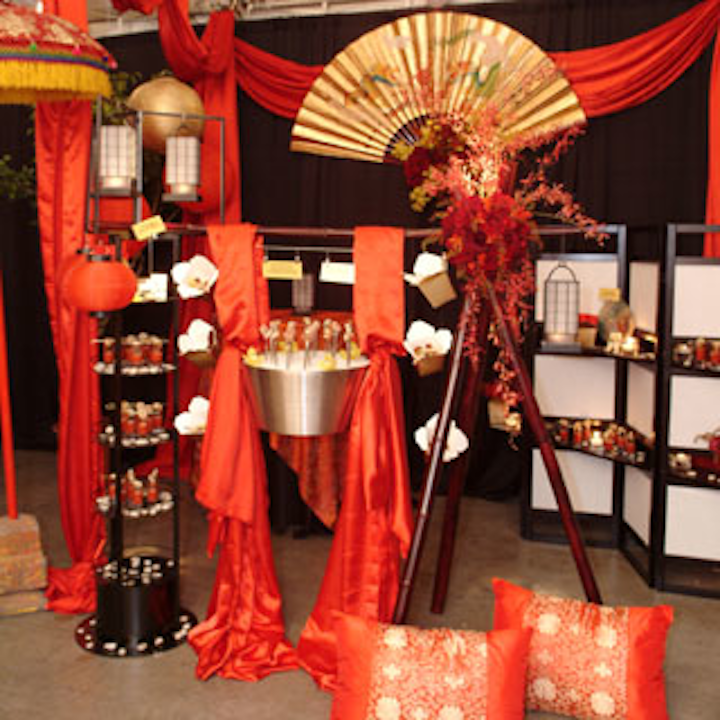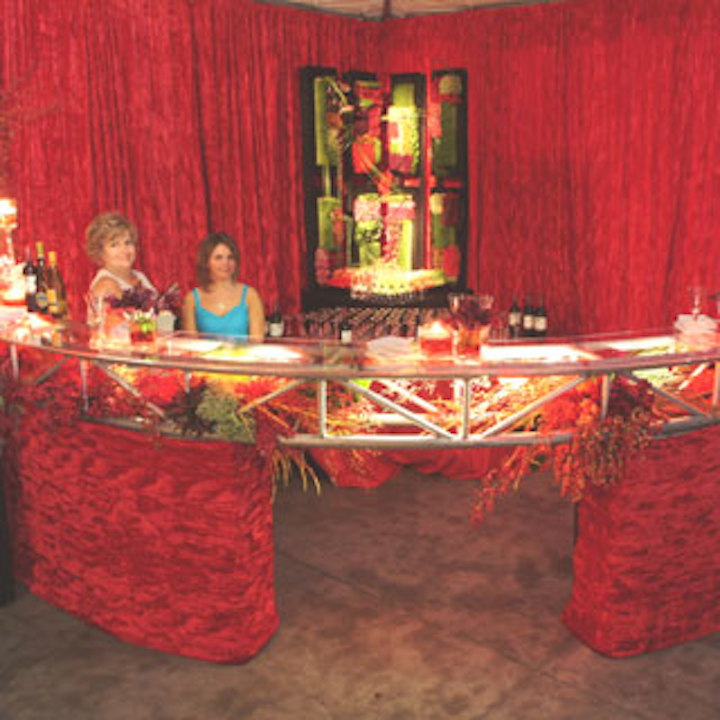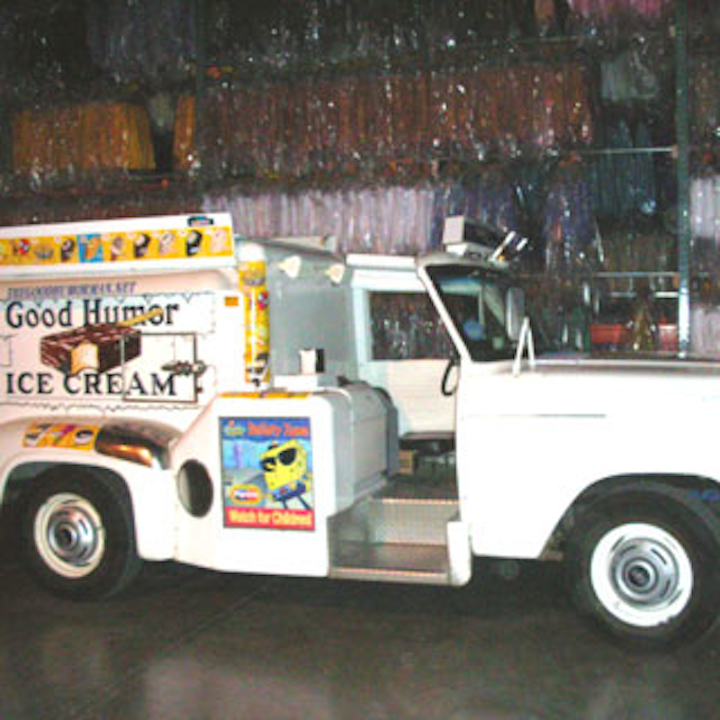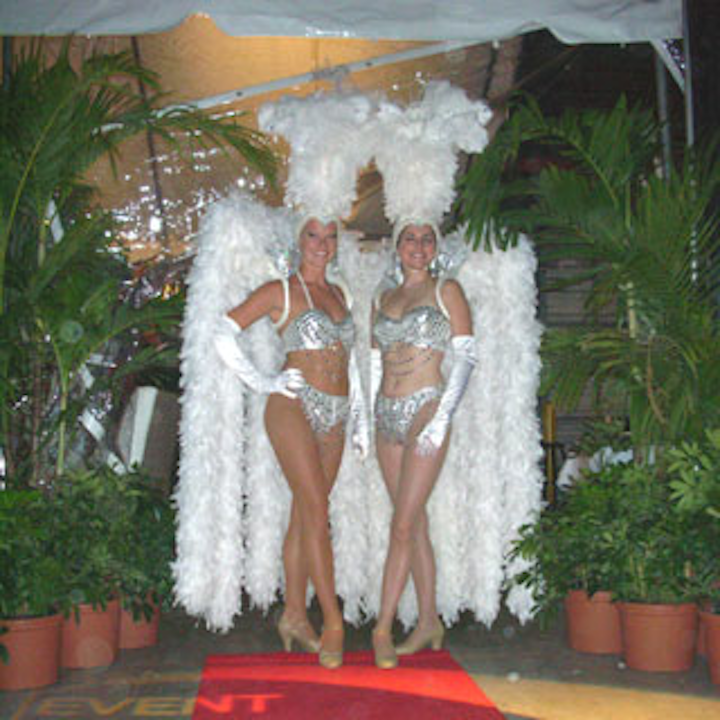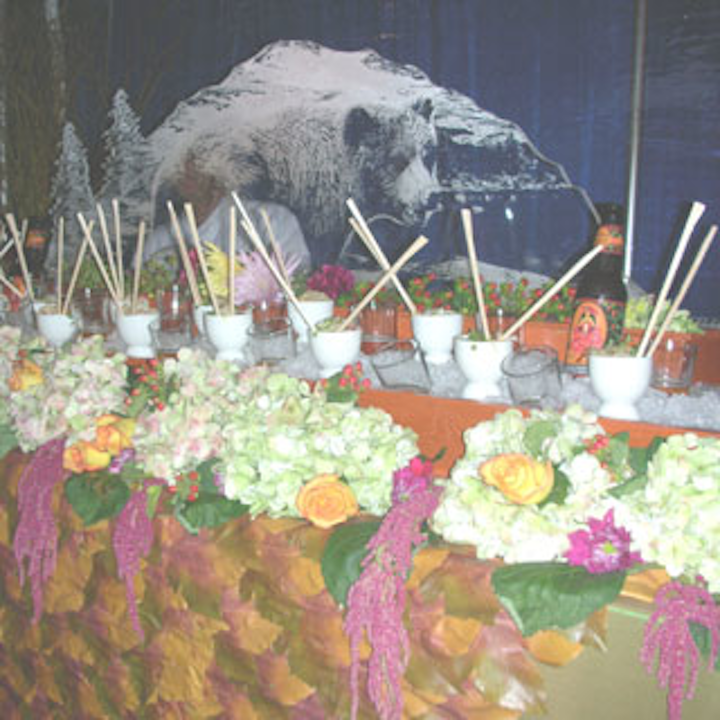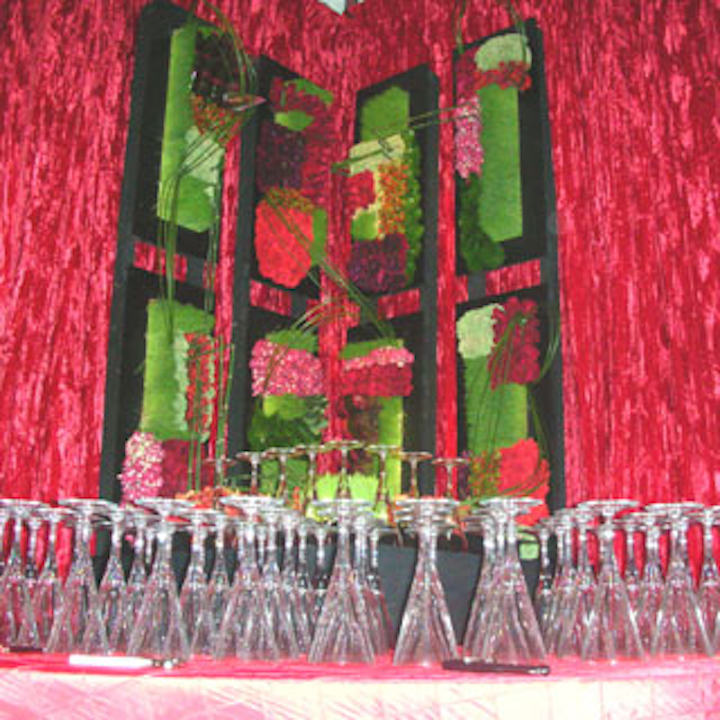 Featured Venues/Suppliers: