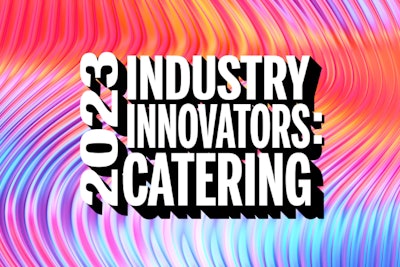 "Food and beverage are the heart of the shared experience, and there's no better way to foster connection than through a great dining experience," says Dana Pellicano, president of Patina Restaurant Group and one of our 2023 Industry Innovators.
It's a sentiment shared by everyone we featured in this story, who spoke passionately about using innovative thinking to elevate events of all types. These chefs, executives, and company founders are tirelessly advocating for the multi-faceted F&B industry, searching for new flavors and presentations, and bringing eventgoers experiences they've never seen before.
Click through the profiles below to learn what drew them to the food industry, how they define "innovation," their all-time favorite foods (some of them may surprise you!), and much more.
Adam Noyes
CEO, Proof of the Pudding
Amy Brown & Heidi Andermack
Co-Founders, Chowgirls Catering
Cade & Ingrid Nagy
Owners, Catering by Design
Dana Pellicano
President, Patina Restaurant Group
Kabrel Geller
Founder, This Messy Table
Manal Kahi
Founder & CEO, Eat Offbeat
Mary Giuliani
Founder & CEO, Mary Giuliani Catering & Events
Matthew Landes
Founder & Creative Director, Cocktail Academy
Ron Ben-Israel
Chef & Owner, Ron Ben-Israel Cakes
---
About the list: Our Industry Innovators features are compiled by our editorial team using a variety of resources. The idea is to go beyond the biggest names in the biz—though it has plenty of those too—and dig deep into the industry professionals who are using truly innovative thinking to push the boundaries of live experiences.
If someone has previously been named a BizBash Innovator, they are not eligible for the list. Check out our full Industry Innovators Hall of Fame here!