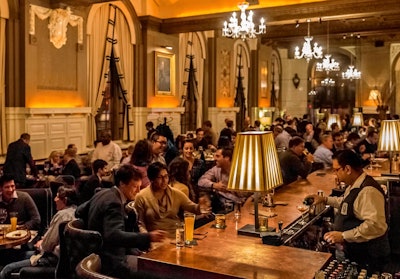 Photo: Courtesy of Fairmont Copley Plaza
BOSTON—The concept of sustainability isn't new, but it gained traction as a buzzword in the business and leisure travel space as a result of the pandemic. Yet time and time again, while travelers say they prioritize sustainability, they're not always willing to put their money where their mouth is. Take it from a study published by travel site The Vacationer, which reported that 83% of survey respondents felt sustainability was important, with 71% even willing to pay more to lessen their carbon footprint. The kicker: Only 33% were willing to pay as much as $50-$250.
On the flip side, hotels cannot talk the talk without walking the walk. Properties are being challenged now more than ever to go greener themselves—and that means doing more than just swapping out tiny plastic bottles of toiletries and asking guests to reuse their towels.
French-based hospitality giant Accor—which operates more than 5,000 locations in more than 110 countries, including Fairmont, Mondrian, SLS, M Gallery, and more—has looked to its culinary programs as a way to reduce food waste, decrease CO2 emissions, and give back to the hotel's local community.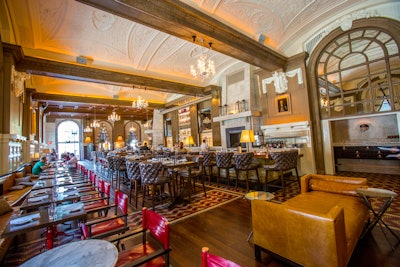 It's all thanks to a partnership with Too Good To Go (TGTG), a mobile app and platform on the frontlines of the fight against food waste by connecting customers with restaurants that have unsold food at the end of each meal. That surplus is then sold on the platform at a reduced cost, typically one-third of the original price.
The Copenhagen-based platform was born in 2016 and used widely throughout Europe—including in Accor properties since its inception—before making its way into the U.S. at the end of 2020. By September 2022, Accor was assisting in the U.S. expansion, selecting five North America-based Fairmont properties to implement a TGTG pilot program. The Fairmont Copley Plaza, a 383-key luxury landmark hotel in downtown Boston, was one of them.
Fairmont Copley Plaza's executive chef, Zaid Khan, said it's not just about "creating food that people can then pick up," but rather "identifying opportunities in your operation." For chef Khan's kitchen, he said the opportunity lies in "the items that you have to heat up in batches. At the end of the night, there's some inevitable overage there—for things like our clam chowder, our grits from the shrimp and grits, and we generally have some chicken seared off for salads and some mustard greens sweated off." Those meals are prepared specifically for a TGTG meal at OAK, he said, referring to OAK Long Bar + Kitchen, Fairmont Copley Plaza's on-site, farm-to-table American brasserie.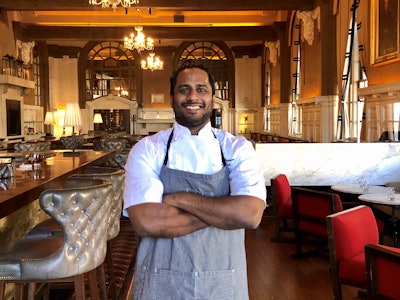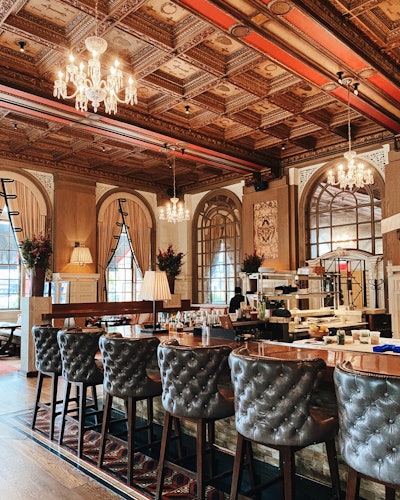 The dinner meals vary each night depending on the leftovers, and then appear on the TGTG app as a "Surprise Bag" (as all TGTG meals are), meaning the consumer doesn't know what they're getting until they pick it up.
The same goes for breakfast. The hotel's fourth-floor executive lounge—where Fairmont Gold guests receive complimentary breakfast—offers items like croissants, muffins, yogurt parfaits, and fruit that would otherwise populate a local landfill to TGTG users to purchase.
Both the breakfast and dinner meals would normally retail for $21, but are sold on TGTG for $6.99.
"The idea is to mitigate food waste," chef Khan reinforced, noting that just because Fairmont is considered a "luxury" property doesn't mean it's void of responsibility. The TGTG pilot program has certainly mitigated food waste. After being on the TGTG platform for merely four months, Fairmont Copley Plaza reported 736 meals reserved that would've been thrown away prior to TGTG, and a whopping 1.84 metric tons of CO2 emissions saved (that's equivalent to using 25 million plastic straws or driving about 25,000 miles).
The executive chef also pointed out that TGTG has brought him closer to the community. "The application is an amazing way to bring people and the marketplace together. We've got this food we want to give away, and we've got people who want to help, whether they're after a cheap meal or to help the environment. It brings us together, and it's super easy," he said.
However, chef Khan said that the "responsibility to mitigate food waste" is about more than being on the TGTG platform. When asked what other sustainable practices he would recommend to fellow chefs, he said: "There's a few different ways to do responsible practices in your kitchens. It's understanding your usage. It's working through your food waste programs, like properly commercially composting your food scraps. It's a very, very, very big one."
"Donations are massive as well," he said, pointing to Fairmont Copley Plaza's partnership with Rescuing Leftover Cuisine Massachusetts, a nonprofit organization with a mission to "feed people, not landfills." Chef Khan advised that donations are a great "outlet for us in the events world." He explained: "When we have overage, that can simply mean we have an event for 300 people midweek and 10% don't show up, so you have an extra 30 meals right there."
"Those [extra meals] can go to a local food shelter," he said, noting that his goal is to get Fairmont Copley Plaza's "food waste down to about 2%."
"I feel fortunate," chef Khan said when speaking about his team and their positive contribution to the community. After all, Fairmont Copley Plaza is still the only Boston hotel—and OAK is still the city's only upscale restaurant—to be on the TGTG platform.
The numbers speak for themselves: TGTG reported that a staggering 40% of food is wasted in the U.S., which directly translates to 10% of greenhouse gas emissions. Yearly, this accounts for 1.3 billion tons of food waste—equivalent to $1.2 trillion—all while about 870 million people are living hungry.