Client Engagement: Building Relationships Beyond Business
July 30, 2015
Trade Center Management Associates (TCMA), the exclusive manager of the Ronald Reagan Building and International Trade Center, recently hosted its second annual Chopped Challenge: Wedding Planner Edition. A playful twist on the popular Food Network show Chopped, the annual event is a perfect example of how vendors and venues can engage clients while showcasing the best of their services and offerings.
At this event, local D.C.-area wedding planners were invited to show off their culinary skills in a friendly cooking competition. The planners in attendance represented nine different event planning companies, including Bella Notte, Engaging Affairs, Events by Andre Wells, Karson Butler Events, Perfect Planning Events, Roberts & Co. Events, Sara Muchnick Events, Something Fabulous, and the Posh Planner.


"The event acquaints local events planners with our venue, team, and capabilities in an exciting, interactive and memorable way," said John P. Drew, president and C.E.O. of Trade Center Management Associates. The participating planners were divided into four teams anchored by a chef from the building's own in-house culinary staff as well as a sales manager. Teams were tasked with creating one course using one or more of the secret ingredients: saba, an aromatic syrup made from grape must; saffron, one of the most prized spices in the world; and Chesapeake wild blue catfish, the highest rated sustainably-caught seafood. After the allotted one-hour of cooking time, the teams presented their dishes to the esteemed panel of judges, which was comprised of Sarah Zlotnick and Caroline Cunningham of Washingtonian Bride & Groom and Jessica Sidman of Washington City Paper. The winning dish was a pan-seared catfish marinated in a chimichurri, black bean, and port wine reduction. The dish was bedded on a saffron potato cake, drizzled with saba, and topped with chilled honeydew melon, red onion, diced tomatoes, lemon, and cilantro.


Not only were these event planners able to meet and interact with staff, they experienced the Reagan Building's service first hand. Additionally, they were given a behind-the-scenes look at the culinary process and all the hard work that goes into executing an event seamlessly from start to finish. In today's busy event industry, the dynamic between client and vendor has evolved from a simple exchange of services to a relationship that can last well after the final event has passed. Engaging and educating clients plays a large role in building those relationships. The Reagan Building's Chopped Challenge is a great rapport-building exercise, and it is just one example of how to build relationships that transcend commonplace business.


Check out pictures from the Chopped Challenge event: http://itcdc.com/gallery/event-images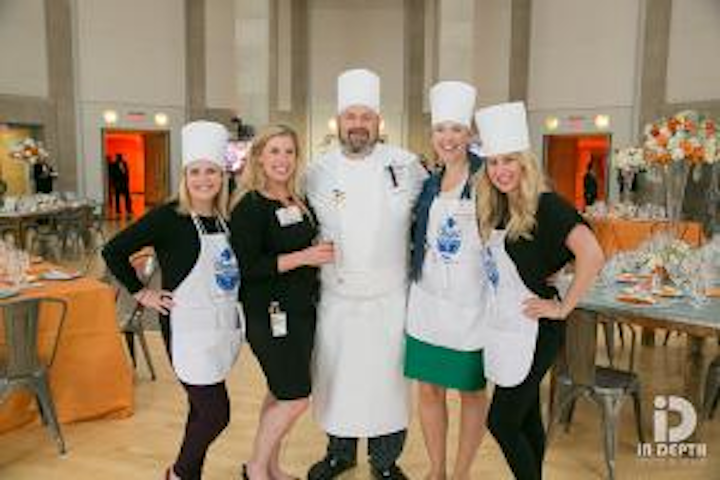 Photo Courtesy of In Depth Photo & Video
Featured Venues/Suppliers: