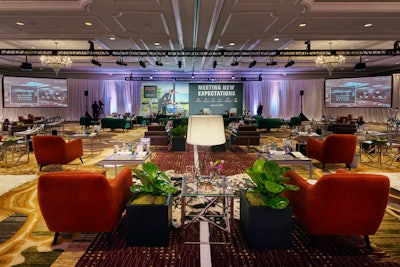 Photo: Rachel Ayotte
Nearly nine months ago, many event and meeting professionals found themselves on Google, searching for things like "how to produce a virtual event," or even the definition of a hybrid event. Flash-forward to now, and not only does the industry know the answers to these questions like the back of our hands, but planners have mastered the modern event to accommodate the new normal—all while inspiring venues and meeting spaces to innovate on their end.
Take Marriott International, for example. The global hotel brand recently took on a commitment to helping planners produce conferences and events during this new era of gatherings. How is Marriott upholding its promise? With a very apropos series of global hybrid events highlighting its new "Commitment to Clean" and "Connect with Confidence" protocols created to offer flexible solutions for gatherings, whether in-person, virtual, or hybrid.
The first event of the series, dubbed Connect with Confidence, took place just last month on Nov. 9 within The Ritz-Carlton, Tysons Corner in Virginia. The hybrid event saw 30 in-person in the hotel and 238 virtual attendees via hybrid conference platform MeetingPlay. Moderated by Doreen Burse, vice president of Marriott global sales in the U.S. and Canada, educational sessions further demonstrated the brand's novel meeting and event protocols and featured industry-leading tools, insights, and creative solutions from Marriott International leadership. Speakers included event pros from all levels of the industry, including catering, technology, sales, and more.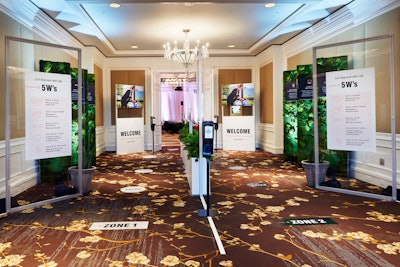 "Our Connect with Confidence event demonstrated that it is possible to host meetings in a responsible, sophisticated, cost-effective, and enjoyable way," said Tammy Routh, senior vice president of global sales for Marriott. "We are thrilled to have had this opportunity to showcase Marriott's creative solutions for hybrid meetings. We continue to be committed to collaborating with our valued customers as we navigate this new frontier for meetings and events to ensure they have the necessary tools to confidently connect."
Here's a closer look at how it worked from both sides.
The Live Event:
Upon arrival, in-person attendees participated in a digital registration and pre-selection of "sanctuary seats" (think socially distant seating pods) with a preview of the meeting room displayed. When it came to flexibility, Marriott exemplified its solutions with a variety of personalized options. For example, individually packaged amenities included a face shield, mask, hand sanitizer, and color-coded bracelets able to showcase each attendee's comfort level socializing. (Red meant "please keep your distance," yellow depicted "respect my space," and green indicated "elbow bumps welcome.") These choices continued into the F&B experience, during which eventgoers were given the option to dine solo, or with one, two, or three others at their table. A bonus? The in-person participants could still connect and network with those attending virtually thanks to the MeetingPlay app and online dashboard.
The Virtual Experience:
Virtual attendees experienced no shortage of engaging and inclusive activities from the digital side. To extend the exclusive feel of the in-person component, Marriott worked with MeetingPlay to curate virtual-only content that included infographics outlining pre-event, event day, and post-event protocols. Further enhancing the hybrid experience, those interacting with the event online were granted access to real-time discussion and polling questions, multiple camera views of the space, interactive games, and Q&A sessions, which connected all attendees. A networking function allowed for virtual participants to view other's profiles and engage before, during, and after the event. Additionally, the at-homers were able to virtually upload their photos that then appeared on a gallery wall displayed in the hotel's physical ballroom. High engagement levels were encouraged via the virtual platform's leaderboard, which awarded prizes to the top five most interactive participants. To top it all off, regardless of where you were tuning in, all cravings were curbed with a food delivery credit for each virtual viewer.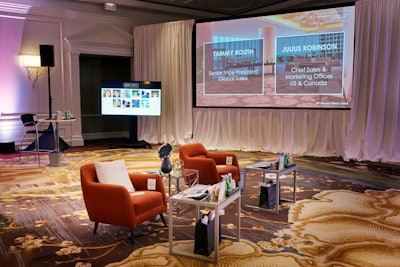 VENDORS
Catering/Venue: The Ritz-Carlton, Tyson Corners in Virginia
Event Design: CenterCircle Creative
Rentals: AFR Furniture Rentals and Event Furnishings; CORT Events
Virtual Event Platform: MeetingPlay