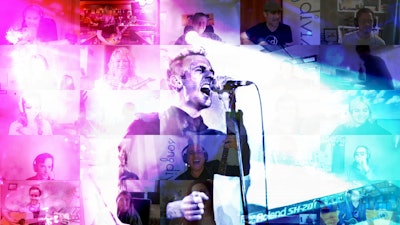 Photo: Courtesy of SongDivision
Managing the work-life balance becomes, ironically, very difficult when you're working from home—we get it!—which is why team-building activities are more important than ever, even if they have to be done virtually. Happy hours with co-workers, office games, and cooking classes are not team-building activities of the past, and we're proving that with these web-based offerings perfect for any remote team craving ways to rebuild prepandemic office camaraderie.
Team Songwriting Sessions
"Creating music with others is scientifically shown to improve emotional state, strengthen memory, and form lasting relationships," says Andy Sharpe, CEO of New York-based event services company SongDivision. With the company's virtual experience dubbed Remote Team Anthem, SongDivision has enlisted world-class musicians to help teams select chords and write lyrics to collectively (and virtually) create an original song. With 90 minutes of music-fueled programming, these "remote songwriting sessions deliver a collaborative corporate culture in ways you can't get from a conference call or even a traditional video conference."
Culinary Competitions
FoodPopper uses Zoom to virtually take your team on an interactive culinary journey through a variety of delicious team-building activities. Play the Ingredient Race and the Food Knowledge Challenge hosted by Food Network judge Heidi Cayn Friedman to test team mastery in areas of food, cooking, and international cuisines. Participate in the Let's Cook This Competition to see which co-workers are chefs after-hours. "All of FoodPopper's programs take advantage of food as a vehicle of connection by allowing teams to get to know each other and bringing something fun and positive to these times," says founder Melanie Bash.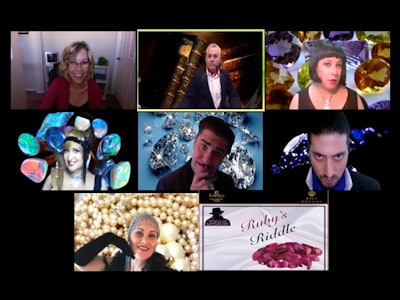 Murder Mystery Games
Escape the daily grind and immerse yourself in one of Los Angeles-based Asher Entertainment's interactive murder mystery shows. Choose from a variety of themed riddles such as "A Recipe for Murder," "All's Fair in Love & Music," "Death by Chocolate," and many more. You and your team have 90 minutes to interact with characters as they pop in and out of frame to solve the mystery. "It's super exciting to see the guests engaged with different ideas and opinions. Our murder mystery show is a great way to get everyone interacting and thinking," adds Chris-Downey Asher, CEO and founder of Asher Entertainment.
Group Wellness Sessions
We're all feeling the virtual fatigue, so what better way to re-energize your team than with a virtual wellness experience? Course Hero offers a one-hour stretching and alignment class for up to 500 attendees via Zoom—fit for all flexibility levels.
Dessert-Making Workshops
For teams who prefer sweets over savasanas, Course Hero also boasts gingerbread house holiday party experiences, virtual doughnut making workshops, cookie decorating classes, and much more.
Virtual Caricature Art Party Experience
Big Head Cartoon is hosting Big Heads and Beats Virtual Caricature Art Party Experience, where guests watch caricature artists draw individual and group portraits while enjoying a DJ set of top hits. The experience "creates a creative escape, helping people share some laughter and forget about their troubles or pressures to just have fun," says Christina DeNee', lead artist and owner of Big Head Cartoon. The best part? Take your caricature off your computer screen and home with downloadable files from your team-building experience.
See how it works:
Virtual Scavenger Hunt Game Show
CityHunt's "Best of Team Builder" compiles everyone's favorite parts of team building into a virtual scavenger hunt game show. Using the Zoom platform, teams are guided through a series of customizable trivia questions, themed challenges, guessing games, and scavenger hunts around their homes, and one team will emerge victorious. Don't feel like turning on your camera? Be a spectator and cheer on your teammates—like watching a game show on TV featuring people you actually know! "It's about reminding each other that we are all in this together," says CEO of CityHunt Ben Hoffman. "We aim to embrace togetherness by working with companies to build the camaraderie we are all missing right now."
Beat the Hacker
Stockholm-based virtual learning platform Green Hat People is challenging remote teams to "Beat the Hacker" in their newly launched, collaboration-centric virtual game. With your digital meeting platform of choice and 45 minutes to crack codes and complete missions, you and an unlimited amount of team members are tasked to race against the clock in an effort to prevent all of your servers and corporate files from being stolen. Each team member is given different clues, thus requiring teamwork to progress and unlock increasingly difficult levels.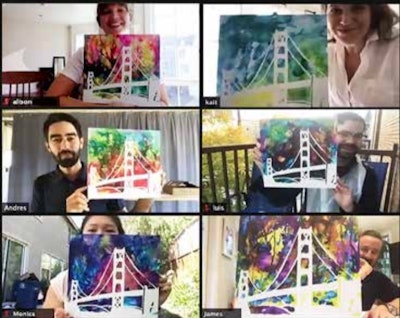 Paint and Sip Classes
For the more creative team, consider participating in a company-wide paint and sip class hosted by California-based Firefly Team Events. User-friendly activity kits are sent directly to participants including a canvas with a customizable pre-applied design, colored inks, and protective gear. In a virtual class taught by a live instructor, artists and non-artists alike can create a masterpiece to hang on their home office wall.
Virtual Beer Tasting
If your team would rather enjoy a different kind of after-work craft, Firefly Team Events also hosts a beer tasting experience dubbed "Tales From the Brewery." Crack open a cold one with your co-workers as you explore a collection of brews through a guided tasting and lessons on flavor profiles and the power of pairings via Zoom, Teams, or Webex.
Online Office Games
TeamBuilding is offering a series of virtual office games that work to strengthen teams through improved communication, leadership, and other major building blocks of company culture by masking lessons behind fun and engaging activities. For example, in "Can You Hear Me Now?" one person is given a random object to describe using only geometric terms while the rest of the team has to draw the object and guess what it is. CEO of Team Building Michael Alexis recalls one group with the challenge of describing and drawing a mermaid, "and they came out of the experience with an inside joke that going forward, communication needs to be 'mermaid clear.'" Other game options include "War of the Wizards," "International Monster Hunter," "Tiny Campfire," and more.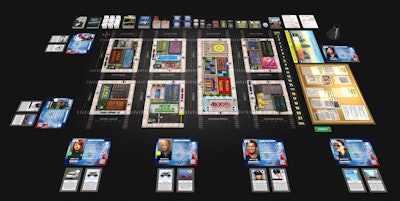 Digital Board Games
Tabletopia is a sandbox environment where teams can choose to play a variety of digital versions of board games and compete against each other online. In combination with video-chat features, "it feels almost the same as sitting around a table and playing the games you love," says Ivan Karmanov, head of marketing and public relations at Tabletopia. "Board games are fun to play with your team, but in addition, there are a variety of games that require teamwork and strategic thinking." Community manager Mark Harris adds that "engaging with this competitive spirit in a safe and codified environment forges camaraderie in both educational and entertaining ways."
Virtual Trivia and Game Shows
Los Angeles-based Two Bit Circus has launched Remote—a virtual gaming platform that helps teams overcome the challenges of remote work with remote play. This online game show mashes up classic televised game shows with customizable bar trivia suited to each team's unique culture. Although virtual, "this type of human connection and bonding as a team brings a diversity of inputs vital to creativity and problem solving," says Brent Bushnell, CEO of Two Bit Circus. "Plus, who doesn't love a little friendly competition?!"
Three-Course Dinner
Impress your virtual guests by hosting a three-course dinner event courtesy of delivery from Bill Hansen Catering in Miami. With a crafted menu by executive chefs themed for holidays, birthdays, and corporate meetings, as well as the option to add on a Champagne pairing, this elevated team-building event is sure to be a memorable one.