Podcast: A Multi-Generational Discussion on Creating Unforgettable Events (Episode 150)
During a recent BizBash event held at Dodger Stadium in Los Angeles, top event pros shared tips for creating high-impact events.
June 11, 2019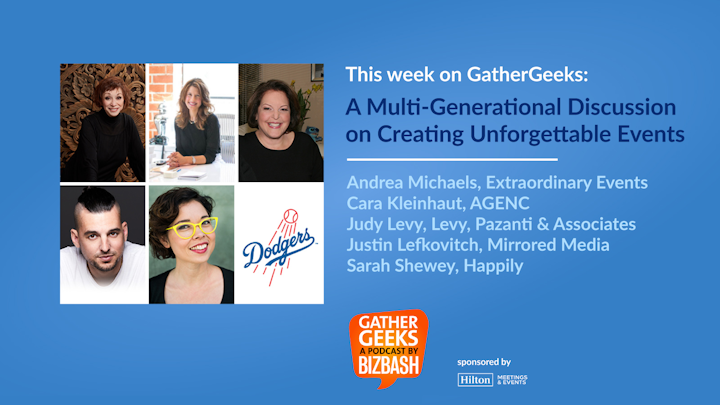 Hosts: David Adler, Claire Hoffman
Guests: Cara Kleinhaut, Andrea Michaels, Justin Lefkovitch, Judy Levy, Sarah Shewey
In this special live episode of GatherGeeks, BizBash C.E.O. David Adler and West Coast bureau chief Claire Hoffman moderate a panel on the art of creating events that people never forget. The multi-generational panel of top event pros includes Andrea Michaels, president of Extraordinary Events; Cara Kleinhaut, C.E.O. of AGENC; Judy Levy, founder of Levy, Pazanti & Associates; Justin Lefkovitch, C.E.O. of Mirrored Media; and Sarah Shewey, C.E.O. of Happily. The group—which spoke at a BizBash and Los Angeles Dodgers-hosted event in April—shares how the stakes have been raised in creating memorable, authentic events; how to deal with operational disasters; why it's crucial to know your attendee; why guests want to see behind the scenes; and more. 
Sponsored by Hilton Meetings & Events. Running time: 1:00:30
Show Notes
Roundtable Discussion: why everyone should be considered an influencer today; the importance of finding a mentor; how benefits should be approached differently than other events; the importance of authenticity; dealing with weather disasters
This Episode Is Sponsored By:
Hilton Meetings & Events
Planning an event and wondering how you can give your attendees the best experience possible? Take advantage of customized meetings with Hilton that make it easier than ever to incorporate health, wellness, entertainment, and waste reduction. From Yoga & Yogurt morning starts to Puppies & Ice Cream afternoon breaks, Hilton will help you build an extraordinary meeting that attendees will remember. To book your next meeting or event, go to meetings.hilton.com.