Podcast: An Industry Pioneer Reflects on a Life in Events (Episode 182)
Joe Jeff Goldblatt, a longtime professor and industry leader, chats about risk management, emerging technology, and his newest book, The True Joy of Life.
February 4, 2020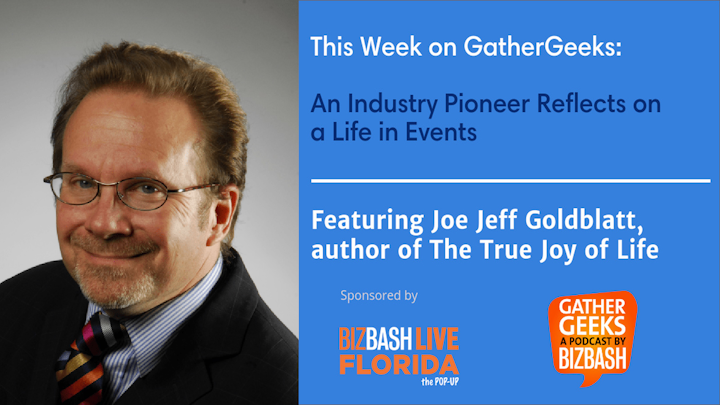 Hosts: David Adler, Beth Kormanik
Guest: Joe Jeff Goldblatt
In this episode of GatherGeeks, BizBash chairman and founder David Adler and editor in chief Beth Kormanik hear from Joe Jeff Goldblatt, a veteran event educator who is often credited as one of the pioneers of the modern-day industry. Goldblatt discusses his long career as one of the industry's go-to gurus, using anecdotes from his new professional memoir The True Joy of Life to discuss the history of event education, risk management and event safety, balancing face-to-face gatherings with emerging technology, and more. He also shares how to optimize guest experience, why the practice of mindfulness will become more popular at meetings, how he judges R.O.I., what's missing from the field of event education, and much more. 
Running time: 45:06
Show Notes
Roundtable Discussion: how the event industry has evolved since the 1940s; what you need to know about liability and risk management today; the impact of social media; his history as a professor of event studies at Queen Margaret University in Edinburgh, Scotland, and as the founding president of what is now known as ILEA; what event professionals can learn from his new memoir
Further Reading:
Buy The True Joy of Life at joegoldblatt.scot
This Episode Is Sponsored By:
BizBash Live: Florida The Pop-Up
We're popping up in Florida with an all-new BizBash experience. Join us February 19 and 20 at the Gaylord Palms Resort & Convention Center in Kissimmee as we co-locate with Connect. Hear from President Barack Obama, Ambassador Capricia Marshall, former Social Secretary Deesha Dyer, Disney's former head of innovation and creativity Duncan Wardle, and more. Register now at bizbashlive.com/florida.