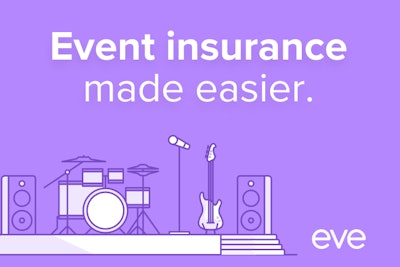 The venue is set, the design is perfect and your contracts have been signed and sealed. But what if, before (or even after) the attendees begin pouring in, disaster strikes? You and your team have spent a significant amount of time, all of your energy and probably more than a little money creating an amazing experience only to have all that hard work ruined by something you couldn't control. There's an inherent level of risk involved when planning an event; and today, it's more evident than ever that life is unpredictable. That's why there's event cancellation insurance.
What is event cancellation insurance? Event cancellation insurance is there to provide you with the financial security you need should your event have to be canceled, curtailed, postponed or relocated due to unforeseen circumstances. Obtaining coverage early is one of the smartest decisions you can make to protect your investment.
Unfortunately, insurance applications are generally long, time-consuming and often require a significant amount of back and forth with a broker. With all the planning underway, who has time for that?
That's where eve comes in.
eve's 15 question application gets all the necessary information to issue a quote based on actual data about the potential threats to your event. It's simplistic, mobile-friendly design means you could complete the application before you finish your first cup of coffee and have your policy in as little as 48 hours.
Offering a new approach to event cancellation insurance, eve provides an embedded insurance product as well as a standalone application for event professionals. Instead of the usual one-size-fits-all solution, eve conducts a detailed analysis of each event to ensure the cost of your coverage reflects your event's perceived risk. In other words, no more paying high premiums for events that are low risk.
How does it work? With a little bit of information about an event, the venue and previous experience, it's possible to leverage additional data, such as weather, natural disaster or flood conditions, to create a more accurate picture of a given event's risk. The risk models provide knowledge and insights to promote a proactive approach to risk management and the ability to underwrite more competitive policies.
What does event cancellation insurance cover? A burst pipe, an electrical outage, fires and floods—each of these potential disasters could severely impact the success of your event. Event cancellation insurance could help cover expenses or recover losses associated with canceling, curtailing, relocating or postponing.
Whether the occasion is indoor or outdoor, a corporate event or conference, a sporting event or festival, eve's got you covered. Additionally, adverse weather, which is commonly listed as an exclusion, comes standard with every policy.
Who can apply for insurance through eve? eve has partnered with Allianz Global Corporate & Specialty* and is licensed in California and Texas. Businesses registered in either of these states can apply for event cancellation insurance for any event nationwide.
The truth is, you can always prepare for the worst and still be blindsided. But the benefits of event cancellation insurance go a long way—from the potential cost savings to the relief that comes with knowing you're protected if things go south. Protecting your event with insurance can help you stop stressing about the things you can't control so you can focus on the things you can.
Apply for event cancellation insurance with eve here or learn more.
*Policies issued by Interstate Fire & Casualty Company, an authorized surplus lines company of Allianz Global Risks US Insurance Company.