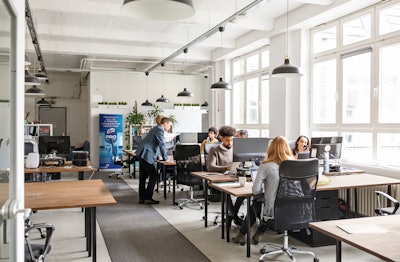 Currently, less than half of Americans feel comfortable returning to offices. So what can employers do to protect and reassure?
To facilitate a successful and sustainable return, companies can look to the hygiene protocols implemented at COP26, one of the largest in-person events to be held since the beginning of the pandemic. As the official hygiene partner, Reckitt-the makers of Lysol-deployed its Pro Solutions team of virologists, microbiologists, and medical scientists to work with The London School of Hygiene & Tropical Medicine to develop a custom targeted hygiene program, which can also be replicated in the office environment.
Offices can present a major risk for virus transmission, with germs spreading rapidly via hands and surfaces at workstations and common areas. A science-led targeted hygiene program can minimize contamination of commonly touched surfaces effectively and efficiently and help prevent the spread of illness-causing germs.
Targeted hygiene means focusing hygiene practices at the times and in the places that matter most to help break the chain of infection and reduce the transmission of germs. Cleaning and disinfection should be based on protocols created, reviewed, and approved by scientists with the specific office environment in mind. In doing so, the following steps implemented at COP26 should be considered by employers:
Identify high-touch 'hotspots:' Areas that are frequently touched and shared represent potential hotspots, (e.g., elevator buttons, doorknobs, phones). Additionally, eating and drinking areas such as the communal kitchen are higher-risk due to hand-to-mouth contact.
Devise an effective protocol: Implement a targeted hygiene approach that is informed by science, to help break the chain of infection. Helping to protect against the spread of illness-causing germs by going beyond the illusion of improved safety through "hygiene theater" is critical to reassuring employees and increasing their confidence in the office.
Use trusted products: Be sure to use regulated products approved for surface disinfection. When used correctly, disinfecting products can significantly reduce the germs on shared objects and other employees' hands. At COP26, organizers used Lysol's sister brand, Dettol disinfecting products, including Dettol soap at wash basins, Dettol antibacterial hand sanitizer gel, Dettol multi-purpose disinfectant spray, and Dettol cleansing surface wipes, proven to inactivate SARS-CoV-2, the virus that causes COVID-19.
Timing, frequency, and verification of protocols: Once cleaning and disinfection protocols are established for the office, the critical element for reducing the potential for germ transmission is the timing and frequency of cleaning and disinfection. High-traffic areas require attention immediately after usage. Likewise, small, irregular surfaces will need more frequent cleaning throughout the day. Once a targeted hygiene program has been implemented, it should be regularly tested for effectiveness and refined accordingly.
See how Reckitt implemented its targeted hygiene approach to help protect 25,000+ daily attendees at COP26, here: