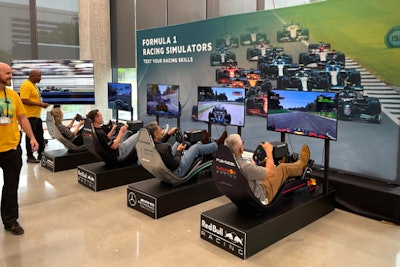 What is gamification?
Gamification involves the application of game-like elements (i.e., points, levels, leaderboards, etc.) into non-game contexts. Put simply: It's all about injecting fun in unexpected places. In the world of events, gamification can be used as a tool to generate awareness, educate customers or even spark collaboration among attendees.
What makes gamification effective?
We all know people love games. But what makes them so irresistible? Without delving too deeply into the science of it, a lot of what makes us enjoy them involves the brain. You know that feeling of pleasure that hits once you reach a new level or beat your high score? This sensation can be explained by the release of dopamine, a neurotransmitter that is triggered when expecting a reward from a certain activity. With this in mind, the feeling we get from these rewards, not necessarily the points or prizes themselves, is what makes gaming so enticing.
How can gamification be used in events?
When it comes to event gamification, the first thing you must decide on is a goal. Do you want to inform? Increase engagement? Generate new leads? Regardless of what your goal may be, the experience must be mutually beneficial to your business and the attendee to ensure success. Whether it's a feeling of accomplishment, new knowledge or even a good laugh, attendees should walk away feeling like they gained something from the experience.
Now that you know the basics of event gamification, it's time to see it in action. From Sam's Club's human claw machine to Notre Dame's custom basketball game, keep reading to see how brands are leveraging the principles of gaming to reach their event goals.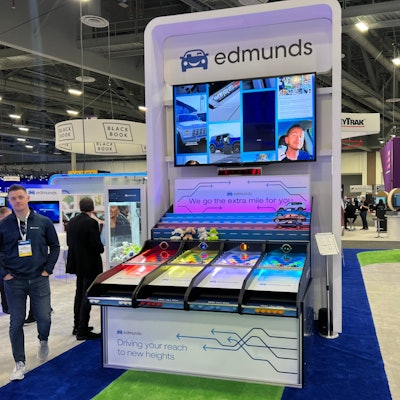 Car shopping site Edmunds is known for going the extra mile and wanted its trade show booth to reflect that. From a fully skinned exterior to customized car score-markers, Edmunds transformed a classic four-player game into an interactive means for generating brand awareness. When attendees weren't occupied with roll-a-ball, they took turns at the booth's fully branded prize crane. Unlike your typical arcade game, this machine actually allowed players to walk away with prizes.
HPE and Formula 1 "Drive" Engagement
If you're not familiar with the world of racing, Formula 1 is known as the world's most prestigious motor racing competition. This day in age, data is the key to maximizing performance, making the company's partnership with HPE a no-brainer. To highlight the power of this duo, HPE quite literally drove engagement.
Why watch Formula 1 racing when you can experience it for yourself? Thanks to these virtual racing chairs, HPE team members and clients had the chance to get in on the action. Thanks to high-res graphics and realistic steering controls, players could race against one another for a chance to rank on the leaderboard. Adding to the experience, racing chairs and game graphics were branded with sponsorship logos including Red Bull, Honda and Oracle, to name a few. Spectators became part of the ride as they watched the race via external monitors.
Notre Dame Slam Dunks Its Basketball Season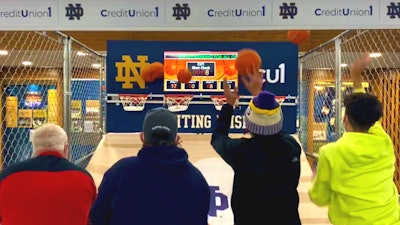 Notre Dame slam dunked its basketball season with Urban Hoops, a city-inspired basketball game gone high-tech. Featuring a branded exterior and leaderboard with its sponsor, CreditUnion1, the custom game transformed spectators into active participants. Adding to the experience, Fighting Irish fans ranking high enough on the leaderboard were rewarded with branded tumblers, hats and even a signed basketball from the coach.
Sam's Club Dives Into the Holidays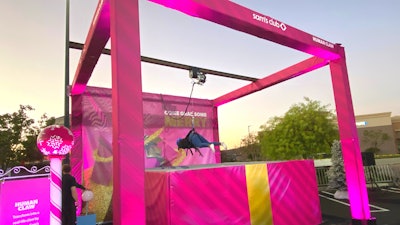 Sam's Club kicked off the 2021 holiday season the right way with its Merry-Ville Pop-Up, featuring a variety of family-friendly winter activities. From ice skating performances to photo ops with Mr. Claus, members of the Santa Clarita community dove right into the spirit of the season. Speaking of diving, a giant human claw made an appearance, prompting community members to plunge into a pit of tempting presents. From stuffed animals to inflatable candy canes to mystery boxes and beyond, community members attempted to grab some merry as they were lowered down into a jolly abyss. Sam's Club took its brand activation one step further with a fully customized façade, creating the illusion that the pit was one giant present.
T-Mobile's All-Pink Sponsorship Lounge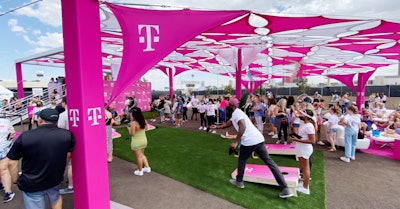 At last year's iHeart Radio Music Festival, T-Mobile engaged concertgoers like never before. When attendees weren't jamming out to Billie Eilish and their favorite artists, they stopped by T-Mobile's signature pink lounge filled with a variety of fun activities. From mini adventures like a mobile zip line to lawn games like cornhole, products were fully branded, so people knew who to thank for the fun.
Need more gamification inspo? From virtual reality to giant games and beyond, Interactive Entertainment Group's technology-driven experiences can take your events to the next level. Visit interactiveparty.com, email [email protected] or call 1.800.760.0724.