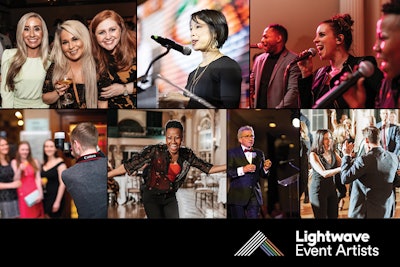 With a company motto like "Less Planning, More Party!", Lightwave Event Artists is a company you'll want to get to know.
Lightwave is a new kind of one-stop-shop event vendor that will save you time and budget. When it comes to creative needs, they can do it all. As a collective of event artists creating and capturing memories, their photographers, videographers, musicians, and lighting/sound producers have contributed to the success of thousands of private events.
As award-winning, seasoned industry professionals who have been part of the event community for more than 15 years, they know what it takes to throw an amazing party and that booking your vendors in one place makes life a lot easier. Their artists have shared the stage with the likes of Lady Gaga, Stevie Wonder, Taylor Swift, Madonna, Sting, Aretha Franklin, Prince, and Beyoncé, and have provided event services for businesses including Google, Coca-Cola, Chanel, Ford, Casper, Bank of America, Trader Joe's, Disney, Make-A-Wish, and more.
Lightwave knows that your event doesn't fit into a standard package, and neither should your vendors. Their services are completely customizable to your needs and style. Whether you're hosting an intimate backyard event or a full-scale festival, Lightwave makes planning easy by matching you with the perfect team based on your event, vision, and budget. Choose your base investment and add extras from there to create a bespoke experience.

So what sets Lightwave apart?
Lightwave artists are seasoned industry professionals whose qualifications go beyond artistry. They're professional, organized, and tech-forward. They know what it takes to plan an event—and are here to make that process a lot easier.

1. Bespoke to you.
Lightwave offers customizable photography, videography, music, and lighting/sound services. You can choose your base package and combine it with any number of services and add-ons. Packaging your vendors can also save you up to 35%.

2. Always available.
Their unique network of artists means they can accommodate almost any event—even at the last minute.

3. Event dashboard.
When you book with Lightwave, you'll be given access to an online planning system that allows for flexible event updates, smooth communication, online payment options, and more. Planning an event has never been easier.
Clients love Lightwave's personalized Event Dashboard, your HQ for all things planning-related. Within your dashboard, you can provide important event details, sign your contract, make and track payments, and request add-ons to make the most of your booking. With step-by-step instructions and tips, it will keep things organized in one place and make planning a breeze! An interactive checklist will guide you seamlessly through the planning process and update as you make progress. It's streamlined and straightforward, so you'll never doubt that your event is on track.
4. Full-service scope.
It's simple. Packaging your event vendors makes planning less time-consuming and more affordable. Lightwave Services include photography, videography, live music, DJ, photo booth, lighting, and sound for corporate events, parties, and more. They operate across the USA, Canada, and Europe, and travel around the world.
Get in touch for a personal consultation!