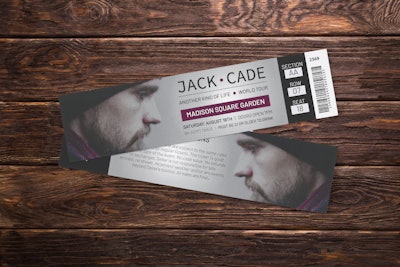 Photo: Courtesy of pc/nametag
Today, tear-off tickets aren't just used for event admission. They're also used as cost-effective keepsakes and interactive tools to boost attendee engagement. In our digital age, receiving a physical ticket is viewed as a luxury experience, which can help your event stand out.
Read on to find our favorite ways to use custom event tickets to create memorable experiences!
Create Raffle Tickets: The tear-off portion of event tickets makes great raffle entry tokens. Print variable data, such as attendee names or unique number sequences, on the stub for simple prize drawings.
Distribute Happy Hour Coupons: Many events offer complimentary food and beverages to keep guests energized. Personalize the tear-off stub for use as a meal voucher or free drink coupon.
Offer Interactive Game Tickets: Have a fun activity at your event? Let attendees use their ticket stubs as entries for Bingo, scavenger hunts, silent auctions, or trivia games.
Collect Music Requests: For events with musical performances, invite guests to request songs by tearing off the bottom portion of their tickets and writing their song suggestions to be played or performed.
Coordinate Seating Assignments: Assigned seating is especially important at banquet dinners, galas, and other special events. Ticket stubs can indicate one's table number or seat assignment.
Create VIP Access: Make keynote speakers, special guests, and VIP-level attendees feel valued with premium ticket stubs that grant access to private lounges, front-row seating, or backstage areas.
Track Donations: For charity events, tear-off tickets can represent different donation levels. Attendees can purchase and tear off their stubs, indicating the amount they want to contribute to your cause.
Gather Votes: For awards ceremonies, tear-off tickets make convenient voting slips. Invite attendees to use their stubs to cast their votes for their favorite entry, group, or participant.
Encourage City Exploration: Partner with a local bar, restaurant, or attraction, then use ticket stubs as free entry to the business. This is a great way to get people having fun in your host city after event hours.
Encourage Future Attendance: Invite attendees to bring their ticket stubs to an upcoming event in exchange for discounted admission—a creative way to encourage repeat attendance.
There are unlimited ways to use physical tickets at events. Not only can they be used for admittance and as cost-effective keepsakes, but they can also get attendees more involved. Eventgoers crave unique experiences, so find creative ways to get them excited to participate!
The best thing about event tickets is that they can be fully customized to your event. Use your tickets as a canvas to show off your event branding, sponsors, and key event information. You can even experiment with adding variable data to tickets and stubs, like QR codes, bar codes, and numerical sequencing. These elements are great for attendee tracking and added personalization.
Ready to create your most unique event experience yet? Visit pc/nametag's website to get started with your very own custom event tickets.