Calgary Stampede Kicks Off 100-Day Countdown to Rodeo
April 2, 2012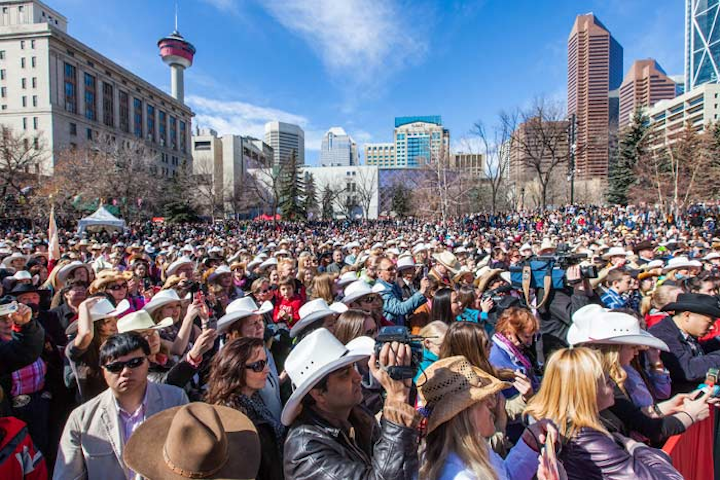 Photo: Tye Carson
Thousands flocked to Calgary's Olympic Plaza on Thursday for a peek at what's in store for the 100th anniversary of the "Greatest Outdoor Show on Earth." The event officially launched the 100-day countdown for the Calgary Stampede, an annual rodeo, festival, and exhibition.
"A lot of hours from both Stampede volunteers and employees have gone into making this year's show a historical event for the Stampede and this great city," said Mike Casey, president and chairman of the board for the Stampede, at the event. Casey revealed some of the new attractions for the Stampede, which runs from July 6 to 15 and will have the theme "We're Greatest Together."
Although the TransAlta Grandstand Show always ends with the "TransAlta Lights Up the Night" fireworks display, this year the power company is upping the ante. For six of the 10 nights, the effort will light four quadrants of city with fireworks, creating Canada's largest synchronized pyrotechnics display. Corus Entertainment will broadcast accompanying music on the radio.
Casey also announced details about the new Bell Centennial Plaza. The new entertainment plaza will be located in the centre of Stampede Park and will house a stage and a massive zip line. The latter will be 80 feet high and 850 feet long, making it the largest temporary freestanding zip line in North America.
This year will also feature new attractions, including a beach exhibit complete with a FlowRider surf machine inside the BMO Centre in Stampede Park and a new midway ride named Outlaw, in honour of the infamous Calgary Stampede bull.
Last year, the Stampede attracted 1.1 million visitors. Tickets for this year's event have been selling at a record pace, and hotels are reportedly selling out much faster than years past.