Rating Super Bowl LIII: Event Producers Give Maroon 5 Halftime Show a C
Event producers from across the country shared their thoughts on the Super Bowl LIII halftime show, which saw performances by Maroon 5, Travis Scott, and Big Boi.
February 4, 2019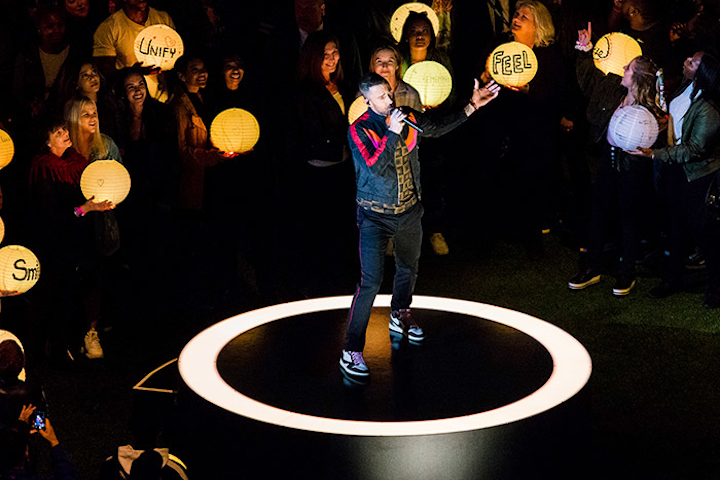 Photo: Dave Clements/Sipa USA
The New England Patriots defeated the Los Angeles Rams on Sunday at the Mercedes-Benz Stadium in Atlanta, in what turned out to be the lowest-scoring Super Bowl of all time. Another underwhelming aspect of the big game, according to both fans and event professionals, was this year's halftime show, which saw performances from headliner Maroon 5 and guest stars Travis Scott and Big Boi.
The show was marred with controversy before it even began, with big names such as Rihanna and Cardi B reportedly turning down the gig in solidarity with Colin Kaepernick, the quarterback who kicked off a string of N.F.L. protests after kneeling for the National Anthem and now finds himself without a job in the league. 
While event producers around the country told BizBash they appreciated the M-shape stage, lantern display, and gospel choir during Maroon 5's 13-minute performance, many found the show too low-key for the Super Bowl stage, and wished there was a cohesive theme or political statement. Here's what else they had to say.
Javier Velarde
"The Super Bowl Halftime show is the most challenging feat in event production. Imagine: 104 million viewers are tuned in waiting for you, and you only have seven minutes to roll a massive stage on to the field, and two minutes to connect all video, lighting, and audio. That is huge pressure and responsibility. If there was an M.V.P. for a company that produces live shows of this magnitude, it would definitely go to the Kirshner Events team who designed the event. They are elite.
Mainly I looked for three things: 1) Was the show beautiful to watch and listen to? 2) Did it flow well and keep me engaged? and 3) Was there anything extraordinary that will be remembered for years? 
First, visually, the use of lighting beams to create a backdrop was stunning. The pyrotechnics against the Mercedes-Benz Stadium were over the top. The LED on stage and ribbon boards created an immersive experience. And the 'M'-shape stage was a smart way to theme and utilize the entire field. Musically, the performers sang live (versus 'live to track' or lip sync), which is extremely brave when millions are watching. The one miss was Travis Scott's song being mostly inaudible because of the constant network bleeps. Using the radio clean version would have solved this issue. Also, Adam Levine crammed too many songs into his medleys, making his performance feel rushed. To connect with an audience, sometimes less is more.
Second, show flow primarily relies on two factors—pacing and energy. While most of the performances were great as standalones, the show as a whole felt disjointed. Why? There was no clear beginning, middle, and end. I'm a firm believer in creating a grand entrance to set the tone of a show. In slowly letting energy build. In adding carefully selected pauses to create negative space. And finally, in building momentum that crescendos into a climax moment. To this point, the Travis Scott fireball stunt would have made for a stronger show open. The Big Boi car entrance, marching band, and choir would have been a solid middle. And saving your headliner Maroon 5 for last would have been a fantastic climax and finale. 
Lastly, was there a 'wow' moment that viewers will remember for years? Like Lady Gaga diving into the stadium, or the 500 drones forming the American flag? No. But those stunts are so rare and hard to come by. Overall, the show was perfectly executed, from the anthem to the precise flyover to the halftime show. With all the right elements, the only weak points were the show flow and the missing special moment."
Letter Grade: B
Velarde is the president and executive producer of Triton Productions, an event design and production agency with offices in Miami and New York. Past clients have included HBO, ESPN, Latin Grammys, Lacoste, and SpaceX.
Gabrielle Kessler
"It is no secret the N.F.L. was looking for a safe, controversy-free halftime performance and Maroon 5 delivered with spectacular mediocrity. In spite of having a dozen number-one hits, the band's bubblegum earworms are mostly love or heartbreak songs—neither of which inspires the sort of energy and excitement needed to rival past performances by stars like Lady Gaga or Beyoncé. The program also suffered from trying to include something for everyone, ranging from an out-of-the-blue Sponge Bob Square Pants clip (presumably an homage to its late creator) to terrible C.G.I. meteors introducing Travis Scott's completely unmemorable performance. Even Big Boi performing Outkast's 'The Way You Move' wasn't enough to shock some life into the show. 
The one standout moment for me was the drone lanterns forming messages of love. While we've seen more complicated drone shows in past Super Bowls, it is still an impressive bit of engineering. The giant 'M' stage design was clean but cliched, and the pyrotechnics were fun but disconnected from any overarching theme. The most awkward/genius part of the show was Adam Levine's topless seduction of the crowd, which effectively distracted everyone at my Super Bowl party from the ho-hum performance and sparked a heated debate over how many days per week he worked out to prepare for the show."
Letter Grade: B-
Kessler is the vice president of experiential for Future, where she's leading the expansion of the media brand's experiential marketing and events programs in the gaming, tech, music, knowledge, and B-to-B industries. She also works on the company's marquee gaming industry event, the PC Gaming Show.
[PULLQUOTE]
Shane Terenzi 
"The Super Bowl halftime show is something that sports and music fans alike look forward to every year. The spectacles of the past performances from Justin Timberlake and Janet Jackson's infamous wardrobe 'malfunction,' to Madonna balancing on a slack rope, to Lady Gaga's entrance through the top of the stadium, fans' expectations have been set off the charts. If Maroon 5's idea was to dial it back to something simpler, unfortunately they greatly overshot. This show was poorly conceptualized with no overall theme or message.
The moment that stole the show for me was when a drum core and gospel choir came out and sang "Girls Like You" with Levine. The choir soloist took over and her talent was a breath of fresh air; the true power and effortlessness just blew me away. And the song "She Will Be Loved" showed a valiant effort from production. Drones flew up from the field, first as lanterns and then morphed into the words 'One Love.' Although interesting to see, this was the extent of production in the show.
As the show continued there were no big moments that people will remember, other than Levine's shirt-stripping finale. At the end I was left saying, 'Was that it?' There were a lot of chances for this show to have a real impact and unfortunately, everything just missed the mark." 
Letter Grade: D
Terenzi is the director of events at High Beam Events, a full-service production firm based in Austin that handles design, production, and location scouting for South by Southwest. Other clients include Google, Dropbox, Indeed.com, and Walt Disney Studios.
Ty Kuppig
"Last night's Super Bowl halftime show was not the worst in history, but it certainly wasn't the best. It is no secret that the N.F.L. has had its hands full the last few months. After Rihanna and Cardi B both publicly declined invitations to perform, the N.F.L. announced in January a late-in-the-game decision to fling Adam Levine and Maroon 5 on to the field.  
What we want at the halftime show is spectacle, excitement, surprise—Diana Ross ascending in a helicopter, Madonna riding atop a gladiator procession, Katy Perry's Left Shark dancing to its own beat, Lady Gaga diving into the stadium from the roof! What we got instead was a watered-down string of the band's best-known hits paired with a clumsy striptease by Levine, who ended bare-chested, awkwardly gyrating to the audience while singing 'Moves Like Jagger.' Appearances by Travis Scott and Big Boi were happy diversions, but were cut too short—and even cameos by these hip-hop greats could not quite keep the show afloat.  
Considering the tepid performance, we would have welcomed some high-impact special effects or state-of-the-art tech tricks. Instead, we got little more than standard concert pyrotechnics and Intel LED drones (again). Been there, done that.  
We found ourselves starving for a 'wow' moment to satisfy our craving for excitement and production value. 'Maybe Levine will suddenly be catapulted across the stadium into the stands!' 'Please let the big M-shape stage crack open, unleashing an army of back-up dancers!' Sadly, none of our wishes were granted by the lackluster show."
Letter Grade: C+
Kuppig is the principal of Tyger Productions, a New York and Boston-based experiential design and event production company. Clients include Rolex, Nascar, Delta, Ocean Spray, Deutsche Bank, and the Dana-Farber Cancer Institute.
Andrea Michaels
"I felt like I was watching a concert and not necessarily a halftime show. Though I like Maroon 5, they are a band with a lead singer and there was no real 'performance' here that engaged more than an arena show would. Our group all liked the staging and the runways and felt those were creative and used well with the gospel choir and drummers. We all loved the pyrotechnics and flame effects. Who doesn't like amazing pyro? As we could not really see how the animations worked for the audience that was present in the stadium, it was hard to evaluate their effectiveness—as in flame flying toward the stage and erupting in real flames.
The drones and lanterns were one of the best parts of the show, and the messaging written on the lanterns was wonderful—though I wish the cameras could have done more close-ups so that we could see some of them more clearly, as in 'overcome' and 'smile.' I believe the messaging rising into the skies mattered. Unfortunately, the cameras did focus on audience, where some lanterns were lit and others weren't.
All in all, the halftime show felt uninspired, solid and safe and well-executed for what it was—which wasn't much. I have to wonder if the audience in the stadium felt as disconnected from the performances as the television audience did. Even Adam's few offstage moments felt disengaged.
Now, a personal note—did we really need an ode to Adam's abs and tattoos? It felt like a gratuitous combination between Magic Mike and a Billy Idol tribute. Was that someone's version of 'spectacle'? I know we don't always need ziplining performers and hundreds of locals wearing silly costumes, but if there is no real moment except for the fireworks, then the band has to kick ass and the lead needs to be sensational. They weren't. The supporting acts? No big deal.
At a time when it is important to make positive social statements and we have a world watching us, some kind of messaging on all those LEDs could have made a world of difference to show that we acknowledge diversity and inclusion, from L.B.G.T.Q. to racial communities and more. If not on the LEDs, then why not on the stage? If we don't show our real message to the world, then it's just another ho-hum concert with a lot of great pyro and some meaningful lanterns."
Letter Grade: C-
Michaels is the president of Extraordinary Events, an event production and management firm with offices in Los Angeles and Cleveland. Notable clients include BMW, Mary Kay, and the Howard Hughes Corporation.
Josh Kell
"This was the halftime show Super Bowl 53 deserved. It was boring, unimaginative, and the audience wished someone else was playing the entire time—just like the game itself. When you're playing on the biggest stage in the world, the goal is to wow the audience by going big and trying things you've never tried before. But instead, Maroon 5 played it safe and didn't do anything unexpected. In fact, they didn't do anything at all. They stood in one place and hoped that basic pyrotechnics and going shirtless would be enough to fool the audience into thinking it was a great show. It wasn't. The entire thing was tone deaf."
Letter Grade: F
Kell is the director of digital and brand marketing for Switch, a St. Louis-based experience agency. Clients include ABInBev, Bosch, 5-hour Energy, and Sparkling Ice.
Greg Zalkin
"This year's Super Bowl halftime show can be summed up as safe. You didn't see big choreographed numbers with masses of dancers like previous shows. Gone were any attempts to make political statements, or attempts to wow onlookers at all. Despite being petitioned to not perform, Maroon 5 did a decent job entertaining, bringing back some old-but-good hits in a flat performance. The incorporation of Travis Scott and Outcast was a win that helped reach a wider viewing audience, though the brief SpongeBob integration was lost on most.
Technically, the show played it safe again, using simple stage design and pyrotechnics, focusing more on the music than anything else."
Letter Grade: B-
Zalkin is the co-founder and C.E.O. of Creative State Marketing, an experiential and digital agency based in Miami. Clients have included Heineken, Waze, and the Manchester United football club.
Featured Venues/Suppliers: