This Week in Los Angeles: a Flower-Filled Pool Party, a Gin-Theme 'Alice in Wonderland' Pop-Up, Aquarium of the Pacific's New Wing
West Coast bureau chief Claire Hoffman covers the week's biggest event news.
May 24, 2019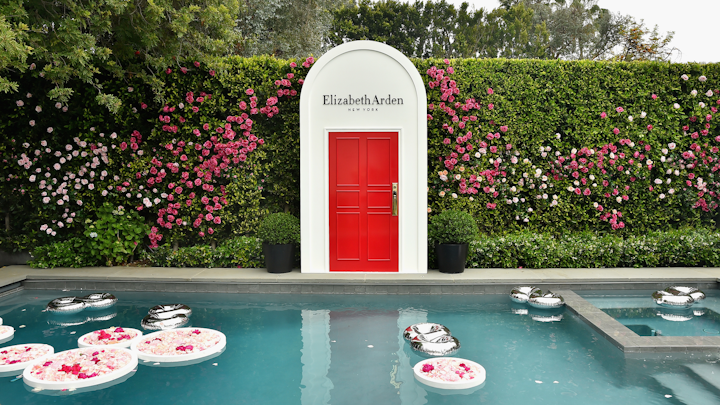 Photo: Stefanie Keenan/Getty Images for Elizabeth Arden
Welcome to BizBash's Los Angeles-based column, where West Coast bureau chief Claire Hoffman recaps the week's biggest local news. Got a tip? Get in touch!
Moves & Milestones
George P. Johnson has appointed Sherri Ferren senior vice president of client success and co-lead of the experiential marketing agency's L.A. office.
The Montage Laguna Beach has hired three new chefs—including executive chef David Serus, who is handling all culinary operations for the 255-room hotel. Chef Joosung Lee is now overseeing new menus for casual dining venue the Loft, while sous chef Robert Rando has joined the team at the on-site Studio restaurant. 
In Case You Missed It
We explored how Playboy is using live events—including two recent pop-ups in Los Angeles—to draw unexpected new fans. 
In the News
The Museum of Contemporary Art will now offer free admission for at least five years thanks to a $10 million gift from board president Carolyn Powers. The gift was announced during the MOCA Benefit last Saturday, which raised more than $3 million. Los Angeles Times: "The event, inside MOCA's Geffen Contemporary satellite space in Little Tokyo, was something of a 40th birthday party for the museum. About 700 guests, 300 or so of them artists, leaped to their feet and applauded when Powers announced the news. Removing financial barriers and making the museum more accessible is part of MOCA director Klaus Biesenbach's 'civic-minded' vision for the museum, he has said."
This week, an employee at the Freehand Hotel downtown alleged that six different septic tank explosions affected the hotel's private dining room. Eater: "[Employee Jose] Santamaria says that one time the hotel hosted an event in the private dining shortly after he cleaned the room. He is asking California state officials to look into the hotel's compliance with workplace safety regulations, including protective equipment and training for this type of work."
We Rise L.A. is taking place now through May 27 in the Arts District. L.A. Weekly: "Part massive interdisciplinary art exhibition, part civic and policy-minded symposium, part public health festival, part community meet-up spot ... the 2019 edition of this cross-platform mental well-being happening promises a variety of experiences from the esoteric to the educational, inspirational, and pragmatic. Hundreds of visual artists, selected and invited by four curators, represent national and local voices whose work in some cases directly addresses the topicality of the occasion, and in others simply sparks salient contemplation."
Surprise Event Metric of the Week
20,000—the number of people expected to join a mass meditation at Los Angeles State Historic Park on June 22. DisclosureFest and California State Parks will host the third annual Mass Meditation Initiative, a daylong event with music, speakers, workshops, and yoga. "We've doubled in size each year from 5,000 to 10,000 and this year we are taking up the entire 32-acre park and going until 10 p.m. with huge music acts, so we are expecting 20,000 people," said DisclosureFest founder Adrian Vallera.
Venue Buzz
Long Beach's Aquarium of the Pacific has a new wing opening today. The first major expansion in the venue's history, the Pacific Visions Wing is a two-story, 29,000-square-foot space made from sustainable materials. Designed by architecture and design firm EHDD, the wing has a 300-seat theater, a 2,800-square-foot art gallery, and a space with interactive games and live animal exhibits. 
Dim sum chain Tim Ho Wan opened its first California location in Irvine on May 18. The 6,000-square-foot restaurant seats 125.
Overheard
"Hospitality is about making people feel welcome and taken care of—I tell that to my staff, and to the people I'm interviewing. ... For me personally, experiences where I discover a new wine that I like, or where there's a service element that was unexpected and delightful, that creates a lasting memory. If we can do that, then I think we've done our job.
—Christine Larroucau, general manager of David Chang's Majordomo, in an interview with Eater. 
On the Scene
Earlier this week, we previewed the Mad Hatter's Gin & Tea Party, a gin-focused pop-up in Hollywood taking place through late July. The festive Alice in Wonderland-theme space offers molecular cocktails, costumed performers, and on-theme snacks. 
What's Next
DragCon L.A., presented by RuPaul and World of Wonder Productions, takes place today through Sunday at the Los Angeles Convention Center. The family-friendly celebration of drag features vendors, panels, runway shows, and celebrity appearances, plus a kids' zone with a drag queen story hour.

And on Wednesday, event industry group Fete Los Angeles takes over Greenbar Craft Distillery downtown for a networking event.