This Week in Los Angeles: a Bar Made of Ladders, a Greenery-Covered Lounge, a Marijuana-Focused Museum
West Coast bureau chief Claire Hoffman covers the week's biggest event news.
June 28, 2019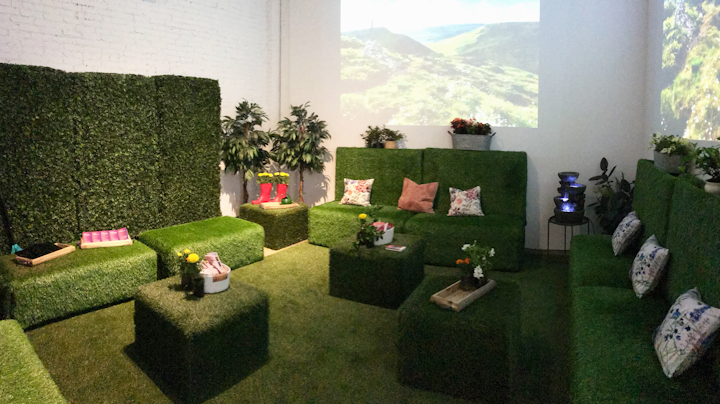 Photo: Courtesy of Inspira Marketing
LOS ANGELES—Welcome to BizBash's Los Angeles-based column, where West Coast bureau chief Claire Hoffman recaps the week's biggest local news. Got a tip? Get in touch!
Moves & Milestones
The Wayfarer DTLA hotel, opening in the fall, has named Francis Dimitrius its new executive chef. 
Bar and music venue the Silverlake Lounge, open since 1938, is now owned by Tabula Rasa Bar's Zach Negin. 
Alexis Murray-Merriman has joined the Hawkins International PR team, based out of the Los Angeles office. She previously worked at HL Group.
In Case You Missed It
Earlier this week, we looked at 28 fun ideas from recent TV and movie events in Los Angeles and around the country. From housewife-inspired drag queens to a choir of demonic nuns to a 20,000-pound throne, check out attention-grabbing ideas from events surrounding Big Little Lies, Good Omens, Game of Thrones, and more.
In the News
Tech company Weedmaps is creating a pop-up museum that traces the history of marijuana. Los Angeles Times: "The pop-up Museum of Weed will open August 3 at 720 North Cahuenga Blvd. in Hollywood and run through September 29. The 30,000-square-foot space will feature seven exhibits that trace humankind's view of cannabis, from its pre-prohibition use to 'reefer madness' and criminalization, to its counterculture embrace in the 1960s and subsequent crackdowns by presidents Richard Nixon and Ronald Reagan."
Last fall's destructive Woolsey Fire continues to impact Malibu restaurants. Eater: "The fire was only the first wave of disaster. Without proper foliage to hold the hillsides intact, mudslides caused further damage and kept restaurants closed or inaccessible to regulars. But some still persevered, including D'Amore's Pizza, Coral Beach Cantina, and Zooma Sushi. And though the three reopened after the fire, they are likely closing soon."
A stunt from luxury boutique Charlotte Tilbury went wrong this week. Los Angeles Magazine: "Lip-shaped, cellophane balloons with coupons for samples of luxury cosmetics were handed out to guests celebrating the opening of Charlotte Tilbury's new boutique at the Grove—but in the days following, Angelenos found the deflated remains strewn across the city. One Reddit user claimed he found a balloon tangled in the bamboo bushes in front of his house in Mar Vista, some seven miles from the shop. Another said they found one blowing into traffic in Santa Monica."
Venue Buzz
Bar Sopra, located above Blackship restaurant in West Hollywood, opened this week. The cocktail lounge pays homage to a European Aperitivo bar, with sweet vermouth on tap plus a menu of vermouth, amaro, and gin-focused drinks. The intimate space has tufted yellow sofas, an indoor bar with eight seats, and a covered outdoor patio with a wraparound sofa. Fun fact: The venue's restroom is said to be haunted by Jim Morrison's ghost.
Private club and co-working venue Neuehouse plans to open a downtown location in November. Located in the historic Bradbury Building, the 25,000-square-foot venue will have conference rooms, private offices, a gallery, and more.
Surprise Event Metric of the Week
49: The percentage of people who rely on recommendations from influencers, family, and friends when choosing a brand. The stat was shared by Connie Chi, founder and C.E.O., the Chi Group, during a session at PCMA EduCon at the JW Marriott this week. Keep an eye on BizBash next week for more insights from the conference industry-focused event.
Overheard
"It started as an awards show but it really evolved into a celebration of black culture that allows us to celebrate artists and humanitarians and allows us to take moments to acknowledge people who are important to our community. The concept of an awards show really evolved into a celebration of life."
—BET's Scott M. Mills, speaking to the Hollywood Reporter about Sunday night's 19th annual BET Awards.
On the Scene
We checked out the Downtown Women's Center's fund-raiser on June 20 at Rolling Greens on Mateo. Summery details included a Ketel One Botanical bar constructed from white-painted ladders; Schaffer L.A. and Town & Country Event Rentals created the space. 
What's Next
To celebrate season 3 of Stranger Things, Netflix is transforming the Santa Monica Pier into a carnival set in 1985. The event, which is open to the public this weekend, will include immersive experiences inspired by the show, including games, a fun house, and '80s cover bands. CSM LeadDog is handling production for the fair, which will also take over the Coney Island amusement park in New York over Fourth of July weekend.
Also this weekend is the latest iteration of the Girlboss Rally at U.C.L.A. A lineup of more than 100 speakers and workshop leaders include Paris Hilton, Maria Menounos, Rupi Kaur, and Girlboss founder Sophia Amoruso; there will also be a shopping area filled with female-run brands. See our coverage of last year's conference. 
And looking into the following week, the Anime Expo takes over the Los Angeles Convention Center from July 4 to 7. Produced by the Society for the Promotion of Japanese Animation, the event typically draws 110,000 people from more than 70 countries for roughly 900 hours of programming.
We'll be skipping next week's column; look for us again on July 12. Happy Fourth of July!