This Week in Los Angeles: Pandora's Mirrored Logo Sculptures, an Emmys Video Booth, a New Line of Furniture Rentals
West Coast bureau chief Claire Hoffman covers the week's biggest event news.
September 27, 2019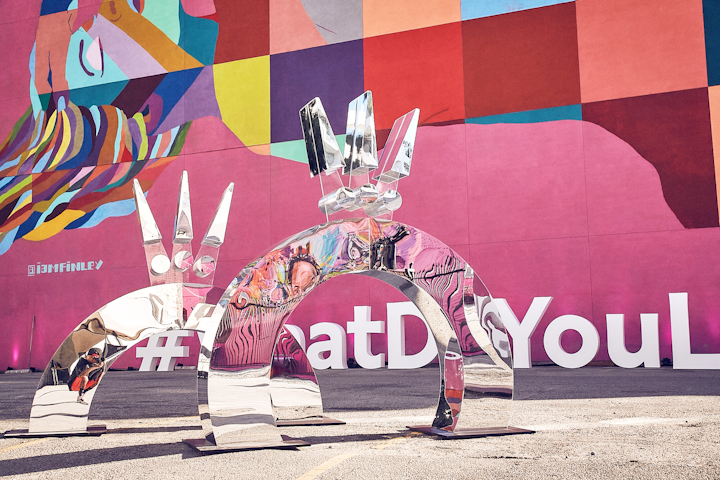 Photo: Chris Nowling/10 Digital, Inc.
LOS ANGELES—Welcome to BizBash's Los Angeles-based column, where West Coast bureau chief Claire Hoffman recaps the week's biggest local news. Got a tip? Get in touch!
Moves & Milestones
Michelle Thornton is the new director of meetings and incentives at Russell Harris Event Group. She was previously senior meeting planner at East West Connection, where she was named to BizBash's inaugural list of the Top 500 People in Events. 
Dan Mazei is the new head of global communications for the eSports division at Activision Blizzard, where he'll help the gaming giant expand its eSports leagues around the world. Based in Los Angeles, Mazei previously led global public relations for Reebok.
Nusrat Mirza has been named general manager and Maribel Denner has been named director of sales and marketing for the JW Marriott, Anaheim Resort, slated to open in April. The 466-room project, located at the Anaheim GardenWalk adjacent to Disneyland, will be the first JW Marriott to open in Orange Country. It will have 43,000 square feet of indoor and outdoor event space, including a grand ballroom that holds 1,400. 
In Case You Missed It
We spotlighted 31 design and production highlights from the most glamorous Emmys parties, including decor-heavy events from HBO, Disney, Netflix, and Amazon Prime Video. 
We also rounded up 10 new Los Angeles venues for fall meetings and events, including a buzzy new cannabis café opening next week. 
In the News
Snapchat has launched two augmented-reality billboards in Los Angeles. Adweek: "The fourth season of The Dead Girls Detective Agency is the subject of a billboard at 1008 West Sunset Plaza in Los Angeles, while another billboard just a few yards away, at 1009 West Sunset Boulevard will introduce new Snap Original Dead of Night. Snapchatters in Los Angeles can scan the Snapcodes on each billboard to unlock exclusive lenses that layer AR experiences on top of the billboards in real-time, even if the phone is moved. The lenses were built in partnership with mobile-focused agency Paper Triangles, a Snapchat Lens Creator based in Los Angeles."
Hollywood's historic Earl Carroll Theatre, built in 1938, will reopen as a 38,000-square-foot entertainment venue in late 2020. Curbed: "One of the former owners of the nearby music venue the Fonda Theater announced that he and his business partner have signed a 10-year lease with options to renew to 'take over and revitalize' the landmarked Streamline Moderne theater in Hollywood. The theater is expected to host an array of events, including stage shows, concerts, movie premieres, and special events. The theater will also be available for community meetings."
Tom Hanks will be honored with the Cecil B. DeMille Award at the Golden Globes on January 5. The Hollywood Reporter: "The annual DeMille award honors those with 'outstanding contributions to the world of entertainment.' Recent recipients include Meryl Streep, Denzel Washington, George Clooney, Woody Allen, Jodie Foster, Morgan Freeman, Robert De Niro, Martin Scorsese, Steven Spielberg, Warren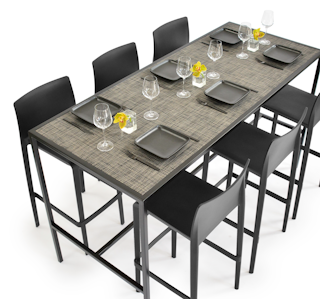 Taylor Creative's new Chilewich communal table in Carbon rents for $325Photo: Courtesy of Taylor CreativeBeatty, Oprah Winfrey, and last year's honoree, Jeff Bridges."
For Rent
Taylor Creative Inc. has launched a new line of furniture rentals with placemat company Chilewich. The linen-less collection features 13 new products—including dining tables, bars, and highboys—inlaid with Chilewich's signature basketweave textiles. The products come in three colors—New Gold, Carbon, and White / Silver. The rentals are available in Los Angeles and New York. 
Venue Buzz
Konbi, a small cafe in Echo Park that serves Japanese-style sandwiches, has been named Bon Appetit's restaurant of the year.
The Cliff Diver, a new restaurant and bar in Malibu, opens today. The stylish space, located along the Pacific Coast Highway, was inspired by a 1960s beach house; decor includes vintage art, rattan seating, and plenty of greenery. There's also a vintage jukebox and a shuffleboard court, plus a patio with a retractable roof and a seafood-focused menu. The venue can host private parties, or provide catering for offsite events.
Overheard
"We're trying to be present tonight. We really enjoyed being together, we're going to enjoy this party. The HBO party is always a spectacle so I love it."
—Veep star Tony Hale, speaking to Variety about the lack of Emmy recognition for the show's final season. The Warner Media and HBO Emmys after-party, held on Sunday night at Pacific Design Center, had a nightclub theme inspired by the works of photographer Helmut Newton and artist Bjorn Wiinblad.
Surprise Event Metric of the Week
100,000: The number of tickets sold to Refinery29's popular 29Rooms exhibits since the first edition in 2015. Tickets are now on sale for the latest Los Angeles edition, which will take place at the Beverly Venue by HD Buttercup at 4315 Beverly Blvd. November 8 to 17; it will have an "Expand Your Reality" theme.
On the Scene
OM Digital appeared at a few of the week's biggest Emmys parties, including for Disney and Amazon Prime. The Los Angeles-based photo company also produced a video booth backstage at the awards themselves, where Emmy winners posed after accepting their awards. Event Special Effects handled fabrication, while Volt Lites handled lighting.
What's Next
A few public Halloween events are making their debuts this week. First up, the long-running Los Angeles Haunted Hayride kicks off on Saturday and runs through November 2; the annual Griffith Park event will have an expanded lineup of attractions and new theme centered on Midnight Falls, a spooky, fictitious village set in 1985. 
In addition, Freeform is hosting its Halloween House in Hollywood from October 2 to 7, while the social-media-friendly Nights of the Jack pumpkin festival in Calabasas runs from October 3 to November 3. (Check out our coverage from last year.)
In festival news, the U.S. debut of Pinot Palooza takes place on Saturday at City Market Social House. The event, which will showcase more than 100 wines, is also held in 13 cities around the world. Meanwhile, the latest edition of the 35-year-old Abbot Kinney Festival takes place in Venice on Sunday; the free neighborhood street party features 350 vendors, food trucks, kids' rides and games, three beer gardens, and four stages for live music.
And looking into next week, the 2019 All-Star Chef Classic, sponsored by Lexus, takes place October 2 to 5 at L.A. Live. New this year is Carneval, a new tasting event where 18 chefs—including Seamus Mullen, Wylie Dufresne, and Stephanie Izard—will serve their takes on all-things meat.