This Week in Los Angeles: Previewing the Oscars Stage Design, Plus an Over-the-Top Toddler Birthday and Kobe Bryant Memorial Plans
West Coast editor Claire Hoffman covers the week's biggest event news.
February 7, 2020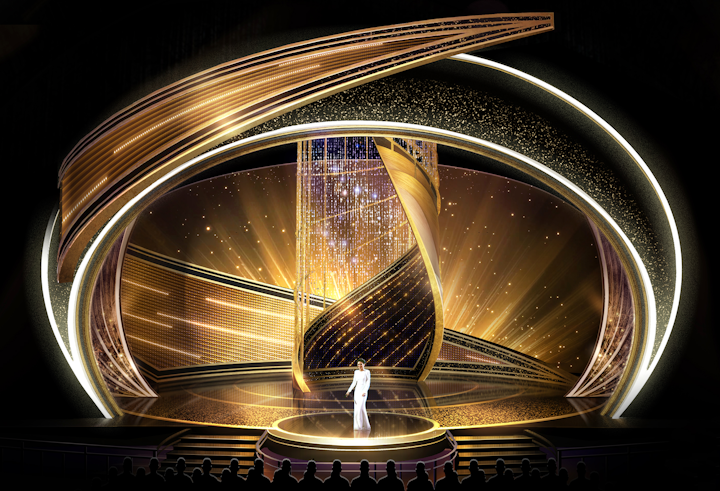 Rendering: Jason Sherwood Designs
LOS ANGELES—Welcome to BizBash's Los Angeles-based column, where West Coast editor Claire Hoffman recaps the week's biggest local news. Got a tip? Get in touch!
Moves & Milestones
Visit Anaheim has promoted three senior executives: Charles Harris is now the chief marketing officer and executive vice president for public affairs, Junior Tauvaa is chief sales officer, and Mariles Krok is vice president of meeting and partnership sales.
Entertainment publicist Joyce Sevilla passed away last week. She was 47. The Hollywood Reporter: "For the past two years, Sevilla headed her own entertainment marketing and publicity firm, Sevilla Strategic Communications ... Sevilla counted the Hollywood venue the Sayers Club, the fan experience company 1iota Productions, and Beem Networks among her first clients. She was known to work in the nightlife space, as well as being an expert in event PR and brand campaigns."
In Case You Missed It
We caught up with Matt Landes, founder of the Los Angeles-based Cocktail Academy, to discuss the hottest beverage trends for award season, how cocktails can convey brand messages, and more.
Venue Buzz
Andy and Carlo Brandon-Gordon, owners of Nerano, opened their new restaurant BG in late January. The retro, speakeasy-style space is a tribute to mid-20th century Italian-American restaurants, with red brick walls, walnut flooring, and black linens. BG has 30 seats and can be booked for private events.
The 132-room Hotel Amarano in Burbank is slated to unveil a full-scale renovation in March that includes updates to its three meeting rooms. The revamp, overseen by Hirsch Bedner Associates, will also add a restaurant and lounge called FYC ("For Your Consideration").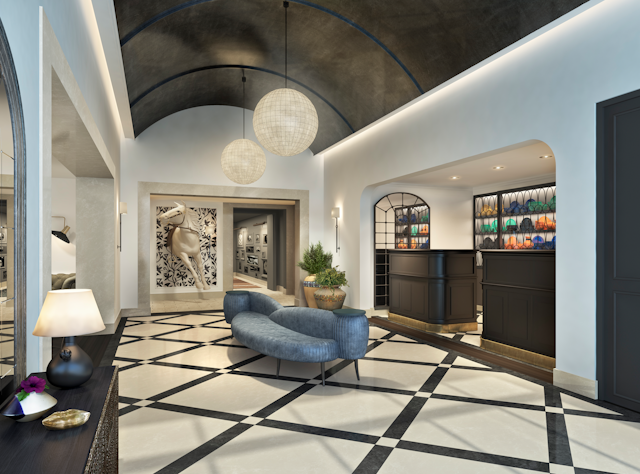 The luxury Hotel Amarano has 2,220 square feet of meeting space.Rendering: Courtesy of Hotel Amarano

In the News
A public memorial for Kobe Bryant will take place February 24 at the Staples Center. Los Angeles Times: "Planning for the massive event is underway. Staples Center has previously hosted memorials for artists Michael Jackson and Nipsey Hussle. Information about timing and tickets for the ceremony was not immediately available. With limited seating, however, entry is expected to be severely restricted, sources say. The date was selected after discussions with Bryant's widow, Vanessa, the Lakers organization, and Staples. One source said there will be no procession, and the event will conclude in time to allow a previously scheduled Clippers game against the Memphis Grizzlies to go forward in the evening."
Amoeba Music—the country's largest independent record store and a beloved local landmark—will reopen this fall on the corner of Hollywood Boulevard and Argyle Avenue. Los Angeles Magazine: "The new location is slightly smaller than the cavernous current location (although they haven't said exactly how much smaller), but it will still host in-store performances, DJ sets, and meet-and-greets, and 'will house all the formats of goodies we carry now.' They'll also have some major synergy with their new neighbors. [It will sit] catty-corner from the Pantages and Frolic Room, and steps from the Fonda Theatre, that crazy new Funko Pop store, and the Hollywood/Vine Metro Station."
As LAX gears up to open its new Midfield Satellite Concourse this summer, the airport is looking for 500 volunteers to test out the space. Los Angeles Times: "The test will be staged to ensure that emergency responders, airline and concessionaire staffers, and equipment workers know how to operate and navigate the $1.6-billion concourse that connects to the Tom Bradley International Terminal by way of a 1,000-foot tunnel. That means knowing what to do if the boarding bridge doesn't operate properly, or a stalled plane blocks gates for incoming flights, or a passenger falls and breaks his or her leg in the tunnel, or someone's child gets lost. ... The satellite terminal's roof resembles an ocean swell, a complementary design to the Bradley terminal's roof, which looks like a breaking wave."
Overheard
"He knows what can be done. He knows he's in a good position to push. He enlists friends. And it works. He can have influence in Hollywood, and it influences the rest of the world."
—Lisa Lange, senior vice president of communications at PETA, discussing how actor Joaquin Phoenix has quietly spearheaded the effort to make this year's award shows vegan.
Surprise Metric of the Week
800: the number of meals that the Los Angeles Convention Center and in-house caterer Taste of LA by Levy Restaurants repurposed following to Grammys Week events, through a partnership with nonprofit Musically Fed. The unused meals were donated to the Los Angeles Mission, the Midnight Mission, and the Good Shepherd Center for Homeless Women & Children. 
On the Scene
For her daughter Stormi's second birthday last weekend, Kylie Jenner worked with Mindy Weiss to create an over-the-top theme park-inspired party dubbed "StormiWorld." The event included a blow-up slide with an inflatable of Stormi's face, plus areas inspired by Frozen and Trolls.
What's Next
This weekend is all about the Oscars. Before the big night, event highlights include the Motion Picture & Television Fund's 18th annual "Night Before" fund-raiser at Fox Studios, plus the Aubrey Plaza-hosted Film Independent Spirit Awards on the beach in Santa Monica; both events take place on Saturday.
On Sunday, the hot-ticket events include the annual Elton John AIDS Foundation viewing party, which will take place at West Hollywood Park and be hosted by John, his husband David Furnish, and stars from Netflix's Queer Eye. Other ultra-exclusive highlights include the annual Vanity Fair Oscar party at the Wallis Annenberg Center for the Performing Arts, plus Madonna and Guy Oseary's 13th annual late-night party at a private residence. And of course, the first stop for many stars will be the Academy's own Governors Ball; check out our preview story for a look inside.
In other news, the second edition of Frieze Los Angeles takes place February 14 to 16 at Paramount Pictures Studios. The event will feature more than 70 galleries from around the world, and a new curated section will be dedicated to emerging local galleries. A series of daily talks, performances, gallery openings, and other events will take place throughout the city starting February 11.