This Week in Los Angeles: Inside Kobe's Memorial Service, Plus a Family-Friendly Disney Stunt and a Tech-Forward Wedding
West Coast editor Claire Hoffman covers the week's biggest event news.
February 28, 2020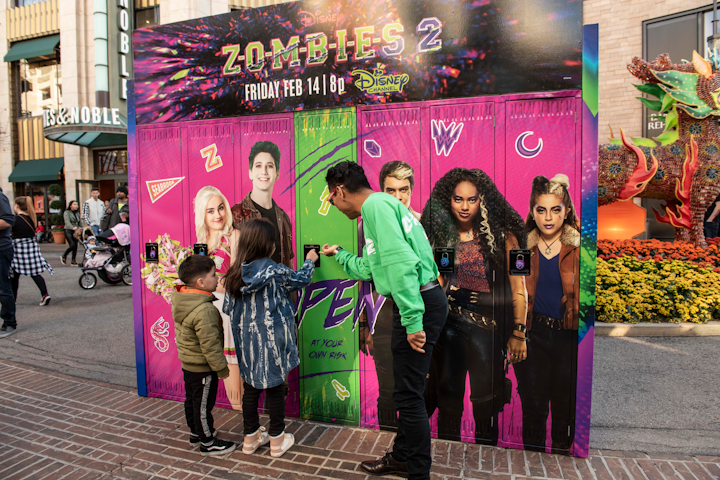 Photo: Courtesy of GDX Studios
LOS ANGELES—Welcome to BizBash's Los Angeles-based column, where West Coast editor Claire Hoffman covers the week's biggest local news. Got a tip? Get in touch!
Moves & Milestones
Previously the chairman of Walt Disney Parks and Resorts, Bob Chapek this week was named C.E.O. of Disney. Chapek replaces Bob Iger, who will stay on as chairman through 2021. CNN: "While Iger oversaw the strategic acquisitions of Pixar, Marvel, and Lucasfilm, Chapek worked to integrate the intellectual property into the theme parks. Last year, Disney opened Galaxy's Edge, a new Star Wars land in both Walt Disney World in Florida and Disneyland in California."
Reed Exhibitions has acquired two Intelligent Transportation Society of America (ITS America) events: the ITS World Congress, plus the society's Annual Meetings. The 27th World Congress takes place October 4 to 8 at the Los Angeles Convention Center.
In Case You Missed It
Earlier this week, we took a look at how top event pros—including L.A.'s own NVE Experience Agency and AGENC Experiential & Digital Marketing—design their own office spaces. 
Spotlight On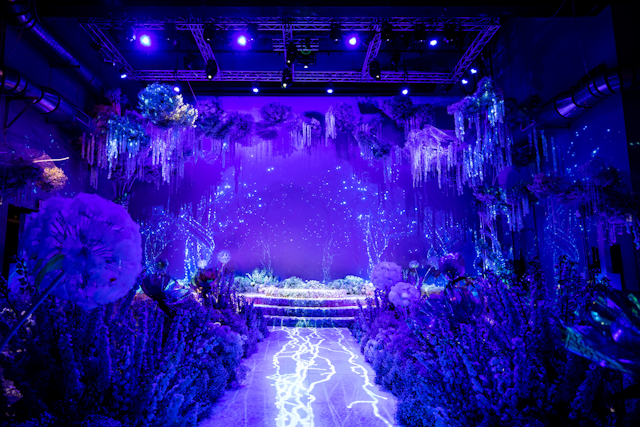 Photo: Michael Anthony Photography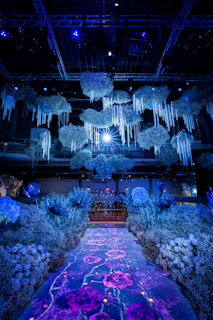 Photo: Michael Anthony PhotographyPrivate workspace NeueHouse Hollywood hosted its first wedding on New Year's Eve. Located in the venue's 8,200-square-foot Studio A space, the futuristic event immersed 300 guests in a winter dreamscape-like setting using video mapping from in-house creative technologist Yuri Victor. High-resolution projections covered 270 degrees of wall space, while additional projections created a virtual aisle that changed as the bride walked down. The video mapping, which included blooming florals and moving wildlife, was complemented by immersive decor such as 24-foot trees from Butterfly Floral & Event Design.
After the ceremony, projections changed to a virtual photo collage as the couple shared their first dance, and later displayed an animated countdown to midnight. The bride and groom, Danielle and Justin Choi, came up with the vision for the event, while Xtina Milani handled planning and design. Rock & Light created the digital video content, 1987 Masters handled audiovisual production, and ASV handled staging.
In the News
Staples Center president Lee Zeidman has shared behind-the-scene details on how Kobe Bryant's memorial service, which took place on Monday, came together. Los Angeles Times: "Zeidman recommended a center stage for the event to 'maximize more seats and it would help us do a quicker turnaround with the conversion to the Clippers game that night.' The stage was set up after the Kings played the Edmonton Oilers on Sunday night and was ready Monday morning for rehearsals before the doors opened at 8:30 a.m. There was no time to rehearse there before Monday ... The Lakers and AEG worked with Ken Ehrlich Productions to put on Bryant's 'Celebration of Life.' Ehrlich has produced the Grammy Awards since 1980."
Fusion BBQ Beer Fest has been billed as a new barbecue and craft beer festival—but the event may not actually exist. Eater: "The upcoming event claims on its website and social media to be happening on July 18 at Dodger Stadium, and is focused on offering tastes of meat from across a variety of international barbecue styles, in addition to live music and more. The only problem: The event isn't actually happening at Dodger Stadium on July 18—the organization has never heard of the event, and has not permitted one on that day—it seems like nobody actually knows who is throwing the event, and, despite already offering tickets online, there doesn't seem to be a single confirmed vendor."
TikTok's inaugural #MakeBlackHistory Summit, produced by BMF, took place in Los Angeles last weekend. Adweek: "Over 100 black creators attended the two-day event, which included discussions with celebrities and industry executives on the importance of cultural content creation, as well as working sessions focused on career development and personal branding."
Surprise Metric of the Week
$1,495: the V.I.P. ticket price for ModelLand, Tyra Banks's 21,000-square-foot supermodel theme park at Santa Monica Place opening on May 1. Page Six: "General access tickets, which promise to 'whisk you away into the world of fantasy and phierceness' and include posing tips from Banks, a photoshoot, and a personalized digital lookbook, are priced at $56. If you'd like a makeover before you start to smize, you'll have to go for a $549 'Fantascene Photoshoot' ticket ... And then there's the $1,495 'Fantascene Dream' tier, which offers a pre-visit consultation to customize your photoshoot look, extra wardrobe changes and photos, a Banks-curated goodie bag, ModelLand robe, and secluded V.I.P. seating."
Venue Buzz
Tipsy Chef, a new eatery from Broseph's Restaurant Group, is now open in Santa Monica. The 3,500-square-foot space has an industrial-chic vibe with communal-style dining, plus a 16-seat bar, a 20-seat private dining room, and an outdoor patio.
The team behind E.P. & L.P. plans to open Grandmasters Recorders, a multi-level restaurant and rooftop lounge, in Hollywood this summer. According to Eater, the venue will have a 130-seat dining room, a late-night bar, and a rooftop that holds as many as 300 people.
Overheard
"This particular activation takes it to the extreme. It capitalizes off cannabis culture in California. We're mocking cannabis culture in a way, saying the only CBD you need is 'California-based dairy.' We think this was a clever way to make a point that if you want to feed your heart and soul, you don't need drugs—how about a gooey grilled cheese instead, which is legal in all 50 states?"
—Michael Freeman, vice president of advertising for the California Milk Advisory Board, chatting with Adweek about last weekend's "dairy dispensary" pop-up in Venice. The daylong, public stunt from Deutsch LA was modeled after a weed dispensary, and served ice cream "joints," "microdosed" butters, and more.
On the Scene
For a "roaring 20s"-theme event, Los Angeles-based Artists Creating Entertainment used a vintage, floral-filled car as an eye-catching photo op. An in-costume performer served as a brand ambassador. 
What's Next
The Los Angeles Ballet will celebrate its 14th season with a gala tonight at the Broad Stage in Santa Monica. Honorees include producer and choreographer Kenny Ortega, designer and philanthropist Gelila Assefa Puck, and Anastasia Beverly Hills owner Anastasia Soare. Nigel Lythgoe will host. 
PopSugar's inaugural Grounded Fitness event will take place March 7 at Goya Studios. Timed to kick off International Women's Day, the daylong event will have workouts, self-care workshops, fitness classes, inspirational panels, and more.