How Top Event Pros Design Their Own Offices
Event companies around the country use their workspaces to spark team creativity, encourage productivity, showcase their design aesthetic, and more.
February 24, 2020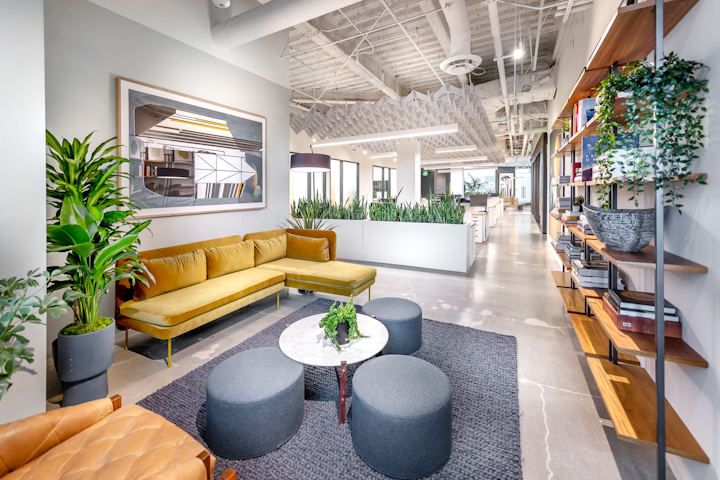 Photo: Sean Gordon
When designing his company's new West Hollywood headquarters, NVE Experience Agency president and founder Brett Hyman wanted to focus on three key principles: creativity, concentration, and collaboration. "The three Cs," as he calls them.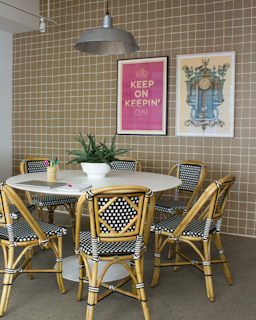 David Stark's Brooklyn headquarters has a stylish grid motif, which uses Kelly Wearstler wallpaper and Quaderna tables.Photo: Courtesy of David Stark Design & ProductionThose three ideas—creating a design-forward, inspiring space that fosters creativity; giving employees areas to focus and concentrate; and bringing together the team for collaboration sessions—were the basis for NVE's ground-up office renovation, which debuted at the Pacific Design Center earlier this month. "[The renovation] gave us the ability to weave NVE's values into every detail and ensure our environment represented the culture that makes NVE distinct from other creative agencies," explains Hyman.
BizBash caught up with Hyman and four other top event producers to learn the strategy behind their own workplace layouts. Here are their steal-worthy tips for building a productivity-enhancing space. 
1. Build spaces that foster creativity...
Every professional we spoke to stressed the importance of an inspiring office space where employees can do their best work. And in the event industry, that's unsurprisingly accomplished through some standout design and layout ideas. 
AGENC Experiential & Digital Marketing opened its new Los Angeles headquarters in November. "We're paid to come up with really good ideas, and good ideas need to come from a team that's inspired," says founder and C.E.O. Cara Kleinhaut, who purchased the office in late 2016 and spent more than two years transforming it into a light-filled space with a calming blue color palette. "We needed a creative space where the team can do their best work."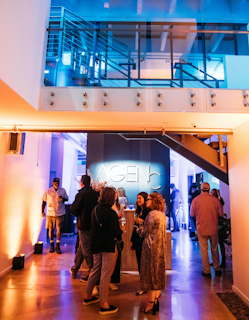 AGENC's new office in Los Angeles focuses on wellness with standing desks, a roof deck, and plenty of natural light. "We need to come up with good ideas, and you're not going to do that in a dark, dingy space," explains founder and C.E.O. Cara Kleinhaut.Photo: Courtesy of AGENCFor the 12,252-square-foot NVE headquarters, that creativity element is partly accomplished through eye-catching artwork from the likes of Ed Ruscha, Mr. Brainwash, and Roy Lichtenstein, alongside local artists and even members of the NVE team. Concrete finishes were juxtaposed with natural wood tones and large plants. Washington, D.C.-based event producer André Wells, meanwhile, designed his space with vibrant colors and chalk-painted walls where his team can write down daily tasks and notes of encouragement.
When designing its new office in 2014, the David Stark Design & Production team was inspired by its location in Brooklyn. "We opted to take advantage of the beauty of the original architecture in our Industry City home," explains David Stark, the company's chief creative officer. "We relocated the original windows and used them for the walls of our conference rooms. The floors are the original hardwood. We brought in a few of our favorite materials and integrated them throughout the space: raw wood, rattan chairs, and basket lamps. A grid motif is also peppered throughout with Kelly Wearstler grid wallpaper and Quaderna tables."
Stark continues, "While not designed in an overly fussy way, the office cultivates a quiet intensity and professionalism that wonderfully nurtures rapt concentration and innovative thinking."
2. ...without sacrificing productivity.
While the industry may be focused on face-to-face gatherings, event producers still need quiet places to focus and concentrate. As office designs largely shift to open floorplans, event pros say that having these quiet spaces is crucial. "We need places to retreat and be creative, whether we're writing or we're designing or we're strategizing," explains Kleinhaut.
For Hyman, that translated to architectural details that enhance productivity, including an Arktura SoftGrid Wave soundproof ceiling, plus custom-fabricated desks from NVE's own Treehouse Fabrication studio. Seven conference rooms are wired with technology for video conferences, while three dedicated "phone booths" are available for private calls.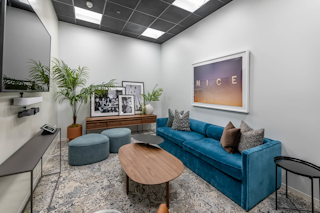 At NVE, several conference rooms are designed for brainstorming sessions with couches, plants, and artwork.Photo: Sean Gordon
For its New York office, which was renovated in 2017, First Global Events Agency wanted to reflect its "work hard, play hard, and have fun" culture. "Functionally, we took down all of the interior walls and busted through the ceiling to put in an internal staircase," says Michael Reese, the company's senior vice president of creative, who oversaw the renovation. "But more importantly, we paid special attention to how the environment felt, opting for a neutral base pallet with pops of vibrant colors and comfy furniture."
First's flexible office space encourages both collaborative and independent work through huddle spaces, privacy pods, and stylish meeting spaces named after musical icons such as Prince and David Bowie. "We've created zones so everyone can choose an area where they can be more productive, whether that be downstairs with upbeat pop music and lots of buzz, or the more 'downtown' vibe of upstairs that's more classic rock and Brooklyn-inspired decor," explains Reese.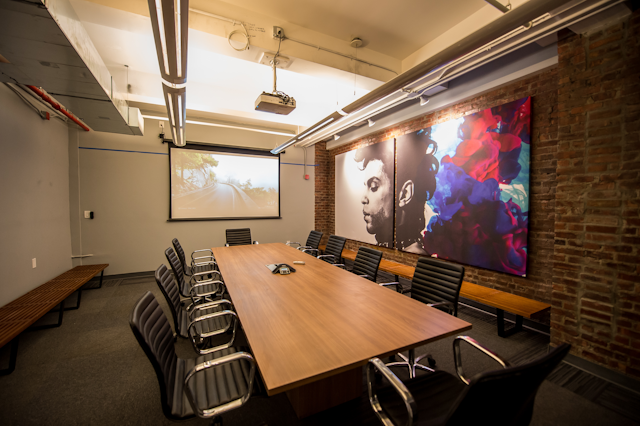 At First Global Events Agency's New York office, conference rooms are named after musical icons such as Prince and David Bowie—complete with wall decor featuring colorful, oversize graphics of the artists.Photo: Menbar Photos

3. Encourage collaboration between departments.
It was important for Hyman to allow different departments to interact, and to have spaces for all-staff meetings and other gatherings within the NVE office. A large corner room known as "the arena'' has stadium-style seating, plus audiovisual technology to allow for live streaming, concerts and presentations, virtual meetings with the New York office, and more; NVE hosts both internal and client events in the space. It can be combined with an adjacent café area, which offers kombucha and cold brew taps plus a variety of seating.
The NVE office also has its own library that offers couches and books on leadership, marketing, design, and culture. The space is purposely unbookable, so employees can gather any time they need a break or some inspiration. "Everything ties back to creativity," explains Hyman. "Maybe you'll run into somebody that's in a different department and be inspired by them." 
For Kleinhaut, the AGENC headquarters accomplish this collaboration in part through the kitchen, which has a long communal table. "It's one of my favorite spaces," she says. "All I have to do around lunchtime is go downstairs and sit at the table for about an hour, and I will pretty much talk to everybody. That's really important." The office also has a roof deck where Kleinhaut has hosted speakers, staff yoga classes, and other teambuilding activities.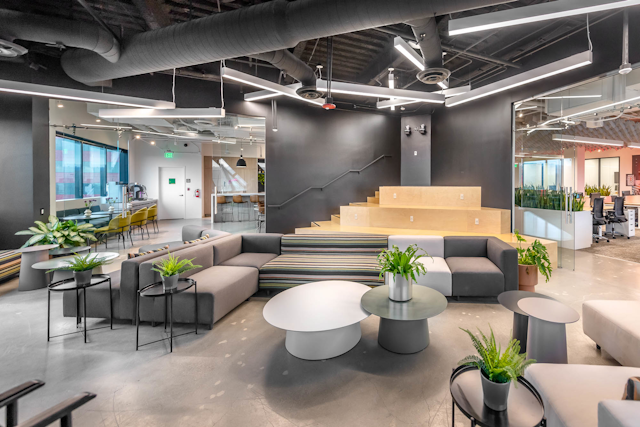 At NVE, a large corner room known as "the arena'' has stadium-style seating, plus audiovisual technology to allow for live streaming, concerts and presentations, and internal and client events.Photo: Sean Gordon
4. Offer areas for all types of work.
Recognizing that office space needs to change depending on the department and even the specific project, Stark focused on versatility for his team's 12,500-square-foot headquarters. "We have an open office layout … with optional standing desk areas in addition to everyone's individual desk," he notes. "We also have four large work tables for crafting and sampling, and an area dedicated to photoshoots."
There are also six conference rooms, Stark says, some with couches and others with a work table, a whiteboard, and a screen. Staffers meet in an on-site design library to review projects, look at swatches, and consult reference books. "Each space can be reserved by the teams based on their needs or the needs of the project," he explains. 
NVE's office adopts a similar approach: Several of the conference rooms are purposely designed for brainstorming sessions with couches, plants, and bold, colorful art and graphics. "We thought, sometimes you don't need a table," says Hyman. "The couch meeting rooms allow things to be a bit more casual, to be a bit more creative." 
Stark also wanted to locate the main office close to the company's 25,000-square-foot production studio, which is a 10-minute walk away. The team frequently hosts meetings in the studio, he notes. "The studio space has been designed with just as much consideration for the team's needs and the work that needs to happen. There are buzzing wood and paint shops, crafting areas, and a floral studio with a giant floral fridge," he says. "We also have an adjacent warehouse that houses a wonderful history of items we have purchased or built over the years that we regularly transform or re-utilize."
Kleinhaut also used the new office to relocate her team's warehouse; it's now situated in the same building as the office. "Now everything is totally streamlined into one place—so obviously, it's way more efficient," she says.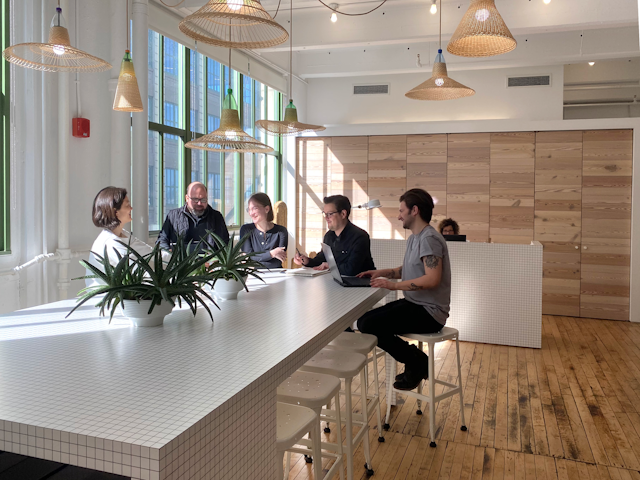 "We also have an inviting kitchen area for folks to have lunch and take a little break," says Stark.Photo: Courtesy of David Stark Design & Production

5. Showcase the company's design aesthetic.
For the event producers we spoke to, it was important that their offices are spaces they can be proud to show visiting clients. Hyman has a more formal conference room for client visits, for instance, and the company's mantras—"the polished hustle" and "the right moment will transform someone forever"—adorn office walls in neon lettering. 
Stark also thought about client visits when designing the office. "The design is subtle enough that when our clients visit, it's just enough us as it is a blank slate, so that we can bring in materials and samples for review without worrying about visual noise," he explains. 
The office's artwork gives clients a glimpse into the company's history and capabilities. "We have a few select pieces of art, mostly things we've made or that have some poignant history for us," says Stark. "We have a collection of sculptures of old-school phones from past projects. We also have our light-up building number, '87,' from our old digs. It's a fun reminder of where we came from. We even took the door from our old design studio and placed it in our front vestibule."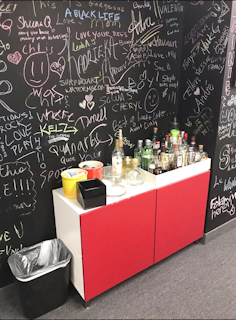 André Wells's Washington, D.C.-based office has chalk-painted walls.Photo: Courtesy of André WellsKleinhaut, meanwhile, wanted a space to host clients for both work and play. "We can do the formal presentations; sometimes [clients] don't even have the space in their offices, but they can come here and we can do weekly meetings," she says. "But what's really fun to do is to have clients over just to hang out, to have some drinks and to have some casual catch-up time. It's a place where we can entertain and host."
Wells agrees. "We have a bar in our office, so when we need a drink we make one," he says. "I think breaking bread together is important … to strategize, reflect, and celebrate."
First's New York office has hosted client parties that featured a live band and food and beverage, plus a supplier-focused party with games such as foosball and air hockey in various rooms. The team also transforms the office for internal celebrations, such as a large bash for the C.E.O.'s combined work anniversary and birthday party. One popular perk of First's offices? An on-site beer tap. "Being an events agency at heart, we wanted a space that served all of our daily business needs, as well as being flexible for our parties—I mean meetings," Reese laughs. "Everyone at the agency works so hard; it's important to have places within the office to unwind with the First family."
6. Don't neglect employees' wellbeing.
It's no secret that event professionals work long, physically, and mentally draining hours. The company owners we spoke to tried to recognize this through design choices. At NVE, for example, air-purifying Sansevieria plants fill the space. At First, a treadmill desk is available for use. 
At AGENC's office, meanwhile, Kleinhaut used natural light and high ceilings to encourage creativity and wellness. She also sent a survey to employees asking what they most wanted from a new workplace. "Everyone said a really comfortable chair," Kleinhaut remembers. "So we spent the money on the expensive, ergonomically correct chairs."
The office also has an on-site wellness room that offers private spaces for breastfeeding, taking a shower, and more. "We have a lot of women who work here. It's a female-owned business, and we have a lot of female leadership," says Kleinhaut. "It's really, really important that this space accommodates that."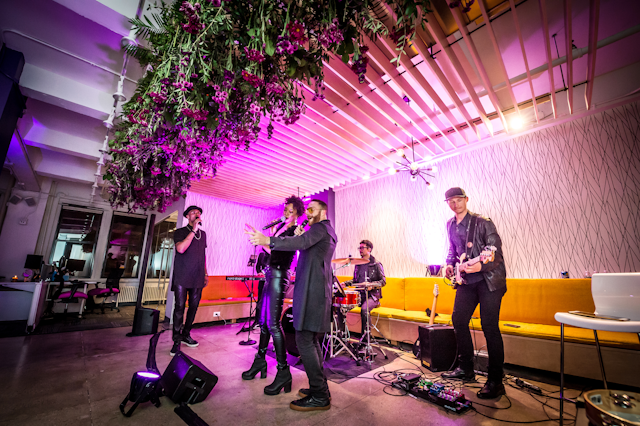 For a client event, First transformed its café space into a performance area for a live band.Photo: Courtesy of First