This Week in Los Angeles: Coronavirus Cancellations, Plus Stylish Events From Paris Hilton, the Los Angeles Ballet, and More
West Coast editor Claire Hoffman covers the week's biggest event news.
March 5, 2020
Photo: Ryan Miller/Capture Imaging
LOS ANGELES—Welcome to BizBash's Los Angeles-based column, where West Coast editor Claire Hoffman covers the week's biggest local news. Got a tip? Get in touch!
Moves & Milestones
Eunice Hwangbo is the new communications manager for LA 2028, the organizing committee for the Los Angeles Olympics and Paralympic Games. 
Marcie Booth has been promoted to director of events at ThinkLA. She previously served as the nonprofit association's senior event manager and is also a member of the board of directors for ILEA. 
In Case You Missed It
This week on bizbash.com was chock-full of inspiration from Los Angeles-based events, including Amazon's gritty Hunters promotion—which turned an entire city block into 1970s New York—plus Aman Resorts' ultra-luxe press lunch. We also took a look inside the stylish Create & Cultivate Conference, learning how its diverse group of sponsors adhered to a cohesive design aesthetic.
Overheard
"As with all our events, it was the intention here at Expo West in Anaheim to follow official guidance from local authorities and to listen to the voices of the community we serve and support, in order to maximize the health of the industry. Today, it is clear the majority of those voices are saying they want Expo West but not this week. And so we are being guided by that majority in postponing the show."
—New Hope Network group president Fred Linder, explaining the decision to postpone the Natural Products Expo West over COVID-19 concerns. The 86,000-attendee trade show had been slated to take place this week at the Anaheim Convention Center; organizers hope to announce a new date by mid-April. 
Spotlight On
Paris Hilton's birthday party took place on February 27 at a private residence in Beverly Hills. Produced by Mirrored Media, the event had a "#Sliv Your Best Life" theme—based on Hilton's go-to catchphrase mashing up "slaying" and "living." The venue was transformed into "Slivington Manor," with a photo booth from Dose of Roses plus specialty cocktails from Casamigos and a late-night pizza delivery from Pizza Hut; additional sponsors included Mod Champagne and Smart Water. Topping off the over-the-top extravagance? BMW created a custom, pastel-colored BMW i8 "Slivmobile" specifically for Hilton's birthday.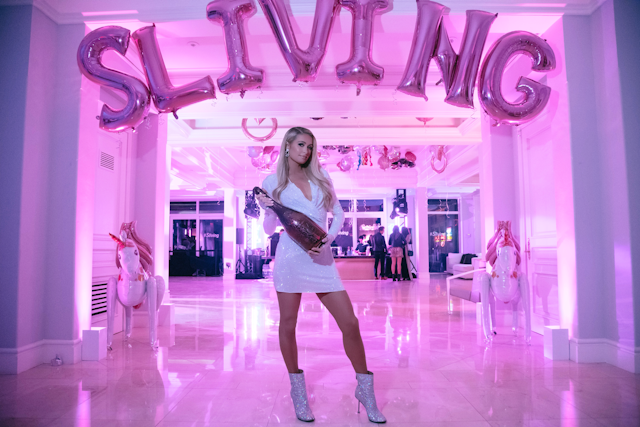 Photo: Courtesy of Paris Hilton
In the News
Los Angeles County has declared a state of emergency after six new cases of coronavirus were diagnosed this week. The New York Times: "[Officals] asked community members to prepare themselves for the possibility of school closures and the cancellation of public events. 'We are not saying the situation in Los Angeles is dramatically worse,' Mayor Eric M. Garcetti of Los Angeles said at a news conference Wednesday morning. But, he said, 'the potential public health risk is elevated and significant.' ... Officials were preparing for the potential for large venues, like sports arenas, to make modifications to their events. For example, [director of the Los Angeles County Department of Public Health, Barbara Ferrer] said, 'This could be that games are played, but there are no spectators.'"
A Clueless-theme pop-up is coming to L.A. Los Angeles Magazine: "As If: The 25th Anniversary Clueless Pop-Up launches on March 31 in the same Santa Monica Boulevard storefront that housed Saved by the Max, Good Burger, and the Breaking Bad Experience. Chef Royce Burke—formerly of vegetarian-friendly Yarrow Cafe on Fairfax—is cooking up a menu of 'Cher-able' (get it?) eats, while the bar promises ''90s-in-L.A.-inspired libations.' Expect Instagrammy set re-creations and a merch shop, too."
Related: Check out our interview with the team behind these pop culture-focused eateries.
After widespread delays in Tuesday's election, Los Angeles County supervisor Janice Hahn is calling for an investigation into the city's new voting system. Los Angeles Times: "It was an ugly debut for the county's new $300-million voting system. L.A. officials spent months trying to raise awareness about two big changes: the elimination of neighborhood polling places and the debut of ballot-marking touchscreen devices in regional vote centers, available to everyone and spread throughout the county. Local voting officials blamed the delays on a combination of high turnout and glitches affecting the new election equipment. But they couldn't provide information on how many of the county's 978 vote centers were affected."
Venue Buzz
The JW Marriott Los Angeles L.A. Live has opened Savoca, a new Italian eatery with California influences located in the hotel's lobby. The 120-seat restaurant has a design inspired by its namesake town in Sicily; it has an open layout with airy decor, terrazzo marble tabletops, coral booths, and an oversize floral mural.
On the Scene
For a recent wedding at the Four Seasons Los Angeles in Beverly Hills, Exquisite Events, Celio's Design, and Revelry Event Designers created an eye-catching aisle made from multicolored flower petals. 
What's Next
The 2020 Los Angeles Marathon takes place on Sunday and is expected to draw 27,000 runners from around the world. The 26.2-mile race spans from Dodger Stadium to the Santa Monica beach; entertainers along the course will include Japanese group Koshin Taiko Drummers, a Rolling Stones tribute band, performances from local marching bands, and more. Officials do not expect coronavirus concerns to affect the marathon.