Armani Exchange Lounge and MoodSwing Return to the Winter Music Conference
March 26, 2009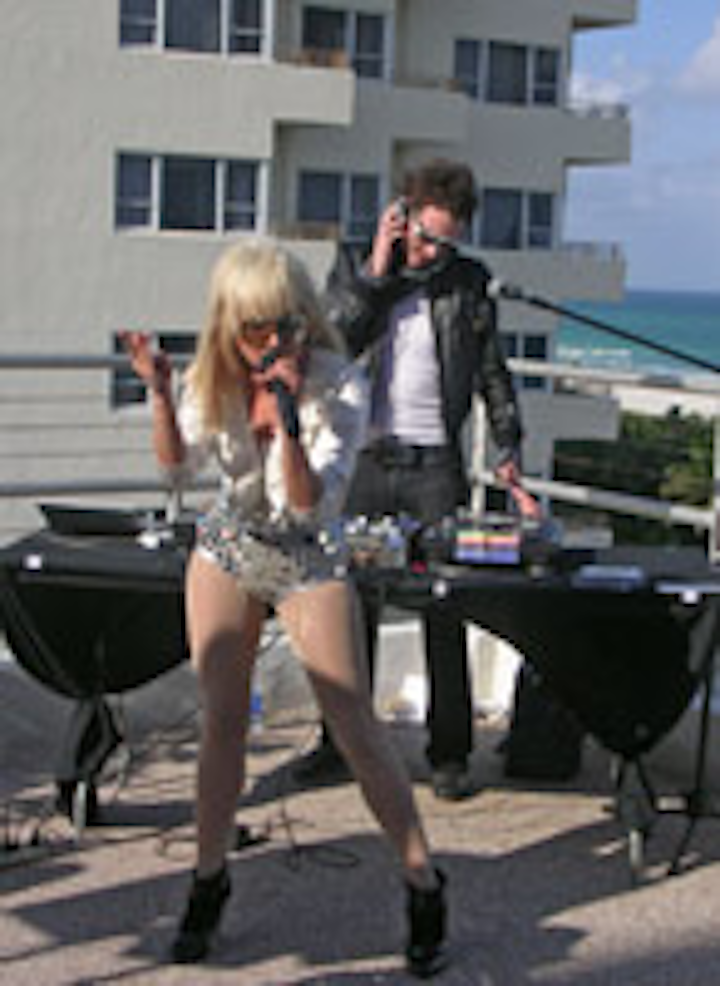 Photo: BizBash
The 24th annual Winter Music Conference returned to Miami Beach on Tuesday for a five-day run. The electronic music festival includes more than 500 seminars, networking parties, and performances at its Miami Beach Resort headquarters and nightclubs throughout the city.

The 2008 festival attracted more than 2,200 music artists and DJs—including Lady GaGa and Bob Sinclair—3,700 industry executives and artist and repertoire agents, plus nearly 62,000 music enthusiasts from 70 countries. BMF Media Group's Armani Exchange Music Lounge at the Raleigh and the MoodSwing360 DJ concert series at the Gansevoort South Hotel are two events returning to the conference this week.
BMF Media has expanded its three-day lounge this year, adding sponsors and the Armani Exchange Suite, located on the second floor of the hotel's penthouse. Monster Energy Drinks, Fuze Beverages, and Davidoff cigarettes are all new sponsors for 2009, providing guests with product samples in the lounge, which is open to artists, talent, DJs, and V.I.P.s. West Elm has again sponsored the redesign of the penthouse, utilizing a new black, white, and gray color palette with yellow accents. The furniture retailer also brought in its newest line of weatherproof outdoor furniture, accented with white faux fur pillows. Cafe Bustelo, Fiji water, Belvedere Vodka, and Sirius Radio—which will broadcast live from the penthouse through Friday—are also returning sponsors.
"We're really lucky that we we've been the premiere DJ lounge at W.M.C. for the past three years, so our sponsors have wanted to come back and work with us," said BMF's Bruce Starr. "More than five of them have been with us for the past few years, and to have that support has been amazing."
Writers from Armani Exchange's StyleTraxx blog will interview the DJs and artists performing and visiting the lounge. Headliner Rye Rye, the first artist signed to R&B singer M.I.A.'s label, will perform this afternoon.
"Being able to introduce the artists who are going to be sharing their music in clubs across the country is really exciting for us," Starr said. "Last year we had Lady GaGa doing her first Miami performance here in our lounge, and she's really blown up since then."
Although some events have expanded, others, like MoodSwing360—a four-day lineup of DJ performances and pool parties—have been pared down. "I've done massive events before at places like Nikki Beach and Space, charging $100 cover," said Johnny Maroney, a 10-year Winter Music Conference veteran and C.E.O. of MoodSwing, the music industry marketing, branding, and talent agency behind the event. "This year my partner and I thought it was a better fit for us to make it more intimate, and it's a more controlled atmosphere at Gansevoort."
The agency partnered with the hotel to make the concert series more upscale and focused on the music. "Our concept was not to overprice or overcharge, but give back. And our artists and friends are staying around there, so it just made sense," said Maroney. The event kicked off with the Eatskeet.com and Hipsterrunoff.com daytime pool party yesterday, sponsored by Ultimat Vodka, the Patron Spirits Company's newest product, which launched at its private pool party last night.
In addition to the music seminars at the Miami Beach Resort and new technologies debuting at the Remix Hotel trade show at the National Hotel, nightclubs like Mansion, SET, Nikki Beach, and Space will host nightly concerts through Saturday.
Featured Venues/Suppliers: