Rogers Cup Brings Virtual and Live Efforts Downtown
August 14, 2012
Just days after competing at the Summer Olympics, top tennis stars made the trip from London to Canada for the Rogers Cup tournament, where the men played in Toronto and the women played in Montreal. Tennis Canada's largest annual event, the tournament kicked off on August 4 and ended on August 12. Early last week, the Rogers Cup brought the action to downtown Toronto with mini tennis courts, sponsor activations, and live broadcasts that showcased the event's new virtual combined format in Dundas Square and at National Bank headquarters.
While men's and women's tournaments used to run on back-to-back weekends, Rogers Cup shifted its schedule last year to debut the virtual combined format. Men and women now play simultaneously in their respective cities, with live, on-site broadcasts from the other tournament playing in each city. Rogers Cup visitors can also interact with fans and players from the other city via video feed, and media has access to press conferences and can interview players in either city over live video feed. "We're trying to give the fans a Grand Slam feel, where you can see the men and the women no matter what city you're in," said Karl Hale, tournament director at Tennis Canada, referring to the four major tennis championships, which let men and women compete concurrently.
For visitors to the offerings in Toronto, a "connected zone" allowed them to watch matches and interact with fans in Montreal, while the Rogers Cup Live event at Dundas Square and the new National Bank flagship had large screens, a mini tennis court, giveaways, and ice cream samplings.
Since its debut, criticism of the new format has been harsh, with many arguing that shortening the event from two weeks to one limits the tournament's exposure, distances men's and women's tennis, and impacts broadcasting numbers. But Hale considers the new format a success for the sport, fans, and television viewers. "It increased the broadcast product tremendously, and also the on-site experience," he said.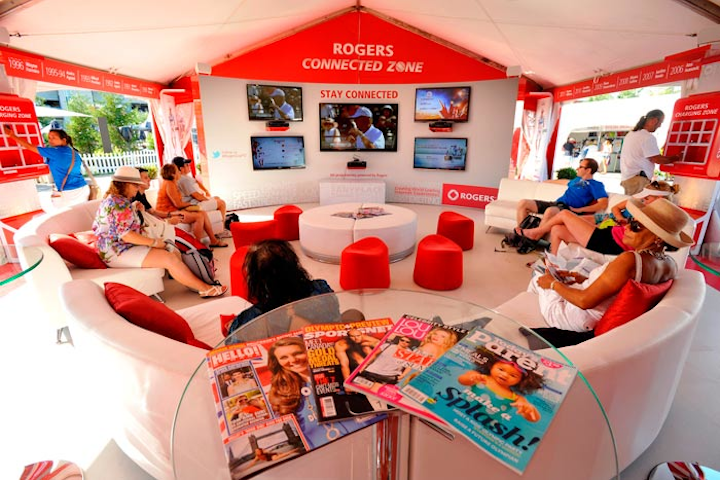 Photo: Courtesy of Tennis Canada
Photo: Courtesy of Tennis Canada