10 New York Venues for Company Picnics and Summer Entertaining
May 17, 2011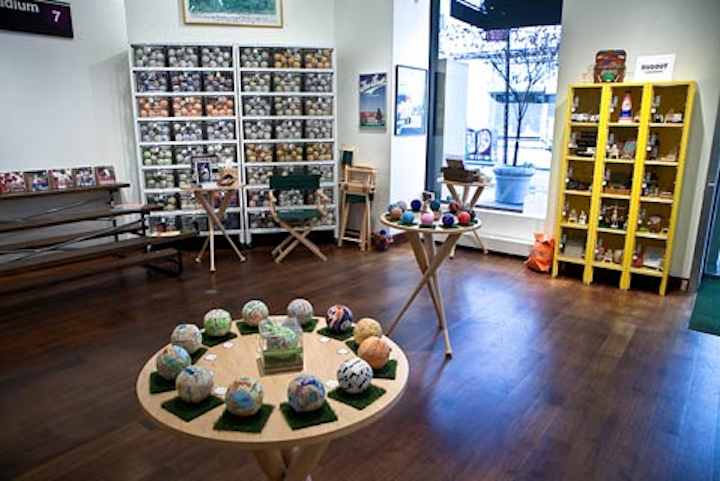 Photo: Courtesy of Bergino
The warm weather is finally here, which means it's time to start entertaining interns and summer associates, clients, and corporate groups. Check out New York's new bars, clubs, restaurants, and outdoor and fresh-air-friendly venues for corporate picnics, company gatherings, and other types of summer entertaining.
1. Circle Line Sightseeing Cruises' Beast
Just last week, Circle Line Sightseeing Cruises announced a new addition to its fleet—an upgraded version of its Beast speedboat, to be launched in June. The jet-powered craft, which boards at the charter company's 42nd Street pier and cruises down the Hudson River toward the Statue of Liberty, holds 138 people and can be booked for private groups.
2. Haviland Hollow Farm
Sporty crowds can head to the Hudson River Valley—only an hour's drive outside of New York city—where polo and equestrian facility Haviland Hollow Farm is offering its 250-acre grounds for corporate events. Amid the green grassland and striking views, gatherings of as many as 250 people can set up a tent for seated meals. Kage Konsulting handles booking for the venue, and sponsorship opportunities are available for some of the summer's events.
3. New Meadowlands Stadium
The views at the new home of the New York Jets and Giants are also impressive, and there's a multitude of options for indoor and outdoor entertaining. New Meadowlands Stadium offers five club sections, ranging from the 7,500-square-foot west hall to the 42,000-square-foot Touchdown and Gridiron clubs, as well as 280,000 square feet of outdoor plaza space. Groups small and large can even take over the field.
4. Bergino Baseball Clubhouse
If you don't want to make the trek all the way out to the ball game, the retail location of custom baseball maker Bergino can host viewing parties for groups of as many as 50. Just south of Union Square, the clubhouse is a comfortable space stocked with all manner of memorabilia—artwork, lockers, and, naturally, baseballs—and furnished with vintage wooden bleachers. A TV shows live games and can be set up to play DVDs.
5. Nolitan Hotel
Last year's big trend was hotel rooftops, and while beer gardens seem to be all the rage this summer, there are still a handful of terraces opening atop new properties. When NoLIta's boutique Nolitan hotel makes its debut in July, the 50-room site will have an open-air roof deck set up as a lounge, which will be available for private events.
6. La Birreria
Last summer Mario Batali and Joseph and Lidia Bastianich opened 32,000-square-foot food market Eataly, and in mid-June they plan to open La Birreria, a 300-seat beer garden on the roof. With a retractable ceiling and plenty of brews, the space will be available for private bookings in July.
7. Pop Pub
Beer is also the focus of Pop Burger spin-off Pop Pub, which opened near Union Square in late April. Styled much like its sibling restaurants, the contemporary space is outfitted with wooden benches, leather chairs, and wood-paneled walls. Open late, the burger-and-beer joint can be used for more casual corporate outings of as many as 150 people.
8. Asellina
The 13,000-square-foot Plunge Bar & Lounge isn't the only outdoor entertaining site at the nine-month-old Gansevoort Park Avenue. In spring, the hotel's in-house restaurant Asellina opened a garden space at the rear, set with patio chairs and mossy walls. The area is adjacent to the 60-seat Taverna, which can be booked for private parties.
9. David Burke Kitchen
Chef David Burke's farm-inspired restaurant inside the James New York hotel opened a 130-seat open-air terrace in late April, a sprawling space above the main dining room. Known as the David Burke Garden, the deck is furnished with cabanas, a dedicated bar, and a 14-seat chef's table for private groups.
10. Trilby
For less formal get-togethers, the Cooper Square Hotel's Trilby eatery is a 100-seat laid-back spot that's more lounge than restaurant, with comfy leather chairs and small tables. Like its predecessors Table 8 and Faustina, the street-level venue is attached to a spacious and serene garden, which seats 50 among tall trees and other leafy plants.
Featured Venues/Suppliers: