SXSW's New Chatbot Answered More Than 56,000 Questions From Attendees
The bot known as "Abby" provided automated concierge-style assistance on demand.
March 21, 2017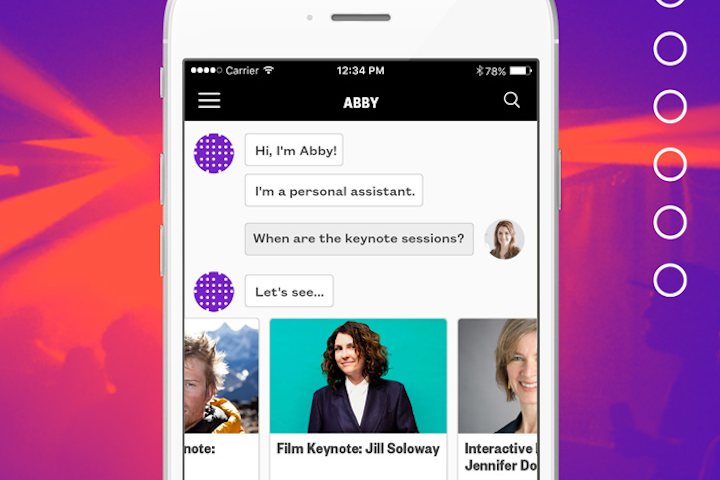 Photo: Courtesy of Eventbase
The questions ranged from "What time is Joe Biden speaking?" to "What hip-hop artists are playing on Wednesday?" and "Where can I find tacos?" In all, attendees at South by Southwest submitted 56,000 unique questions to the event app's new automated bot, dubbed "Abby," during the first seven days of the conferences and festivals, which took place March 10 to 19 in Austin, Texas.
"What we're really excited to see is that people who used it a lot—the most active users—they asked a lot of questions," says Jeff Sinclair, C.E.O. of Eventbase, which makes the SXSW Go mobile app. "The top 1,000 users were averaging 17 questions each, and usage grew over time, rising about 20 percent per day." More than 16,000 unique users submitted questions to the bot.
Sinclair says the bot was programmed with the entire event database, which included information on the more than 6,000 sessions and 600 venues, as well as input from SXSW help desk staff regarding the most common questions they receive. At the event, attendees could submit questions via text and voice command and receive an instant response. To add an element of fun, Eventbase programmed the bot to also respond to some emojis: texting the taco emoji generated a list of places to get tacos, and texting a rainbow emoji generated a list of sessions related to diversity.
Throughout the event, staff from SXSW and Eventbase monitored a live stream of questions being asked so they could fine-tune the answers to make them more relevant.
"The key in training the bot is that you have to understand the different permutations of the questions people will ask," Sinclair says. "[For example], one of the things we learned is that SXSW calls it the 'trade show area,' but others may refer to it as an 'expo hall' or an 'exhibitor hall.' So we have to understand all of that to provide the right answers, because if people are asking even basic questions and not getting an optimal answer, they will lose faith in your bot quickly."
Sinclair says that as an intelligent bot is used in apps for other events, staff will get a better understanding of user behavior and syntax, and therefore the bot will become "smarter" over time. "This notion of an intelligent event app is something we firmly believe in. And a lot of the innovation we'll be introducing over the course of this year will be based on adding that level of intelligence that hasn't existed in event apps to date," he says. "Abby will definitely be back at SXSW with an even greater level of intelligence in 2018."