Toronto International Film Festival Preview: the Biggest Bashes and Brand Activations
Here's a sneak peek at what's in store for TIFF.
August 30, 2013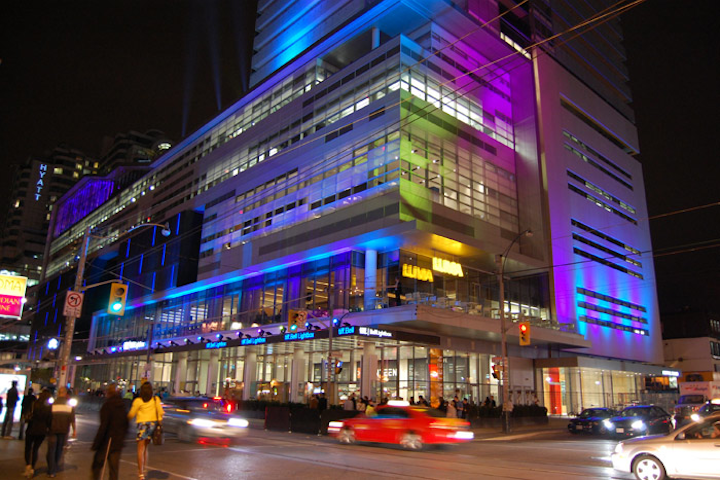 Photo: BizBash
The Toronto International Film Festival descends upon the city September 5 to 15. A launching pad for Canadian, Hollywood, and international films, the event will offer 146 world premieres from 70 countries. Of course, there will also be countless receptions, after-parties, lounges, and brand activations. Here's a sneak peek at some of the big ones. 
For the eighth year, NKPR will host the IT Lounge at 312 West Adelaide Street, which is cater-corner from TIFF's home base at the TiFF Bell Lightbox. With a "Modern Vintage" theme, the lounge will be open from September 5 to 10 and will incorporate activations for brands "with a rich history, and those celebrating anniversaries, as well," says a rep for NKPR. Some of this year's sponsors are Roots, Avon, Barilla, Tweezerman, and Colgate. Partners will help raise funds for Artists for Peace and Justice. Last year, IT Lounge producers partnered with Patrick Demarchalier to host the first TIFF portrait studio; this year, the tradition will continue with photographer Caitlin Cronenberg. Cronenberg will snap portraits of guests posing in a set filled with antique furniture and trompe l'oeil sets; after the event, the photos will be published in W magazine.
Another longtime TIFF partner, the Drake Hotel, is a gold-level hospitality sponsor this year. As such, the downtown venue will host events and promotions throughout the festival's run. Dubbed "Down the Line," the hotels activations will reflect London's rock 'n' roll scene in the 1970s. The festivities will kick off on September 5 with a "Down the Line" launch party, open to the public for a $10 cover. (The democratically spirited invitation invites guests to "forget your press pass and ditch the tuxedo.") Sponsored by Budweiser Crown and Stella Artois, the event will have a black-carpet entrance and rock-theme activities inside. Private event space Room 222, for example, will host a temporary tattoo parlor. Guests can choose from one of six thematic tattoos and get inked for free. Toronto-based trio Keys and Krates will perform, and a to-be-announced DJ will play a "secret" midnight set at performance space Underground. Other entertainment will come from Toronto-based artist Baby Steinberg. Steinberg will showcase "Silence Film," a collection of wearable artworks made from vintage VHS tapes.
The AMC network will once again take over the Storys Building for a run of activations hosted by Icon Legacy Hospitality and Ink Entertainment in partnership with A-List Communications; other sponsors include Diageo, Grolsch, and Virgin Mobile. The venue will host daily events for the William Morris Endeavor, the Creative Coalition Spotlight Awards Dinner, and the OneXOne gala. There will also be receptions, intimate cast dinners and cocktail bashes, late-night parties, and celebrity-gifting suites including one hosted by Nathalie Dubois of DPA. Dubois's suite will offer products and spa services from Swiss skincare line Valmont, resort accommodations from Le Tahaa in Tahiti, hairstyling and makeup touch-ups from Vidal Sassoon, and more.
Glo Communications will offer another type of gifting, called "Bask-It-Style," for the fifth year. Geared toward celebrities who don't have time to stop by gifting suites, the service has staffers assemble and deliver gift bags to hotels. This year, Glo has partnered with Unlimited Personal Services to provide transportation to and from the hotels. The Bask-It headquarters will be in an $8 million penthouse on Harbour Street, which will be decorated in a "rustic chic" style by Chique and Unique Home Staging. It will be open for a media preview and cocktail party on Wednesday.
The Essentials Lounge will be held at a new venue, the Templar Hotel, on Wednesday. The one-day event, hosted by Esther Garnick PR, provides media with "essentials" needed to get through the festival—though the essentials here are just hardly phone chargers and water bottles (though those are available, too). Services include hairstyling from Aveda, consultations with Calvin Klein Underwear Fit Consultants, and makeup applications from Hard Candy Cosmetics' "glam squad."
Then, there are the lavish galas. On September 9, Entertainment One will host an event at the Roundhouse (a former furniture store) to celebrate its 29 films premiering at the festival. Event designer Jeffry Roick of McNabb Roick Events will give the space a look inspired by luxury and elegance. The event will include performances from DJ Clymaxxx and scattered musicians playing brass, strings, woodwinds, and percussion simultaneously. Drinks will be provided by sponsors Skyy vodka and Grolsch Brewery; there will also be desserts from Lindt Chocolate, custom donuts from Tim Horton's, and ice cream from Cold Stone Creamery.
Charitable happenings include the Amfar Inspiration Gala, which will take place at The Carlu on September 8. The Diesel Food Truck for Change will also be on hand, driving around the greater Toronto area and parking near TIFF parties and screenings. The denim brand will dole out "croughnuts" from a custom truck in exchange for donations to OneXOne.
Liquor brands will have a strong presence throughout the festival, with Grey Goose providing courtesy cocktails at cast parties, dinners, and more. Disaronno will team up with Interview magazine Thursday to host the after-party for French film Blue Is the Warmest Color at Thompson Hotel Toronto.
Soft drinks will also have a presence. The Mint Agency is producing several events for SodaStream at a new pop-up event space called Live at the Hive. Pushcarts called "Bubble Carts" will offer SodaStream's carbonated drinks, and the venue will have a honeycomb-inspired step-and-repeat. The Mint Agency will also produce the "Nespresso Recharching Cafe," a daytime activation to be held at Brassaii September 5 to 9. The space will offer on-site Wi-Fi, charging stations for electronics, and complimentary breakfasts and lunches.
And then, there's a bash feting a burger joint, but with a celebrity spin. On September 9, Wahlburgers—the United States-based burger concept from executive chef Paul Wahlberg and his brothers Mark and Donnie—will launch its first Canadian location at the Soho Metropolitan Hotel. The occasion will be marked with a green-carpet party; prior to that, the hotel will host a smaller barbecue event on the afternoon of September 7.
Featured Venues/Suppliers: