This Week in Toronto: Drake's New Cannabis Brand, City Mogul's Runway Show, Bisha Hotel's Second Anniversary
BizBash's new Toronto column from Calvin Barr covers the week's biggest event news.
November 13, 2019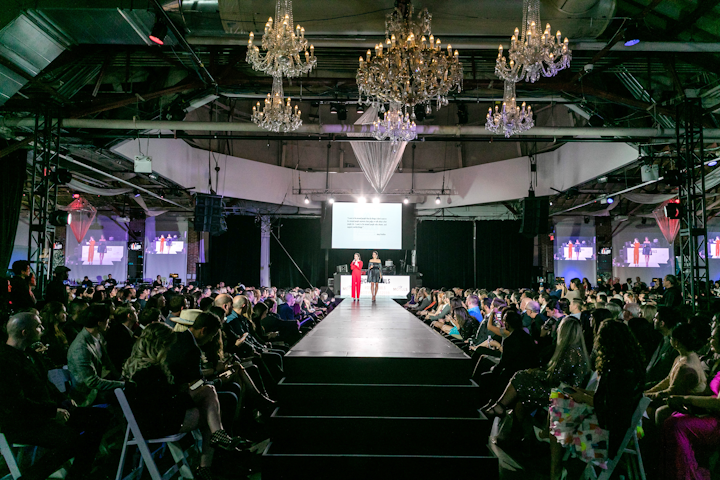 Photo: Ryan Emberley
TORONTO—Welcome to BizBash's Toronto-based column, where Calvin Barr covers the week's biggest local news. Got a tip? Get in touch!
Moves and Milestones
Rock-it Promotions, which celebrate 20 years in January, announced Kate Makinson as president of public relations lifestyle and Victoria Gormley as vice president of the agency. The company has been involved with a number of the city's biggest events this year, including Toronto Fashion Week, the Joe Carter Classic Golf Tournament, and this week's Taste of Iceland.  
In Case You Missed It
Crowds bundled up during Monday's snowstorm to honor veterans on Remembrance Day. Ceremonies took place at the Ontario Veteran's Memorial in Queen's Park, Meridian Arts Centre, Fort York National Historic Site, and Toronto Old City Hall—where Mayor John Tory spoke. Downtown Yonge Business Improvement Area produced a memorial video, which played on digital billboards at Yonge Dundas Square, as well as a College Park poppy garden inspired by the poem "In Flanders Fields."
And on bizbash.com last week, we covered Scotiabank's consumer pop-up, which cleverly addressed stats and stages of building a business through interactive art installations.
News
More than 800 people attended City Mogul's annual runway show, which took place at the Toronto Event Centre on November 7. Entertainment was provided by singer-songwriter Karl Wolf, World of Dance finalists Derek Piquette and Allexa Schabel, champion beatboxer Scott Jackson, and Hitmen Drumline. Designers behind this year's show included Andrew Coimbra, Tara Rivas, Christopher Bates, Mani Jassal, Lesley Hampton, Zane Barläs, Hilary MacMillan, and Surmesur. Fifteen local businesses also contributed to gift bar packages available to attendees on a first-come, first-serve basis.
The Toronto Queer Film Festival (T.Q.F.F.) ran from November 7 to 10, with screenings and talks taking place at Art Gallery of Ontario and OCAD University. The 2019 festival theme, Stonewall 50, examined how violence inflicted on queer and trans people leading up to the historic civil rights movement continues to affect marginalized communities today. The volunteer-run, pay-what-you-can event showed two feature films and more than 50 shorts developed by filmmakers in and outside of Toronto.  
Venue Buzz
Bisha Hotel Toronto is celebrating its second anniversary this month. The hotel is donating revenue earned in November to the Remix Project, which supports arts programs for underprivileged local youth. Special menu options are available at the hotel's restaurant, Kost and Akira Black, and a social media contest is encouraging guests to caption a photo of their favorite moment at the hotel with the hashtag #Back2Bisha to win an overnight stay and breakfast for two.
Turn of Events
Drake, in partnership with Canopy Growth Corporation, announced the launch of a new Toronto-based cannabis producer, "More Life Growth CompanyTM." Drake holds 60 percent of shares in the brand, which was previously a subsidy of the Smith Falls-based partner. The announcement was made just prior to the 2019 Canadian Cannabis Awards on November 8.
Overheard
"Up-and-coming artists are finding themselves priced out. When you look at D.I.Y. spaces, it's more than just creating a space for new and emerging artists; it's about establishing a feel that supports artistic creation. So what I'm hoping to see is we identify either one or a series of city-owned spaces that we can look to partner with D.I.Y. operators and allow them to use at below-market rent."
—Ward 10 councillor Joe Cressy, speaking to CBC about supporting emerging artists struggling to find affordable performance spaces in Toronto.
On the Scene
The Harbourfront Centre hosted the Día de los Muertos (Day of the Dead) festival from November 9 to 10. This year's theme focused on the evolution of the ofrenda—the traditional display prepared for the holiday.
Let's see what's happening at your events. Tag #bizbashto on Instagram.
What's Next?
The fifth annual FinTech & A.I. Awards will take place at the Fairmont Royal York on November 18. Presented by the Digital Finance Institute, the event is expected to draw more than 3,000 attendees to honor Canadian leaders in the banking, finance, legal, finance, and technology industries for a cocktail party, followed by an award dinner presenting 16 categories. Judges include HPE Canada president Paula Hodgins, finance author David Birch, Visa Canada president and country manager Stacey Madge, and Allen Institute for Artificial Intelligence C.E.O. Oren Etzioni.
The 115th Santa Claus parade will take place on Sunday beginning at 12:30 p.m. This year's route will be different than in previous years, with floats heading west from Bloor/Parliament, turning south at University Avenue, and finally ending at St. Lawrence Market.