This Week In Toronto: 'Murdoch Mysteries' Star Hosts Cancer Fund-Raiser, Art Toronto's 20th Edition, TIFF's Halloween Bash
BizBash's new Toronto column from Calvin Barr covers the week's biggest event news.
October 30, 2019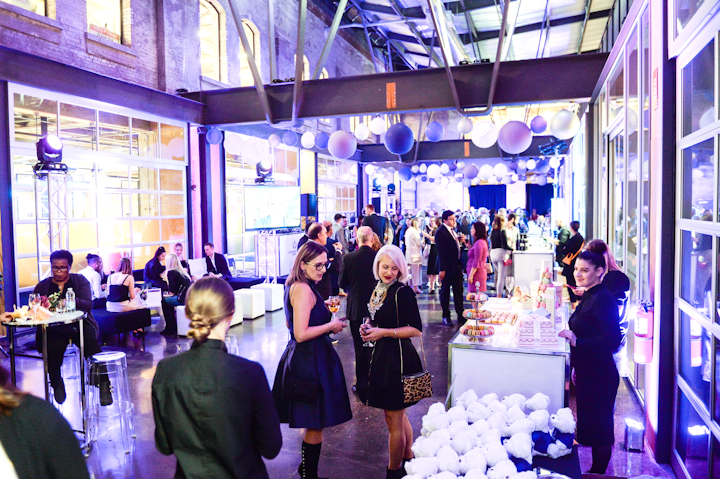 Photo: George Pimentel
TORONTO—Welcome to BizBash's Toronto-based column, where Calvin Barr covers the week's biggest local news. Got a tip? Get in touch!

Moves and Milestones
The EY Entrepreneur of the Year Ontario gala honored Annette Verschuren with the Master Entrepreneur Award and Derek and Jennifer Woodgate with the Social Entrepreneur Award on October 24 at Metro Toronto Convention Centre. Verschuren is the C.E.O. of clean energy storage solutions developer NRStor, while the Woodgates co-founded Cuddle & Kind, a hand-made doll company focused on fair trade and alleviating child hunger. 
In Case You Missed It
As part of Ontario's Waste Reduction Week, "Happier Hour," an industry talk on sustainable practices for distillers, mixologists, and bar and restaurant operators, took place at Pretty Ugly on October 24. The event was hosted by Omid McDonald, who founded Vodkow—an artisanal dairy distillery that reduces food waste by making vodka out of milk sugars. Pretty Ugly co-owner Robin Goodfellow; Trash Tiki co-creator Kelsey Rampage; and former GQ and New York editor and co-founder of Equal Parts Mark Byrne also spoke about eco-friendly cocktail making.

News
SoftChoice hosted a major fund-raiser for cancer research last week. The eighth annual Purple Party, hosted by Murdoch Mysteries actor Yannick Bisson and his wife, Shantelle, raised more than $200,000 for childhood cancer research and programs through Childhood Cancer Canada and Coast to Coast Against Cancer Foundation. The October 24 event included a live auction, a virtual-reality experience, a macaron table by Ladurée, and catering by Fidel Gastro. On October 22, the annual Eat to the Beat presented by KitchenAid brought together 60 women chefs to raise money for breast cancer research. The event, held at Roy Thomson Hall, featured chefs from Marben, Mildred's Temple Kitchen, La Palma, and more.
In advance of its 20th annual show, Art Toronto held its opening night gala in support of the Art Gallery of Ontario on October 24 at the Metro Toronto Convention Centre. The night raised $600,000 to support the gallery's year-round programming and acquired three works by Sobey Art Award recipient Duane Linklater, Prix Pierre-Ayot winner Celia Perrin Sidarous, and Patel Gallery artist Rajni Perera. Art Toronto displayed works from Canadian and international galleries from October 25 to 27. 
Venue Buzz
Twitter Canada announced a renovation to the 5,600-square-foot event space in its King West office. The remodel, spearheaded by Abraham Chan Design Office, was designed to reflect Toronto landmarks, Canada's natural environment, and Twitter's commitment to community building.
Turn of Events
Daily Hive: The City of Toronto is collaborating with Park People to bring a series of Winter Warm-up weekend events to the King Street corridor. The events, which begin November 23, will have hot beverage and snack vendors, live music, and street performers.
Overheard
"We want the deaf people to be able to come and have their own Halloween event, where they can socialize and learn and be with each other, the same as a family. Some people graduate from school and move away, move out of town. Our goal is to bring back all of our old friends from all over the place."
— CBC spoke to community organizers about Deaf Night Out. The social group held a Halloween party at Lithuanian House over the weekend.
On The Scene
The Dr. Seuss Experience opened at Square One Shopping Centre on October 26. The pop-up has nine installations inspired by the beloved author's stories, including The Sneetches and Other Stories. The ticketed event runs through January 5. 
Let's see what's happening at your events. Tag #bizbashto on Instagram.
What's Next?
TIFF Bell Lightbox will host the organization's annual Boombox fund-raiser on October 31. This year's costume party invites attendees to "choose a side" and purchase ticket packages depending on whether they dress up as a duo, hero or villain, or superhero or super villain. The two sides will be "facing off," according to event organizers. The evening is set to include live music, comedy sets, costume prizes, and a performance by Cirque du Soleil.
The ninth annual Taste of Iceland, presented by Iceland Naturally, will take place November 14 to 17. Events will take place at venues including Luma and the Dakota Tavern. First Lady of Iceland Eliza Reid, who was born in Canada, will attend certain events.