This Week In Toronto: Nuit Blanche Takes Over, Lov and Dasha's Opening-Night Events, Sentaler's 10-Year Anniversary
October 9, 2019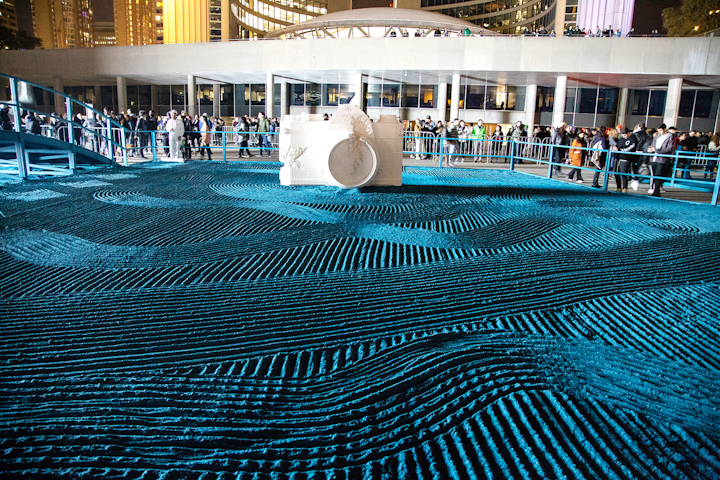 Photo: Courtesy of the City of Toronto
TORONTO—Welcome to BizBash's Toronto-based column, where Calvin Barr covers the week's biggest local news. Got a tip? Get in touch!
Moves and Milestones
Greektown's Louis Cifer Brew Works will hold a fifth anniversary party on Thursday. The brewery, which rotates Canadian craft brews and offers seasonal menus, will serve a specialty beer selection and its Oktoberfest menu to mark the occasion. The space is open year round for reception-style events for as many as 70 people.
In Case You Missed It
Drink Inc. hosted Toronto's first tequila festival at the Berkeley Church on October 4. More than 12 premium tequila brands were available to sample, in addition to tacos and bites provided by the venue. The evening also had seminars on tequila distillation and aging by Tromba Tequila, an introduction to mezcals by Leyenda and Mezcal Agua Santa, and a tequila cocktail workshop with Don Julio.
News
The 14th edition of Nuit Blanche Toronto took place from sunset to sunrise on October 5. The event featured nearly 90 projects from 300 artists, including interactive installations, live performance art, and sculptures. As part of the Nuit Blanche Toronto Extended Projects program, which is supported by the Government of Ontario, eight projects have remained on display after the event. These include "Lunar Garden" by BizBash 2017 innovator Daniel Arsham, through October 12; "Scarborough Royalty" by Durothethird through October 14; and "Life of the Earth" by Director X through January 5 at the Ontario Science Centre.
Sentaler marked its 10th anniversary by announcing its first men's outerwear collection for the fall/winter 2020 season and a new partnership dubbed Sentaler X with financial services provider EY. The celebration took place October 3 at EY's downtown headquarters, where a giant "X" was designed across the exterior of the top 14 floors of the building. A Louis XIII cognac lounge was set up, while specialty cocktails were provided by Remy Martin, the Botanist Gin, and Mount Gay Rum. Guests were also invited to the Air Canada Sentaler Suite to shop for coats from the new collection. 
Venue Buzz
Dasha, a Chinese-fusion restaurant from Michelin-starred chef Akira Back, held a grand opening on October 1. The 9,000-square-foot space at 620 King St. West includes semiprivate dining space, private karaoke rooms, and a speakeasy. The sample menu for the evening included wasabi prawns, black cod with shacha sauce, and Chinese chicken balls. Lov, a Montreal-based vegan eatery, also opened its Toronto location in the same building that evening.
Turn of Events
CBC: A proposed restoration of an art installation that launched in Parkdale in 2005 could lead to the development of a larger community center. City officials are exploring expanding the redevelopment of the monument into a site for neighborhood events.
Overheard
"Our goal is to bring back our interpretation of the traditional pub. It's a little bit English and Italian inspired, but more about stepping away from the beer tasting culture (to focus on) full-sized pours and sessionable beers."
—Now Toronto spoke to the owners of Bar Volo about the design of the craft brewery's new location, following the closing of the original venue three years ago.
On The Scene
The seventh annual Buffer Festival took place October 4 to 6 at TIFF Bell Lightbox. The festival celebrates digital and YouTube creators with a variety of programs, including premiere screenings. 
Let's see what's happening at your events. Tag #bizbashto on Instagram.
What's Next?
Gladstone Hotel is celebrating an '80s-theme Halloween with a Stranger Things­ bash on October 25. The entire hotel will transform into the fictional Starcourt Mall. The second floor will be reimagined as a food court; the ballroom will host a neon '80s video dance party; and Melody Bar will feature arcade-theme karaoke.
Eglinton West Gallery will host a Harry Potter-inspired beer, cider, and cocktail festival and costume party on October 11. Toronto craft beers and ciders, along with specialty butterscotch beer, and "Polyjuice Potion" and "Liquid Luck" shots will be served, along with magic-theme food. The event will have live music by DJ Dobs and the Porter Party Band, as well as games, trivia, and photo stations inspired by the series' characters.