This Week In Toronto: TIFF Events Take Over, Toronto's First W Hotel, Refinery29's 29Rooms Heads to Exhibition Place
BizBash's new Toronto column from Calvin Barr covers the week's biggest event news.
September 11, 2019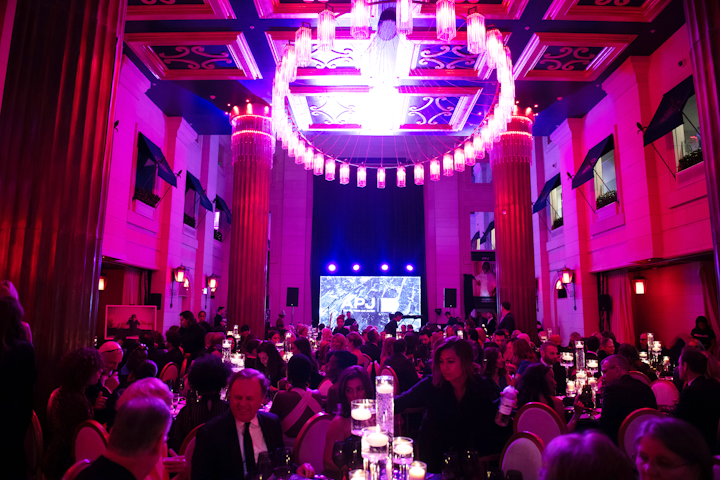 Photo: Courtesy of N.K.P.R.
TORONTO—Welcome to BizBash's Toronto-based column, where Calvin Barr covers the week's biggest local news. Got a tip? Get in touch!
Moves and Milestones
Cossette has appointed Cat Wiles chief strategy officer and Rosie Gentile senior vice president of experience design for the Toronto office. Daniel Shearer, E.V.P. and general manager, expressed excitement for the impact both will have on strategic and creative direction for the agency's Toronto-based clients.
In Case You Missed It
St. Lawrence Market announced the return of "Evening at the Market" on November 14, coinciding with the opening night of the Toronto Christmas Market in the Distillery District. Sixty-three of the historic indoor bazaar's merchants will contribute to the seasonal culinary experience, including meals, drinks, and live entertainment. Daily Hive reports that the location's Jack Astor's, which closed last spring, will re-open as a retro arcade and eatery this fall.
News
Entertainment One's annual Best of the Fest TIFF party took place September 6 at Arcane—making it the first event to occur at the new King West location, according to organizers. The spacious, three-section interior featured Latin-Asian fusion catering by neighboring King West restaurant Xango, a vegan ice cream bar by Yellofruit, and two guest photo stations: a floral mural created by Hask and a Toronto cityscape background presented by Flyte Deck. The outdoor patio, which offers a view of the CN Tower, featured a digital archway incorporating footage from Entertainment One-produced festival entries, including Judy, Ready for War, and Sweetness in the Belly.
Twitter Canada and #SheInspiresMe rolled out the pink carpet for a TIFF panel with the cast of Hustlers at Assembly Chef's Hall on September 6. Dr. Stacy Smith and Nolan Weinstein co-moderated a discussion on empowering women in the film industry with stars Jennifer Lopez, Constance Wu, Keke Palmer, and Lili Reinhart, and director Lorene Scafaria. The venue offered an outdoor patio with a camper serving drinks and a pink carpet display for photos. 
N.K.P.R.'s annual TIFF It House and Producers Ball, in partnership with Scott Brothers Entertainment, ran September 5 to 8 at the Purman Building. Panels with special guests on film- and TIFF-related topics ran throughout the weekend, while Rolling Stone provided a celebrity portrait studio led by photographer Leeor Wild. Activations included sample hair treatments by OGX, Swarovski's styling lounge, Pure Protein's smoothie bar, a ping-pong station, and a Mean Girls-inspired bedroom display by Sleepenvie.
Venue Buzz
Marriott International has partnered with Canadian hospitality company Larco to rebrand the Marriott Toronto Bloor Yorkville as W Toronto. The nine-story, 255-room property will undergo a $40 million renovation and debut next summer. Hotel amenities will include specialty bars and restaurants, a rooftop space connected to a street-level glass elevator, a lounge with a DJ booth, and a 3,300-square-foot fitness facility. The property will have 4,800 square feet of meeting and event space.
A Turn of Events
BlogTO: Despite a surge in the popularity of vegan cuisine, a number of long-standing establishments in Toronto have closed their doors due to rising rental costs. The Eaton Centre's Urban Herbivore, Kensington Market's Cosmic Treats, and Bloorville's South Indian Dosa Mahalare recently ceased operations.  
Overheard
"We curate a full experience to offer our guests from the moment they walk in. Toronto truly embraces film and you can feel the glamour and electricity in the air. This is why we brought a lot of the decor elements as far out to the street as possible so the people in the city can share in the celebration."
—The event team from Entertainment One's Best of Fest party spoke to BizBash about the inspiration for the event's design this year. 
On The Scene
Wu-Tang Clan headlined MattyFest, which took place September 7 at Echo Beach.
Let's see what's happening at your events. Tag #bizbashto on Instagram.
What's Next?
The ninth annual Toronto Garlic festival will take place Sunday at Artscape Wychwood Barns. More than 50 varieties of the herb, provided by Ontario farmers, will be prepared for signature dishes made by local chefs on site. The event features garlic-related activities, including a talk on garlic and vampires in literature by doctoral candidate Suyin Olguin, garlic-shaped cake-making with dessert sculpturist Megan Stasiewich, and the annual "Strongest Garlic Breath" contest.
Exhibition Place's Queen Elizabeth Complex will host the first Canadian edition of Refinery29's 29Rooms: Expand Your Reality, from September 26 to October 6. Announced displays include the Art Park, an artist collective initiative that invited local artists from each of 29Rooms' tour cities to turn a geometric playground into a canvas for creativity; the Travelling Billboard, a mural by desi-pop artist Maria Qamar; and Deja Food Elevating the Everyday, an interactive dining experience. See BizBash's coverage of 29Rooms in New York and Los Angeles.