This Week In Toronto: an Ocean-Theme Boobyball, Toronto Cocktail Week, an Elton John Pop-Up
BizBash's new Toronto column from Calvin Barr covers the week's biggest event news.
October 16, 2019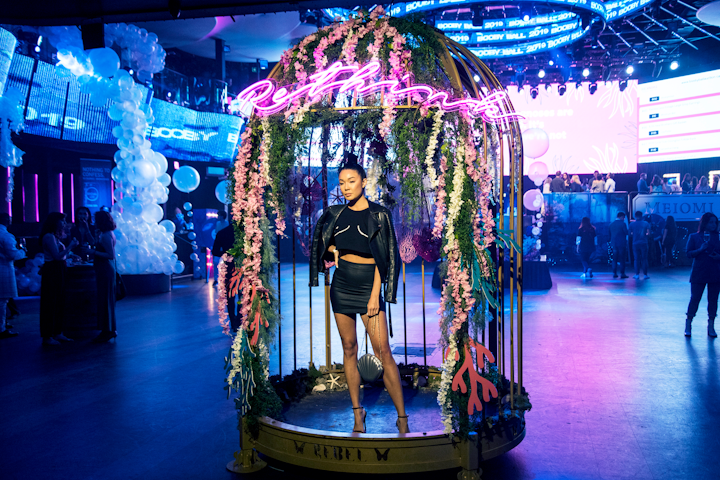 Photo: Morgan Hotston
TORONTO—Welcome to BizBash's Toronto-based column, where Calvin Barr covers the week's biggest local news. Got a tip? Get in touch!
Moves and Milestones
2Social, a Toronto- and Los Angeles-based creative agency, has announced a partnership with event planner Ralf Madi. 2Social has worked on campaigns for more than 200 brands, including Baskin Robbins' Stranger Things pop-up this summer. Madi is known for executing events for TIFF and Gucci at Toronto venues such as Everleigh, Blowfish, and Portland Variety.

In Case You Missed It
Boobyball 2019 had the first of four cross-country fund-raising events on October 4 at Rebel. Originally launched in 2002, the annual fund-raiser by Rethink Breast Cancer promotes education and prevention advocacy among youth. This year's "Into The Ocean" theme explored the idea of young people affected by breast cancer feeling lost at sea, while encouraging participants to "dive into" fighting back against it. The event featured sea-theme photo ops and sponsor activations, drinks, and snacks.
News
Toronto Cocktail Week, an event that recognizes the city's impact on global mixology trends and the city's best bartenders, kicked off on October 15. Through October 20, the event will feature industry seminars, classes, tasting nights, and pop-ups. The Drake Mini Bar, Supernova Ballroom, Mahjong, Pretty Ugly, and BarChef, are some of the hosting venues.
Torontoberfest, Brewer Backyard's closing event for 2019, took place in the pavilion of Evergreen Brick Works on October 14. The free Oktoberfest-theme event served a roster of Ontario craft beers, which included Anderson Craft Ales, Big Rock, Collective Arts, Great Lakes, and Stonehooker. Food vendors included Delight Bite, Heirloom Toronto, the Food Dudes, Los Vietnamitas, and the Pop Stand.
Rebel celebrated its three-year anniversary in a big way, when Drake showed up for a surprise set with Black Coffee on October 12. The evening was hosted by Quavo and sponsored by Grey Goose.
Venue Buzz
Universal Music Canada will host an Elton John pop-up coming to Toronto from October 21 to 26 at 277 Queen Street West—where the Ed Sheeran pop-up took place this summer. The pop-up celebrates the release of the singer's autobiography Me, as well as his Toronto stop for the Farewell Yellowbrick Road concert tour at Scotiabank Arena on October 23 and 24. Fans will have the opportunity to collect a signed copy of Me, shop, and win two tickets for the show on October 24. 
Turn of Events
Toronto Star: Toronto Wolfpack, a professional rugby league, collaborated with Canadian cannabis retailer Canopy to launch Rugby Strength, a line of hemp-based CBD topical creams for sports injuries. The announcement comes a week after Toronto won the international Betfred Rugby Football league championship.
Overheard
"Regardless of who you are or where you're from, fire really draws you in. I wanted an act that children or non-English speaking people could understand. And I wanted to take people on a journey."
—Fire and circus dancer Scarlet Black spoke to CBC about her craft. She's performed at Nuit Blanche, Casa Loma, and, most recently, at the Devilish Desires — Oddity & Horror Expo at Poveiros Community Centre. 
On The Scene
Toronto Pumpkinfest took over Downey's Farm Market from October 12 to 14. The event had corn mazes, wagon rides, and live shows. 
Let's see what's happening at your events. Tag #bizbashto on Instagram.
What's Next?
Smoke's Poutinerie will present the 10th edition of its World Poutine Eating Championship in Yonge-Dundas Square on October 19. The event will feature 40 Canadian C.E.O.s competing in an eat-off to raise money for Friends of We Care, which provides accessible summer camp programs for kids with disabilities. Ticket sales for a beer lounge hosted by Brock Street Brewing Company will also go toward the charity. Poutine-eating world record-holder Joey "Jaws" Chestnut will be returning to defend his W.P.E.C. championship title.   
Video game expo EGLX returns to the Metro Toronto Convention Centre for its fifth year October 18 to 20. Video game enthusiasts will have a chance to compete in live tournaments, peruse vendor booths, and participate in meet-and-greets with high-profile game creators, players, and character cosplayers. Panelists include John Koller, C.M.O. of Twitch; Rishi Chadha, head of gaming content partnerships for Twitter; Adam Boyes, C.E.O. of Iron Galaxy Studios; and Wim Stocks, C.E.O. of World Gaming.