How Scotiabank Creatively Highlighted What It Takes to Own a Small Business
The Canadian banking company held a consumer pop-up that addressed stats and stages of building a business through interactive art installations.
November 6, 2019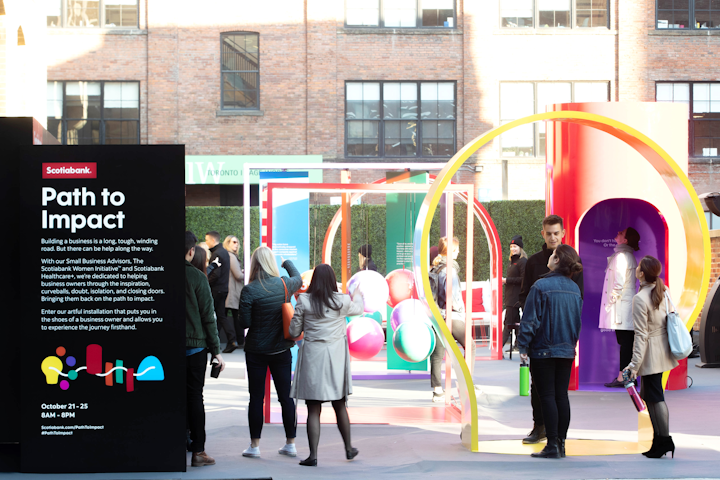 Photo: Courtesy of Scotiabank
TORONTO—A giant, yellow light bulb was hard to miss on King Street West last month, part of a large-scale art installation from Scotiabank. To coincide with Small Business Week in Canada, the banking company created a colorful, interactive public installation that aimed to celebrate the impact business owners have on their communities—and have people stop and think about how much it takes to own and operate a business, what the businesses mean for families and communities, and who has access to capital and funds.
Scotiabank is known to engage with consumers at larger events, but this marked the first time the company created a standalone art installation. The installation, titled Path to Impact, was held in an outdoor space next to real estate company Uppercase from October 21 to 25.
A giant, yellow light bulb silhouette greeted guests as they arrived. The structure featured illuminated phrases such as "Eureka!" and "Maybe I could..."Photo: Courtesy of Scotiabank

"We know that many business owners, and certainly women and physicians, go into business to make an impact on their community but often face a number of obstacles along the way," said Jason Charlebois, senior vice president of small business banking for Scotiabank. "This installation aimed to bring that journey, or path, to life in an interactive way."
The experience was designed to put people in the shoes of business owners and allow them to learn about building a business through five key stages. Charlebois explained that the creative team at Narrative, which designed the installation, drew inspiration from contemporary urban playgrounds and street architecture. Narrative used the bank's new, colorful brand identity—which happens to be bright and bold—to add in another level of playfulness that would encourage people to interact with the space.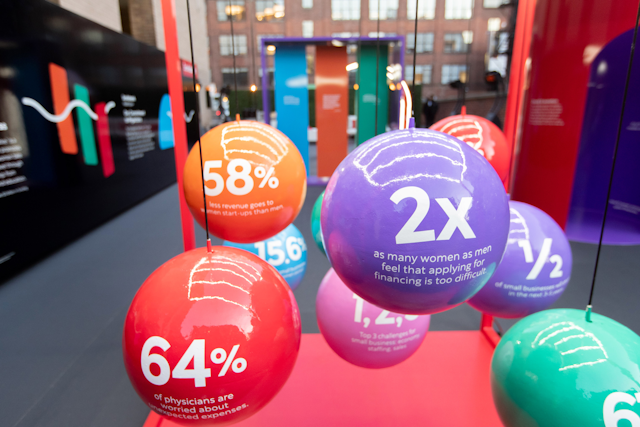 The research team at Scotiabank collected statistics from sources such as Statistics Canada, the Scotiabank Women Initiative, and MD Financial Management, which informed parts of the "Curveballs" and other installations.Photo: Courtesy of Scotiabank

Installations included "The Big Idea," a giant light bulb silhouette that lit up as guests walked through; "Curveballs," which consisted of literal balls that displayed stats about launching a business; the "Doubt & Isolation" tower, which featured looping audio with phrases such as "You'll never have what it takes"; and the "Impact Arch," which asked people to write whom they have impacted or would like to impact with their business. Responses to the "Impact Arch" included "Muslim women," "marginalized clients," "women around the world," "veterans and first responders," and "immigrants."
"Our research team collected a variety of statistics from sources such as Statistics Canada, the Scotiabank Women Initiative, MD Financial Management, among others, which informed parts of the installation and were showcased throughout," said Charlebois. "Attendees were really struck with some of the statistics in the curveball section, such as how only 4 percent of venture capital funding is given to women."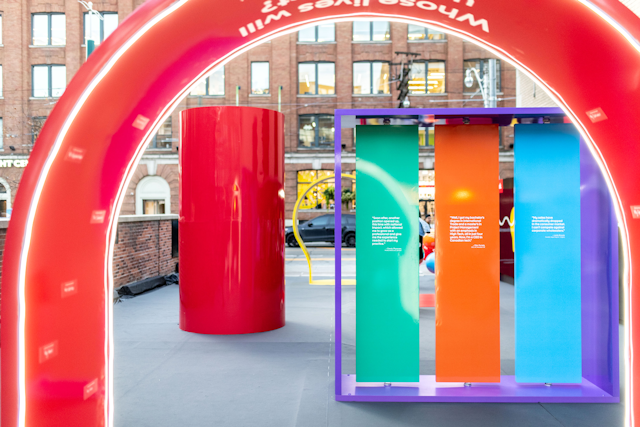 The installation "Closing Doors" alluded to the idea of one door closing and another opening. Panels of different colors featured quotes from small business owners.Photo: Courtesy of Scotiabank

Scotiabank worked with Narrative on the media relations strategy for the event, which included working with three influencers—Nazima Qureshi, Devan Rajkumar, and Dr. Dina Kulik—who own their own businesses, a Twitter promotion with a custom emoji, and targeted ads in nearby neighborhoods to drive attendance.
Charlebois noted that Scotiabank brought a second, modular version of the installation to the College of Family Physicians of Canada's Family Medicine Forum in Vancouver, which ran October 30 to November 2. He said Scotiabank also plans to create new versions of the pop-up in 2020.
VENDORS
Additional Staffing: Cotton Candy Staffing
Audiovisual Production, Lighting: Astound Group
Design/Decor, Event Management, Printing, Production, Signage: Narrative
Security: Sentinel Security