This Week in Toronto: Top New Year's Eve Parties, Thompson Hotel Closures, the No Pants Subway Ride
BizBash's new Toronto column from Calvin Barr covers the week's biggest event news.
January 2, 2020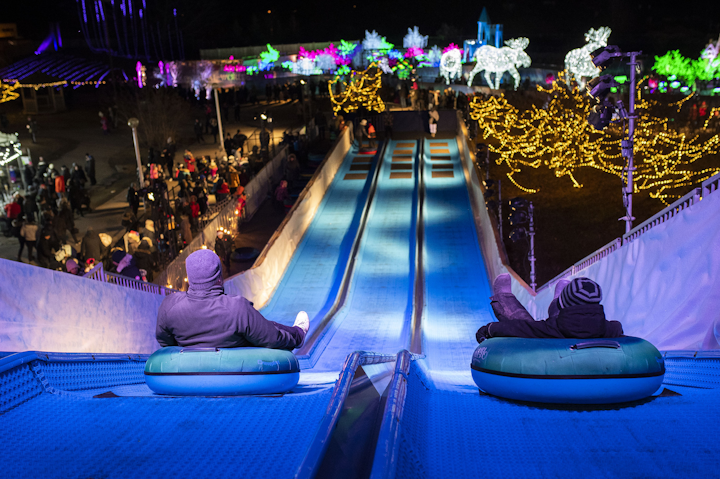 Photo: Courtesy of the Aurora Winter Festival
TORONTO—Welcome to BizBash's Toronto-based column, where Calvin Barr covers the week's biggest local news. Got a tip? Get in touch!
Moves and Milestones
According to Strategy Online, Pomp & Circumstance PR has announced the latest additions to its client roster. New clients include the Stratford Festival, Añejo restaurant, the Power Plant Contemporary Art Gallery, and the Hudson Hotel—which is reportedly opening a King West location.
New Year's Eve Wrap-Up
The CN Tower divided its sky-view spaces into three events to ring in the new year. Kids were invited to a sunset buffet with live music; the tower's 360 Restaurant featured a four-course, Canadian-centric menu; and DJs spun the past decade's biggest hits in the top-level glass floor observatory. All guests were encouraged to bring clean socks to donate to Socks 4 Souls Canada.
The Gladstone Hotel, meanwhile, celebrated the arrival of 2020 with a "future-glam"-theme party. Mixing classic 1980s decor with a vision for the decades ahead, the evening included performances by disco-funk artist Tush and Les Femmes Fatales: Women of Colour Burlesque Troupe, plus a planet Mars video dance party and the Logan's Run lounge. Executive chef Akshay Shastry curated a prix fixe menu for dinner guests, which featured winter squash crostini, surf and turf chicken galantine and smoked turbot, and green tea crème brulee.
And the Royal Ontario Museum's annual New Year's Eve bash was headlined by Toronto-born, Juno-winning R&B artist Jully Black, with additional performances by DJ Hypnotic, The St. Royals, and Fly Lady Di on the main stage. Guest packages featured three-course dinners, intimate live music events, and access to museum exhibitions including Bloodsuckers: Legends to Leeches; It's Alive! Classic Horror and Sci-Fi Art from the Kirk Hammett Collection; and Wildlife Photographer of the Year.
Venue Buzz
After five years, the Thompson Hotel's lower-level nightclub Wildflower shut its doors after a New Year's Eve send-off party—following the closure of the venue's Thompson Diner earlier in December. According to representatives, the changes are a result of the complex's acquisition by 1 Hotels. Under the new ownership, the venue is scheduled to undergo multiple renovations, which are slated to be complete this summer.
Turn of Events
Due to ongoing demand, Kilburn Live announced that it will be extending the Dr. Seuss Experience at Square One Mall, according to Insauga. The exhibition will reopen on January 16 with new characters and displays, and close its run on March 22. Public schools across the G.T.A. are also being gifted with free tickets.  
Overheard
"We do those sort of things here where we slide vegetables in without telling anyone. I have a seven-and-a-half-year-old and I just don't tell her what food's made of. I'm all about transparency, but sometimes it's easier not to do that."
—Toronto Raptors in-house chef Ryan Gallagher, speaking to the Toronto Star about the team's menu.
On the Scene
The De Sario Family Festival of Lights annual fund-raiser for the Sick Kids Foundation took place at a private residence on December 22.
Let's see what's happening at your events. Tag #bizbashto on Instagram.
What's Next?
Motorcycle Supershow, North America's largest international motorbike convention, returns for its 44th year at the International Centre from January 3 to 5. With thousands of new and vintage models on display, attendees will have a chance to connect with suppliers, manufacturers, and riding clubs. Professional bike builders will also be competing to win a $50,000 prize in the live Canada Cup Championship Custom Bike Competition.
Toronto will participate in the No Pants Subway Ride on January 12, along with more than 50 other cities around the world. Participants are invited to meet at the Eaton Centre Dundas Station entrance at 3 p.m., and take part in an after-party dance-off at a surprise location. The Toronto chapter of the event is hosted by the No Pants Society.