This Week in Toronto: the Globe and Mail Centre's Industry Mixer, Holt Renfrew's Revamped Café, Super Bowl and Oscars Parties
BizBash's new Toronto column from Calvin Barr covers the week's biggest event news.
February 5, 2020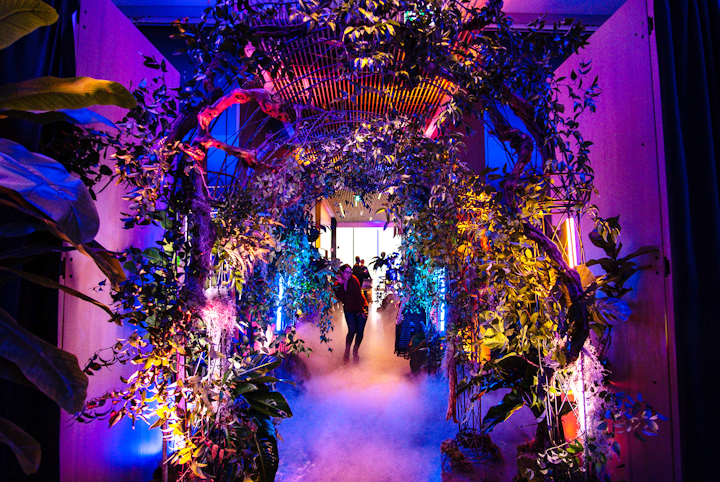 Photo: Ted Chai Photography
TORONTO—Welcome to BizBash's Toronto-based column, where Calvin Barr covers the week's biggest local news. Got a tip? Get in touch!
Moves and Milestones
The Ontario Arts Council has announced Kelly Langgard as its director of granting and Chris Black as its associate director of granting for business operations. Langgard comes to the role with more than 20 years of experience in public arts funding and event management, while Black has an expensive background in technology solutions for not-for-profits.
In Case You Missed It
To celebrate the re-release of the "Oreo Most Stuf cookie," which contains triple the amount of the cookie's signature cream stuffing, an "Oreo Stuf Shoppe" pop-up ran from January 30 to February 1 at Union Station. The free promotion offered limited-edition Oreo creations with kettle popcorn, crushed pretzel pieces, coffee-flavored chocolate, cayenne pepper, and golden flecks.
And on BizBash, Matt Vaile, a Toronto-based creative lead for Shopify, shared his favorite venues to host an event, to get inspired, to get work done on the road, and to find the very best ice cream sundae.
News
The Globe and Mail Centre hosted its exclusive Elements event industry mixer at the venue's 17th-floor space on January 30. Guests received their mailed invitations along with miniature terrariums, previewing the evening's greenery theme that was curated by Opening Night Flowers and Dance Floor Décor. BarChef served up a sizzling "Thai Chili Carbonic Margarita," The Food Dudes offered a spicy shrimp tostada and a rum and flambe banana split bar, and McEwan Catering provided butter-poached lobster bites, as well as a seaweed and soba noodle vegan alternative. Mango Studios set up a butterfly-theme portrait station, and Detailz Couture supplied furniture design for the evening.
Super Bowl LIV celebrations took over this weekend, with venues across the city offering on- and off-tap specials, decadent pub-style menus, contest prizes, and N.F.L. merchandise for fans gathering to watch the game. Assembly Chefs provided a live DJ to keep fans' energy up before and after the game, Rebel offered guests transportation to and from Union Station, and Underground Garage served specialty wings by Tokyo Hot Fried Chicken.
East York's Fresh Paint Studios' "Abstract Skyline Watercolour & Wine Workshop" on February 1 invited participants to paint a cityscape with support from an instructor. The studio hosts regular art classes and offers a 1,000-square-foot rental space featuring exposed brick, hardwood floors, and a fully stocked café.           
Venue Buzz
On January 29, Holt Renfrew unveiled Holts Café, a revamped brunch, lunch, dinner, and afternoon tea destination at it's Toronto headquarters. The 20-foot-high space was designed to combine the brand's focus on fresh style with the location's picturesque Bloor street view.
"Our brief was to take this iconic location and transform it into a social space that evolves from day into the evening," explained lead architect Alex Cochrane. "We leveraged the natural light and introduced design elements of saturated color to add a playful dynamic against the warmer tones of wood and leather. We felt it was important to divide the space into four rooms creating intimate dining spaces, each with its own atmosphere."
Turn of Events
The Toronto City Council has passed a popular-but-controversial motion to tear down and replace the St. Lawrence Centre for the Arts, according to the Toronto Star. The initially proposed redevelopment, which is estimated to cost $200 million, will tentatively require $100 million in municipal, provincial, and federal funding—while TO Live is aiming to procure $38 to $58 million in fund-raising proceeds. 
Overheard
"To force relevance on this music that has so much cultural significance, along with such a rich and deep history, is a recipe for failure. Once young people have discovered the blues, they'll decide if they like it, if they want to listen to it, if they want to make it. The key is to expose them to as much of it as possible so that they have the opportunity to make that choice."
—Bassist and singer Raha Javanfar, host of the Toronto Blues Society's Maple Blues Awards, speaking to Toronto Life about engaging younger generations with the genre. The awards took place on February 3 at Koerner Hall.
On the Scene
Winterlicious began this weekend, featuring Casa Loma's annual Afternoon Tea event.
What's Next?
The 19th annual Motionball Toronto Gala will take place at Liberty Grand on February 7. Presented by Air Miles Rewards Program, the evening will raise funds for the Special Olympics Canada Foundation and feature seven live performances as well as DJs spinning in two ballrooms. Stella Artois will be this year's drinks sponsor, while Pita Pit will provide late-night snacks. A silent auction will offer more than 100 items, including an opportunity to win roundtrip Air Canada flights for two.
Jazz Bistro's Oscar night party on February 9 will feature an evening of live Hollywood music by piano and percussion duo Bob Scott and Robert Scott. Guests are also invited to participate in celebrity lookalike and category-guessing contests, with the winners to be announced after the live broadcast.