See an Installation at Burning Man With 138,000 LED Lights
The four-day festival included a light installation comprised of a man-made tree that could change colors and perform light shows in response to music and body movement.
September 6, 2017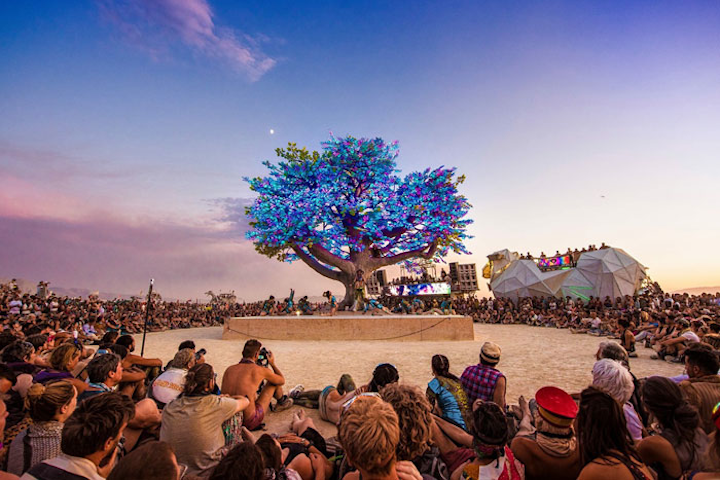 Photo: Little Light Photography
Given its focus on artistic expression, Burning Man was an appropriate site to debut a towering "tree" made of 138,000 LED lights. Named the Tree of Ténéré after a real tree that stood in the Ténéré region of the Sahara desert, the installation was programmed to react to movement, voice, and biorhythms of artists and festivalgoers at the August 27 to September 4 event held in the Black Rock desert of Nevada.
The namesake tree was used for many years as a landmark for those traveling through the desert until it died in 1973, when it is said to have been struck by a drunk driver, according to Alex Green, C.E.O. and founder of Symmetry Labs and co-lead artist on the project. The recreated Tree of Ténéré soared to nearly four stories tall. Additionally responsible for the design were creator and co-lead artist Zachary Smith, co-lead artist Mark Slee, and co-creator Patrick Deegan.
"Each one of the lights is 'addressable,' which means you can change its color individually," said Green. "We measure where every single LED is in space using computer vision. Unlike normal lighting, the animations play out in 3-D across the structure, and they react to sensors and sound so that the audience and music can influence the animations on the structure."
The installation took more than two weeks to construct, with builders toiling for 16-hour days in the desert to get it built, Green said. But the effort was a success. "The tree was packed every night, and countless people told us it was their favorite piece of art on playa," he said of the dry lake bed where Burning Man takes place. "The amount of pictures and videos on social media is enormous."
Green said the concept will be used again. "There are many events interested in renting it and a few buyers we are talking to," he said. "It will definitely be out at more events in the future."
Correction: The original version of this story misrepresented Symmetry Labs' role in the installation.