Rating the Super Bowl: Producers Give Beyoncé's Halftime Show an "A-"
February 4, 2013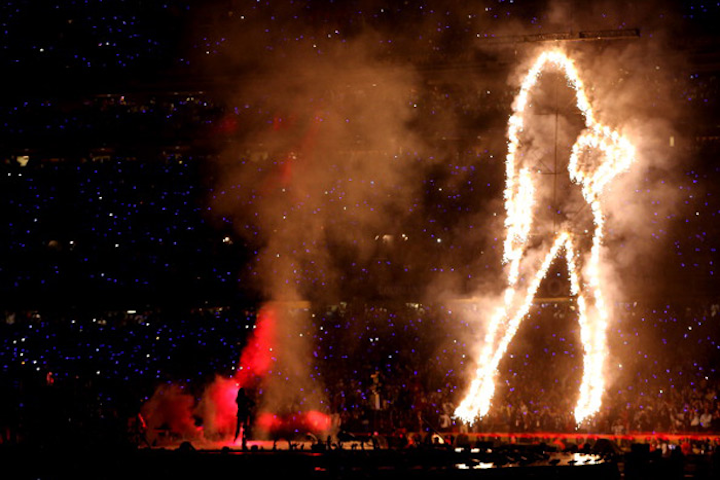 Photo: Christian Petersen/Getty Images
Widely watched—and criticized—the Super Bowl halftime show has become almost as important as the game itself. This year Beyoncé was the headlining act, taking the stage at the Mercedes-Benz Superdome in New Orleans on Sunday evening for the Pepsi-sponsored event. Expectations were high for the singer, who drew criticism for lip syncing her performance at the inauguration. Did Beyoncé and the production live up to the hype? We asked some of the country's top event producers for their take on the halftime show and here's what they said.
David Solsbery
"I have to confess, I love Beyoncé. How could we have doubted her during the inaugural 'lip sync gate?' And, how did they set that stage during a commercial break? No, really, how did they do that? Great for both television audience and live. However, the sound system left a lot to be desired. And, I'm being picky, but the fireworks exploding from the guitar during the first song was silly. Who would believe that great music could come from an instrument spewing sparkles?"
Letter grade: A. "The staging and high-tech backdrops were amazing. The performance was top notch without being over the top. It was simple and engaging and did not run on too long."
Solsbery is the executive director of design at Hargrove in Lanham, Maryland, an event company that specializes in face-to-face marketing experiences and recently worked with the Presidential Inaugural Committee on two official balls for President Obama's second inauguration.
Lizz Torgovnick
"I liked the Pepsi fan countdown which preceded the show. A nice brand tie-in to the anticipation of the half-time show. My crew counted aloud! Amazing pyrotechnics and dramatic smoke effects to start off. Loved her entrance moment with the flaming silhouette, hand on her hip. In contrast, I thought that the face outline stage was a little creepy. Perhaps an idea better in concept than in execution? I thought they did a great job with the video graphics on the stage floor and also with the LED panels behind her as she danced along with her multiple booty-shaking selves. The timing for that was really tricky, but she nailed it.
"When Destiny's Child made their entrance ('pop!'), the ladies in the room squealed. They held their own, a bold move on what was clearly Beyoncé's stage. But it was a little hard to hear them—perhaps a pitfall of live singing in this big a venue?—and I was disappointed not to hear their most awesome power song 'Survivor.' I also thought the Charlie's Angels pose was a bit trite.
"All in all, Beyoncé danced up a storm. She looked amazing, she sounded amazing, and there were some cool graphics, but I was generally underwhelmed. It lacked the epic scope of Madonna's incredibly inventive and action-packed 2012 performance, which was definitely a hard act to follow."
Letter grade: B
Torgovnick is managing director of Sequence Events in New York, an agency that produces, designs, and manages events like the Hospitality, Sales, and Marketing Association International's annual Adrian Awards, Foot Locker's On Our Feet gala, the Enterprise Community Partners 30th anniversary, the Children's Choice Book Awards.
Stephen Dahlem
"I am not sure if anything could top the emotional power of the Sandy Hook Elementary School choir singing 'America the Beautiful' during the opening moments of Super Bowl XLVII. What an amazing idea and beautiful tribute. But for sheer technical power, the first 60 seconds of the Beyoncé halftime show was epic TV. The special effects, lighting, and camera work covering her arrival to the stage were some of the best in recent halftime show history.
"Playing Monday morning quarterback is difficult because we all know how challenging a show like this is to create and produce. Beyoncé was beautiful, she gave an outstanding performance, and she reminded everyone that she is one of the top five performers living today. That said, personally, I was looking for that one moment, that one mental touchstone seared into our collective consciousness, where we'll say years from now, 'Remember when Beyoncé did...' This was a great show, filled with jaw-dropping spectacle; but like the amazing medley of songs she performed, it seemed more like a 'greatest hits' of her previous groundbreaking performances. I was anticipating something new. Still, they created an incredible collage of her last 10 years of award show performances on a football field in under 20 minutes, and she performed it to perfection. Kudos to Team Beyonce!"
Letter grade: B++
Dahlem is senior creative director of Corporate Magic, the Dallas-based event company responsible for producing high-profile projects like the 20,000-person welcome event at last year's Republican National Convention and the Dallas Cowboys Thanksgiving Day halftime show.
Jeremy Driesen
"How totally cool to see an all-female band. There had to be 50 people on stage, and not one man. That's a Super Bowl first right there. The show was the absolute nth of big-budget, over-the-top, no-holds-barred production. The 'built-in' imagery on the deck was incredible. The energy and choreography of the show was best in class. I loved a lot of the small details, like the little blue lights that were distributed around the audience.
"The only downside I would mention is that the choice of using the cinematic tone for the video caused the show to look like it was prerecorded and took away from the ambience of a live show. (This may have meant they were shooting video with digital SLR instead of more traditional video cameras.) I'm from the rock 'n' roll tradition and I always love when a show looks like it could go off the rails at any moment, like the Rolling Stones halftime show from a few years ago. That and some of the effects that were for the TV audience only did lead to a highly produced, less-than-live look and feel."
Letter grade: A-. "The minus is for the lack of live feel."
Driesen is president of Ray Bloch Productions, a New York-based event company that counts NBC Universal and Time magazine among its clients, and recently produced the Creative Coalition ball, one of the Washington events that surrounded President Obama's second inauguration.
James Donahower
"The Beyoncé performance was a flawless feast for the eyes. The stage, the kaleidoscope video effects, the overall composition, everything was beautifully conceived and executed. One of the biggest challenges of a heavily scrutinized event like the halftime show is figuring out how to top the last show, how to do something different. Beyoncé succeeded in this respect. Throw the choreography and the costume design in there and I think you can safely say she kicked the concept of 'extravaganza' up yet another notch. That said, her repertoire—the musical content of her show—lacked the punch and richness that many past halftimers had. She just doesn't have the material. And would it have killed her to leave some electrical power in the building so the game could finish?"
Letter grade: B++
Donahower, is vice president of event and entertainment production company Empire Entertainment in New York and Tokyo, which executes hundreds of major music events such as the Keep a Child Alive Black Ball, Mary J. Blige Honors, and Will.i.am's Grammy Week benefit concert.
Erin Dahl Sellers
"I have three words: Sasha Fierce and 'Bootylicious.' Most entertaining halftime show I've seen in a long time. Beyoncé killed it!"
Letter grade: "A solid A. Truly a fun show!"
Dahl Sellers is the director of sales at Revel Decor, a Chicago-based production company that works on events for clients like the Y-Me National Breast Cancer Organization and SOS Children's Villages Illinois.
Featured Venues/Suppliers: