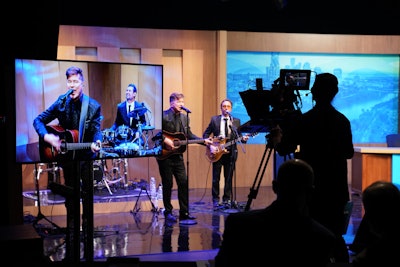 Photo: Courtesy of Go West Creative
David Fischette founded Go West Creative in the '80s, when it entered the scene as a mobile DJ company. He was a musician, playing in a band, who owned a few turntables. Now, nearly 40 years later, Go West Creative is a major event production and creative agency based in Nashville, with clients like Sonic, Petco, Salesforce, and Farmers Insurance.
Go West Creative's 20,000-square-foot facility comprises four broadcast studios and an event space with a built-in bar. There's even a full replica of The Tonight Show set, fit for a studio audience of 100.
But Fischette knows what really makes Go West Creative a valuable event partner is its people. "We've been really intentional with our board of directors, with our shareholders, and with our executive team about bringing in senior-level executives to run the company, to build relationships with our clients, to bring in new sales, and to improve the culture for the team," he says.
Below, we catch up with Fischette on how music plays a vital role in Go West Creative's work, his career highlights, his hopes for the industry, and more.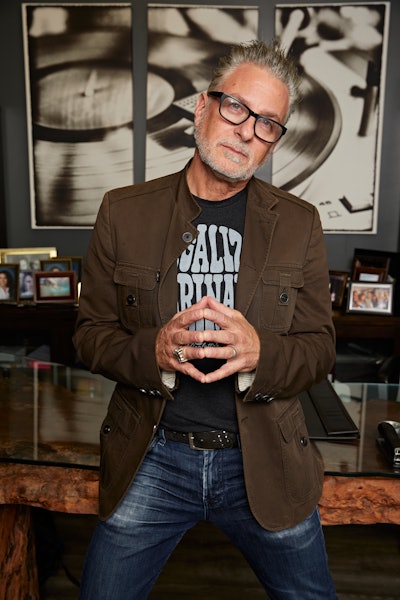 You mentioned that Go West Creative began as a mobile DJ company, and music is obviously still very important to you. How does music continue to inspire you? And how do you use it as a tool in your work?
I started the DJ company because I was a musician, so playing music was the genesis of the company. That love for music is still at the heart of who we are. And if you visit our studios, everything today is an homage to how we started as a DJ company. Every room is named after a different album. Every person's office has their favorite album as their nameplate as you walk in. And then we have a whole wall that shows every employee's favorite album, and there's a QR code to go to our website and read everybody's story of why they selected that album.
In addition to that, we have instruments hanging all over the office space that are signed by various artists that have performed for us at events throughout the years. And so you can actually go to another QR code and see all the stories on that and what show it was for, what client, where it was, and who the artists were that played at that show. So that was kind of the tactical part of it.
As a creative, it's always music that inspires me, and when I create opening moments for clients, when I create concerts or shows or theatrical productions, I sit and I live with the music, and I just sit and listen to music over and over. In my head, I see what's coming to life on the stage, what's happening with the audience, how to have those moments of connection where you bring an audience on an emotional journey that touches their heart and ties it back to the message of the evening, the event, or the conference. So, for me, music is the lifeblood and the soundtrack to everything that we do.
What are you listening to right now? What's at the top of your playlist?
It's so hard to name something on my playlist that isn't from the '80s [laughs]. But there are two artists who I'm really digging right now. There's a local artist here in Nashville by the name of Ivory Layne. I think she's just a tremendous talent, almost like a female Ed Sheeran, and I think she's going to explode soon.
And then there's another group called Louis York, and it's two guys, Claude Kelly and Chuck Harmony. One is from St. Louis and the other is from New York. They're doing incredibly well; they just won a Grammy. They did the Christmas tree lighting last year at Rockefeller Center. They've got a new song out with Jessie J. And so I'm really excited about them. We're going to be producing their Christmas show this year.
I think Spoken Cinema™ is such a unique Go West Creative offering. Why do you think it's such an effective type of programming for events?
I refer to Spoken Cinema™ as our lightning in a bottle because, really, nobody else does anything like it. A little over 10 years ago, I was looking to do a spoken word piece for one of our clients, Farmers Insurance, and I had a very specific idea in mind of what I wanted to do. And every spoken word artist that I looked at or reached out to all had the same sort of rhyme-y pattern to their delivery. It just didn't connect to my heart.
And so one day, on a Sunday afternoon, I posted on Facebook and said: 'I'm looking for a spoken word artist—anybody have any examples? Any recommendations?' And I had three different people from three different parts of the country reach out to me and say Steve Connell. I found him on Facebook and messaged him, he messaged me right back, and, 20 minutes later, we were on the phone together. And we did that first piece for Farmers Insurance.
Now, over the last decade, we've done more than 200 pieces together. And Steve, I feel, is the greatest spoken word artist on the planet. I think there's nobody that can tell a story and connect with people's hearts the way that he can. We've created this interesting art form where he writes these pieces after we do a discovery call with the client to find out what their conference is, what their audience is like, what their goals are. And then he really dives deep into that and connects people directly to what it is they do for a living—not the thing that they do every day as in their job. But what is that cause, right? 'I don't just make steering wheels for cars, I create a safe way for parents to pick up their kids from soccer practice and get them home safely.' He really connects people to the end cause of what they do in such an emotional way.
So he writes that piece, and then our team takes it and we create a complete digital landscape, an original cinematic music score. And then when he performs that live, it's like he's standing in a movie, and every word that comes out of his mouth is coming to life behind him and the music is swelling, and you get this big, visceral emotional response.
What are some of your favorite career highlights?
The sheer scale and size of producing the grand opening of the Staples Center [now named Crypto.com Arena] in Los Angeles in 1999 was a massive project. We were shutting down 12 city blocks of downtown Los Angeles, having 12 hours to set up, having over 80,000 people attend that event with three headliner stages with 40 headliners and food vendors. And in the middle of the setup, at 5 in the morning, we had a 5.3 earthquake, as you do in California. So we did that 12-hour street festival and then had six hours to put everything back and reopen the streets, including several traffic lights that we had to crane out and crane back in. So that was a major one for sheer size and scale.
And then as far as impact, people always ask me what my favorite event was that I ever produced. I lost a niece in 2004 to leukemia. It was just before she turned 11 years old, and I produced her memorial service, which was a three-hour journey through her life. I thought, you know, that's why God gave me the talent he gave me, to do those types of events that connect with people.
What is your biggest hope for the events industry in 2023?
Authenticity and connection. That's my hope every year: connecting in real ways. And I love those big, exciting opening moments, but I want to make sure that those moments are tied to something that means something to the client, to the people in the audience. [It's about] having honest conversations and not just giving the client or the audience what it is that you think they want to hear. How can we be honest with our clients to help them be honest in their communication so that we can have a greater impact together through large events?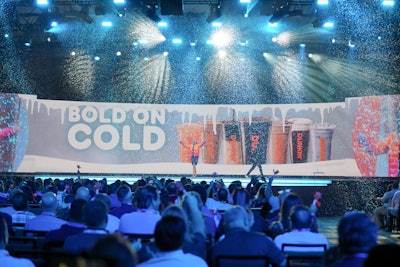 What do you hope comes to mind when people think of Go West Creative?
What if. We're the people that are always asking 'What if?' What if we tried this? What if we did this differently? I always live in that land of curiosity and adventure and exploring new things. We have a saying that's 'Find your true west.' When we think about Go West Creative, we think about what your true north is. What is that purpose you have in your life, the thing that people are going to remember you for, that makes you get up every morning?
And we feel like your true west is what the explorers, settlers, and pioneers did—they turned their back to the sun, and they went left and went exploring. It was that curiosity and that adventure that helped them find their purpose in life and find a new way of getting there. So 'what if' and curiosity—that's what I hope people remember us for.
This interview has been edited and condensed.