Coachella Party Preview: Who's Doing What at the 2014 Festival
This year's festival will see H&M stepping into the Saturday-night fray, Chevrolet joining forces with McDonald's, and more in Indio, California.
April 8, 2014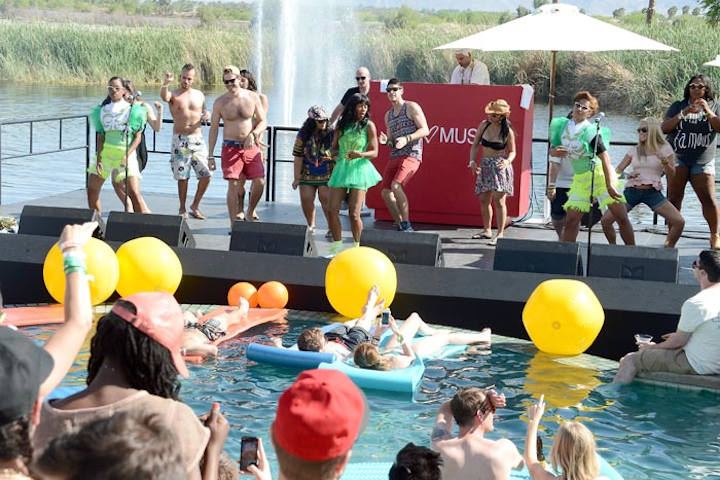 Photo: Michael Kovac/Getty Images for H&M
The annual desert pilgrimage known as the Coachella Valley Music and Arts festival gets underway on Friday, continuing for two consecutive weekends. Brands are overwhelmingly sticking to the first weekend for their bashes, as has been typical since the event went to a two-weekend model in 2012. Nevertheless, the landscape will see some changes in party hosts and formats. Here's what to expect from the events planned for the 2014 run of Goldenvoice's popular music festival.
Saturday-Night Shake-Up
Coachella remains a big draw for fashion brands, and this year will see a larger, showier presence from official festival sponsor H&M. The clothing retailer will take over a private, never-before-used event venue near the festival grounds for a new late-night party on Saturday dubbed "H&M Loves Music at Coachella," which will include headliner Major Lazer and DJ sets by Jesse Marco. (The brand will also have a tent at the festival.)
The move puts H&M in direct competition with the Neon Carnival, the longtime undisputed owner of Coachella's Saturday-night slot. Produced by Brent Bolthouse at a small airport near the festival, the ride-and-games-filled carnival—with Nylon, Olay Fresh Effects, and Guess as this year's presenting sponsors—is still sure to attract thick crowds and buzz.
Neon Carnival food and beverage sponsor STK will offer bites like kale chips and neon popcorn and host an on-site kissing booth. In terms of the new partnerships, Bolthouse says, "I couldn't ask for a better lifestyle partner; the kids who love Neon Carnival also love Nylon." Guess's new involvement with the event is in addition to its annual Guess Hotel activation at the Viceroy.
A New Pool Party Partnership
McDonald's and Chevrolet Corvette Stingray
 are joining forces for a pool party at the Bootsy Bellows Estate in Rancho Mirage
 on Saturday. NVE, led by Brett Hyman, is bringing the two together into a single co-branded bash. NVE is producing, having worked on activations for the Chevy Volt for the past two years. Last year McDonald's hosted a small, celeb-heavy affair.
The event will include activities like headband making, boccie ball, and face and body painting. Plus, professional race drivers will take guests down the quarter-mile "Performance Demo" at a speed of 115 miles per hour, thanks to an arrangement with the City of Rancho Mirage that will allow the organizers to shut down a large portion of the street near the event.
Hotel Takeovers
Also joining the fray is Marc by Marc Jacobs, which will serve as the title sponsor for the weekend-long event program that will take over the Ace Hotel. Produced by Caravents, the activation will feature color-blocked decor inspired by the fashion brand's summer collection as well as its new sunglasses in a pop-up boutique.
The Ace will also have the "Dickies X Tilly's Desert Lounge," featuring musical performances and skating demos.
Meanwhile, the Saguaro will once again host its "Desert Weekender" series, while the Hard Rock Hotel Palm Springs will offer a multiday lineup of electronic dance music headliners in partnership with Goldenvoice's electronic music division, LED; tickets are available to the public for purchase. Soho House will move its presence up from the second weekend to the more popular first.
Dominating Fashion and Media Brands
Among Coachella's returning hosts is Lacoste with its fifth annual weekend-long "Desert Pool Party" at a private estate in Thermal. This year the focus is on Lacoste as an overall brand, not on Lacoste Live, as in years past. There will be a lineup of celebrity guest DJs, including party veteran Elijah Wood. Because of its new campaign and platform known as "Life Is a Beautiful Sport," there will be an array of sporty activations at the event, produced by Made With Elastic.
Also back for another year is Harper's Bazaar, which will have a pop-up shop at the Parker Palm Springs. The activation kicks off with a pool party Friday hosted by Julianne Hough and the magazine's editors; DJ Mia Moretti will provide music.
Forever 21's "Party in the Sky" will also hit Palm Springs on Saturday—in the less-crowded twilight slot between 5 and 9 p.m.
Details will host its "Details at Midnight" programming at a private residence on Thursday with performances by RAC and DJ sets by the Knocks and Brendan Fallis & Hannah Bronfman. Lexus has signed on as first-time sponsor.
Sonos and partner Pandora, both new to the party scene, will host a house party at a private location in Indio on Saturday afternoon. A Sonos wireless HiFi system will be set up throughout the house, and Diplo will perform.

The "Kari Feinstein Style Lounge" will dole out swag—including Bali getaways—from its neon-desert-theme "Indio Lounge" all weekend. The lounge comes as a follow-up to Feinstein's mobile style lounge on a tour bus, which hit venues, parties, and houses of celebrities like Lindsay Lohan and Whitney Port last year.

Filter, one of the event marketing pioneers at the festival, is among the few brands to host events during Coachella's second weekend as well as the first. The 12th annual Filter Yacht Club kickoff parties hit this Thursday and the following for those arriving early for each weekend.
Featured Venues/Suppliers: